Tetris Review Rewind
RECOMMENDATION:

There's little reason not to play some version of this game at least once in your life. Anything less would be uncivilized.

As it so happened, the Game Boy was the perfect present, as my older brother found out when he graduated from middle school. After the party was over and everyone had gone home, mom and dad came downstairs with a just one more wrapped present. I still remember my brother opening the box and joyfully exclaiming "It's a Game Boy"! Since Tetris came packaged with it, we wasted no time playing that Russian puzzle game for years to come. It was the perfect game to complement the perfect present.
If you've never played, heard of, or seen a Tetris game in your life, here's the basic concept: seven varieties of blocks fall descend from the top of the playing field, one at a time. The object of the game is to keep the blocks from piling up to the ceiling. To do this, you can move the blocks to the left and right, and rotate them as they fall. If you completely fill in one horizontal line, that line will disappear and you'll get points for your wonderful deed. As you get better at the game, you'll learn to complete up to four lines at once. If you let those blocks pile up past the ceiling threshold, it's "game over" man.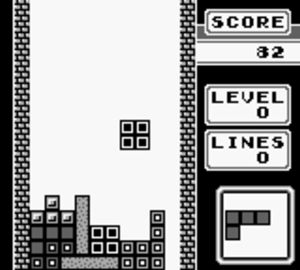 Tetris has two game modes- designated A-type and B-type, respectively. The A-type mode is the most familiar version of the game with its marathon play style. The goal is simply to maintain your blocks for as long as you can while going for highest score After choosing to start on levels 0 through 9, the game begins with a clear board that becomes occupied with blocks falling from the sky. Each time you clear 10 lines, you'll advance to the next level, which speeds up the game the further you go. If you started at level zero, the increase in speed isn't all that noticeable initially. But once you hit the ninth level, the pace quickly turns into a frantic barrage of blocks, especially if your stack is high by that point.
B-Type is similar to the previous game mode, except it isn't a marathon session. The goal in B game is to clear 25 lines. As with the first mode, you can still choose between levels 0 and 9, but you can also throw in an extra challenge by setting a pre-existing height of blocks. The challenge is that they're positioned in such a way that you can't clear the entire group with a "perfect" fit. You generally have to break them down line by line.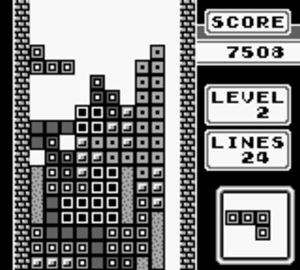 When it all comes together, these simple gameplay mechanics are perfect for both novice and expert players. The rules of the game are basic enough for anyone to get into it but become increasingly difficult to master. The beauty of Tetris lies mainly in the fact that, despite its age, it's still just as fun and challenging as it was 35 years ago. Part of its appeal is that unlike most games then and now, it's not about memorizing a specific pattern to the point where the game becomes easier and no one play session is identical to another.
Part of the fun for me was just seeing how high I could build my stack before clearing the biggest amount of lines I could. There's a big risk/reward system in doing that because, while you can score some serious points and possibly lower the stack down to the ground, it only works assuming you get the pieces you need. For instance, you could be just one block away from success or disaster when you desperately need that straight "I" block to clear a few lines. But the Tetris gods frown upon thee, and a square block falls instead, forcing you to deal with the cascade of problems it'll create for the rest of your meticulously-stacked rows. At this point, I'd even settle for a "T" block since I can usually squeeze a line or two from it to buy me some time. It's this kind of strategy I enjoy about Tetris; you try to plan your next move, but it's not always guaranteed to work out quite as planned and you have to improvise.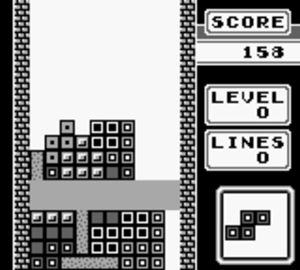 One of the things that place the Game Boy version of Tetris above the NES port, in my humble opinion, is the 2-player mode that was strangely missing from the latter. Using a link cable, two players could connect their Game Boys together for some competitive head-to-head sessions. The goal is the same as in the single-player mode, with an interesting twist (for its time). As one player clears multiple lines, it creates "garbage" blocks from the bottom of the screen for the other player, forcing their stack upward. It's a dynamic that has since been used in just about every future iteration of Tetris to this day, handheld or otherwise.
One of the pluses in favor of the game design is that it didn't require the use of many colors to distinguish one block from another. This works to the advantage of the original Game Boy since the colors it displayed were limited at best. Since the types of blocks are purely based on shape and direction (some are merely reversed versions of another), it frees the player up to concentrate on strategizing without worrying over how to distinguish each block from the other.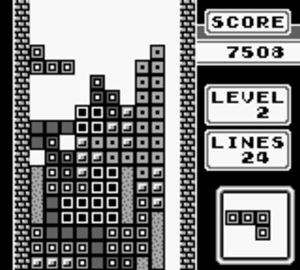 The music in Tetris was interesting for its time. When I first heard it as a child many moons ago, I remember it standing out that the tunes weren't the "happier" sounds I had grown accustomed to with Super Mario Bros. and other games like it. Instead, the music in seemed so...serious. Maybe that's because at least two of the compositions were derived from actual orchestral and folk songs.
You have a choice of three music styles- A, B, and C (or silence if you prefer). Music A- arguably the signature Tetris theme- is actually a Russian folk song called "Korobeiniki" composed by Nikolay Nekrasov. Music C is a loop from Johann Bach's "French Suite No. 3 in B Minor". Oddly enough, my favorite tune is Music B, which I've never been able to find out were that song came from. Be that as it may, the audio presentation on the Game Boy is very enjoyable and well complements the gameplay elements.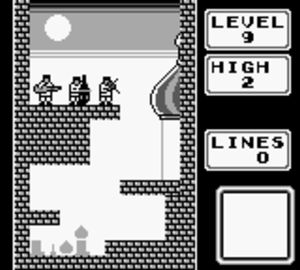 To put it simply, Tetris on the Game Boy captures the basics of pocket-sized puzzle gaming perfection. It's easy to learn, but quite challenging to master. It can be played anytime and anywhere without requiring a long play session to get into it. The pleasant music and humble visual presentation can still be enjoyed despite the game's age. It all combines to make one of the most enduring video game concepts of all time. Do yourself a favor and play a game of Tetris now and then. You won't regret it. Probably.