Final Fantasy VI Review Rewind
RECOMMENDATION:

Truly one of the best RPGs on the Super NES that still holds up today.

As a late bloomer to RPGs, I was mostly ignorant of the Final Fantasy series until 1997, when that commercial for Final Fantasy VII caught my attention in all its epic CG glory. But it would be another two years before I finally saw a demo of the game in action, which sparked my love for RPGs. The point is that I missed out on Final Fantasy VI (originally titled Final Fantasy III in the US) when it was released in 1994. Fortunately, the Super NES Classic Edition's release several years back allowed the opportunity to play Square's magnum opus of the 16-bit series. And boy, was it worth the wait.
The game opens with Terra- an amnesiac who learns that her unique abilities are being used for evil ends by a power-hungry empire. She is soon joined by Locke- a skilled thief (preferring the term "treasure hunter") who helps her escape from the clutches of said empire. And so begins the chain of events resulting in a colorful cast of heroes uniting against a conspiring madman bent on destroying the world. Familiar as that story thread may seem, the layers in which it is woven still resonate in a surprisingly relatable way.
The battle system is more or less unchanged from Final Fantasy V. All of your standard menu commands and Active Time Battle gauges are still present. However, magic is handled differently than in previous games in the series. Instead of automatically learning new spells after a character reaches the required level, magic is primarily learned through acquiring magic points from creatures called espers which can be assigned to nearly anyone. Each esper has a set of attributes that can be taught to your characters at various intervals. Assigned espers can also be summoned in battle to perform special attacks or status effects based on the esper's element type.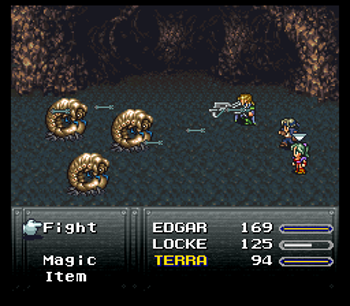 The game throws a curveball into the mix when the character Gau is introduced. To effectively use him in battle, he needs to learn various "Rage" moves- a list of attacks learned from previously encountered enemies. The caveat is that he can only learn them in one specific area on the world map where previously encountered monsters appear. While learning additional moves isn't too harsh early in the game when you've faced fewer monsters, it can be a real slog attempting to do so halfway through the game and beyond after encountering a broader range of enemies.
Of the 45+ hours spent with the game, a good six or seven were spent sifting through encounters (between other side-quests) until I finally came across the particular enemy whose ability I wanted. It can be a significant time sink which isn't great if you plan on using Gau to his maximum potential. Worse yet, you don't gain experience points when battling monsters on the training ground (though you get magic points if your characters are equipped with espers).
I've always been a sucker for a good story, and Final Fantasy VI delivers plenty of it. Initially, the journey focuses squarely on Terra trying to discover her true origins. But I was pleasantly surprised to see that the story doesn't rely on the "amnesiac protagonist" trope for as long as one might expect. Instead, the game balances its focus on other party members as they accomplish various tasks while maintaining relevance to the central plot.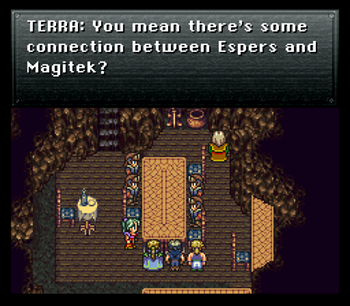 While completing said tasks, you get to know more of those characters' personalities, experiences, and motivations separate from Terra's. Better yet, there's no prophecy of "Light Warriors", no "chosen one," and no heavy romance plot involving any of the dozen or so playable characters (although some are a bit smitten at times). It's one of the least tropey of all the Final Fantasy games up to this point in the series' history. The storytelling is well-executed, making most of your party members feel equally as integral to the plot as Terra without feeling forced.
What stands out most about Final Fantasy VI is the surprisingly realistic portrayal of the protagonists and supporting cast. One of the moments that stayed with me long after finishing was a brief scene in the later half of the game. There's a pub in one of the towns you'll revisit where the barkeep reminisces about how the previous events in their town were preferable to how much worse things got afterward (complete with a brief flashback). It was a rather poignant aside acknowledging that perceptions of past circumstances can change when the situation worsens.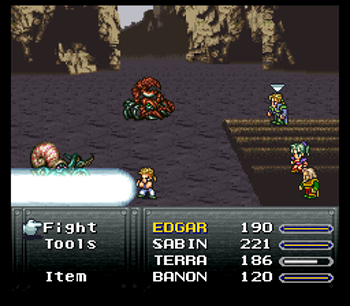 I'd be remiss not to mention Kefka- infamous for being one of the most remorseless villains in the pantheon of Final Fantasy baddies. His first significant evil act is poisoning the water supply and laughing as everyone dies- including the family of one of the protagonists. And he just gets worse from there. The game never presents him as a victim of circumstance or somehow misunderstood, nor is he a case of ambition gone too far. He's rotten to the core with zero redeeming qualities. Those traits make Kefka an interesting villain and the perfect foil to the heroes' attempt at saving the world.
The accompanying soundtrack by long-time Final Fantasy composer Nobuo Uematsu is one of his best works on the Super NES. By this point in the series, he mastered the console's audio capabilities so well that he could practically make the system sing- evidenced by the famous opera scenes at one point in the game. Every composition feels appropriate to the circumstance unfolding, be it dramatic, intriguing, sad, tense, or humorous.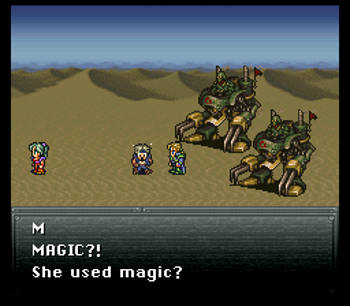 I get chills whenever I hear the flute in "Cyan's Theme," especially when revisiting Doma Castle after a tragic event. The lively strings of "The Serpent Trench" is filled with adventurous wonder. And the Joplin-inspired ragtime melody of "Spinach Rag" are an absolute delight. But if I had to single out a favorite musical piece, that award goes to "Battle to the Death" (aka Fierce Battle). When this chaotic theme kicks off a pivotal battle, you get the sense that this is not a boss fight to be taken lightly. The audio comes close to CD quality in terms of clarity and complexity. There's a clear throughline between the instrumentation heard here and in the PlayStation sequel.
Final Fantasy VI is the total package among RPGs of its era. The game has a strong cast of protagonists, solid story beats, and a villain who could send the devil himself running for the hills. Uematsu's musical score well-suits the journey- including an impressive 21-minute ending that made me tear up when I heard a familiar theme I thought was omitted until it suddenly played at the very end. Without a doubt, Final Fantasy VI is a journey worth taking and a fitting conclusion to the beloved 16-bit trilogy.