Final Fantasy Review Rewind
RECOMMENDATION:

An excellent RPG for its time. But even hardcore fans may not find the original as appealing these days.

Final Fantasy is the stuff of legend. No, seriously-- it is. Just ask any enthusiast about the origins of the series. Watch as their eyes gleam while recounting the story of how it all began. Legend has it that a long time ago (1987) in the land of Japan, a fledgling company known as Square (now Square Enix) wasn't doing so well financially. Despite earlier releases like Rad Racer and 3-D World Runner, their games weren't selling well enough to pull them out of the slump. It seemed as if all was lost. Wanting to go out with a bang, Square chose to develop a role-playing game. They called it Final Fantasy (*cue epic music*).
Well, that's how the legend goes anyway. Sometime after the game was released, game designer and series creator Hironobu Sakaguchi admitted that the title of the game was born from his personal circumstances. If the game sold poorly, it would be his final project in the video game industry- or his "final fantasy" you might say. Thankfully, things worked out. The game sold well, Sakaguchi kept his job, and the rest is history. Not a bad turn of events for what was supposed to be a last hurrah.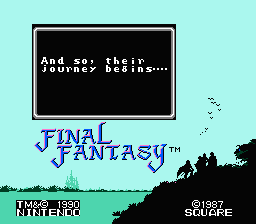 Final Fantasy begins in a world covered by darkness as the planet slowly begins to rot away. But all hope was not lost. After all, there was a neat little prophecy floating around about four warriors of light coming forth to put an end to the ordeal. It also mentioned something about them doing happy dances after winning random fights. And wouldn't you know it- the prophecy was true...and pretty darn accurate! Four young warriors soon arrived. Random battles were fought. Happy dances were danced.
The difference between Final Fantasy and its RPG contemporaries is noticeable as soon as you start the game. For starters, you're given a summary of transpiring events while a [now familiar] melody plays in the background. Even more notable is the fact that your entire party is formed at the start of your quest, instead of being gradually developed as your adventure unfolds.
Within your group of 4, there are six character classes to choose from- Fighter, Black Belt, Thief, Red Mage, White Mage, and Black Mage. Customizable parties were nearly unheard of at the time in the US (with the exception being Ultima: Exodus). If you want a party of all Fighters, you can do it. If you're feeling especially daring and prefer all White Mages, go for it. The game didn't force you into having a party that you didn't want.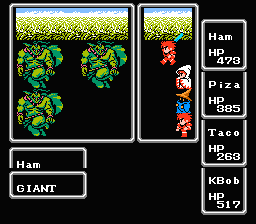 Of course, part of what makes or breaks an RPG is how well the battle system works. After all, a game can have every customizable feature under the sun, but it won't matter much if the combat system sucks. For Final Fantasy, it definitely succeeded in its implementation at the time. In classic turn-based fashion, each character can choose to either attack, use magic (assuming they have any), use an item or attempt to escape the encounter. What was interesting about the "Item" category was that certain types of armor had properties that could be used in battle even if it wasn't equipped on a character. The battle menu also has a "Drink" option for using potions and "pures" to replenish HP or heal your party from status effects.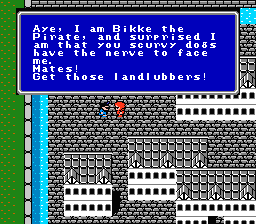 During battle, each character in your party is shown on-screen, in addition to the enemies themselves, whom at times could number anywhere from 1 to 9 in a group. Additionally, you could also select which enemy you wanted a party member to attack. Previous to this game, popular RPGs like Dragon Warrior and Phantasy Star used the more traditional first-person viewpoint to play out each battle, which only showed the enemy onscreen but omitted any physical representation of your character(s). In the case of Phantasy Star, there was no way to select an individual enemy within a group when facing multiple foes. Instead, enemies would be attacked at random. Final Fantasy was designed with a more strategic approach to thinning out crowds of enemies. And while it is true that Ultima: Exodus used a 2D battle system that pre-dated this game, it wasn't nearly as robust.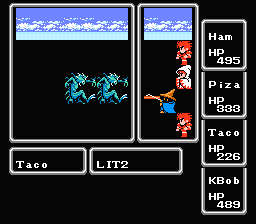 Final Fantasy boasted a vast world map, and there was plenty of ground to cover. But you'll gradually get to explore every corner of the world using a pirate ship, canoe, and airship- the latter of which is by far the most convenient way to travel. Such methods of transportation were fairly new concepts to console RPGs and quickly became preferable to exploring a big world map on foot.
The game is also complemented by a well-composed musical score by Nobuo Uematsu. Some of my favorite tunes include the Chaos Temple and dungeon themes. Despite being highly repetitive (most tracks are less than 1 minute), Uematsu still nailed that sense of adventure that impelled you to keep moving onward. With gameplay elements such as these, it's little wonder why Final Fantasy quickly eclipsed the other RPGs of its day.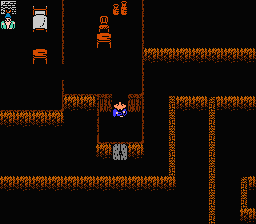 While there's a lot to like about the original Final Fantasy, there are some design elements present that may scare away newcomers, to say the least. Probably the biggest barrier to entry is the game's grind-heavy nature. Once you step foot into the world for the first, it becomes painfully obvious that you're at least 2 or 3 levels short of where you need to be if you want a fair shot of maybe accomplishing the initial mission. Almost everything is expensive at all times. Purchasing inventory items, armor, weapons, and resting at inns will quickly drain your wallet- especially if you have multiple Fighters and Mages in your party. This means that you'll be spending a good 15 minutes or so grinding for experience and money just to move on the next leg of the journey. And that's just the prelude for the journey ahead. Assuming you play by its rules, you'll be spending more time grinding than advancing the already thin story.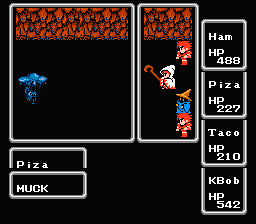 There's also the miserly magic system. Instead of learning magic spells as characters level up, you have to purchase them from shops- which usually costs an arm and a leg no matter how much cash you manage to accumulate. And instead of using MP to regulate usage, each level of magic has a limited number of charges for the group of abilities. Honestly, I would have preferred the MP system instead. Using charges just felt more constricting.
If a party member is either turned to stone or killed, White Mages can't use the applicable ability to bring them back to life or remove the stone status during battle. It's frustrating because you are then forced to decide between attempting to escape the battle (and forfeit the experience points) or muddling through the rest of it, but forcing the immobilized character(s) to miss the experience points earned. It's almost like that scene in "The Good Son" film when the mom had to choose which child to save and which one to drop over the cliff. Either way, someone loses big time.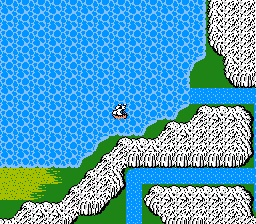 And then there's the lack of auto-targeting. When fighting multiple enemies, a character's turn will be wasted if the selected enemy is defeated by another party member. Managing equipment can also be a hassle at times since there is no streamlined way of quickly seeing which character can equip certain types of armor and weapons before you purchase them. Frequent switching between the weapons, armor, and status menus are the only way of knowing how each new piece of equipment will boost or lower a character's stats once it's equipped.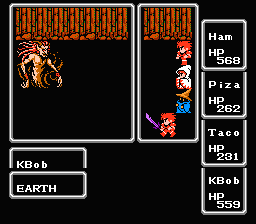 While it may not sound like a big deal, keep in mind that you'll constantly have to do this for four characters with different needs, assuming you didn't select the same character classes at the start. Additionally, there are only 16 slots in the weapons & armor inventory, which isn't much. So at times, when exploring dungeons and caves, you may be forced to drop certain valuable equipment that you otherwise would have sold at the nearest weapons/armor shop to make room in your inventory.
I think it's fair to say that Final Fantasy was a groundbreaking RPG in its heyday. The game gave players more control over how enemy encounters played out thanks to the nifty engineering of the 2D battle system. Both the visual presentation and the musical score tied nicely into the game. However, the monotonous grinding, outdated magic and inventory management systems, and lack of auto-targeting make for an RPG that's a hard sell these days- at least in its original form. I recommend trying an updated remaster such as Final Fantasy Origins instead (see the section "Side By Side" below).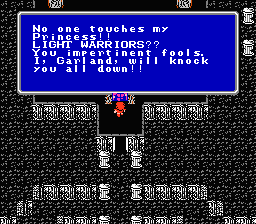 To be fair, a game released over 30 years ago can't be expected to hold up to the expectations of the current generation. And this game certainly isn't immune to the overall improvements that came over time. Even so, Final Fantasy delivered a role-playing experience that was unmatched by anything before prior. It left enough of an impact to eventually become the blueprint for many other RPGs to follow, including the continuation of this long-running series. And if you ask me, that's an accomplishment worthy of the victory fanfare.
If you're a newcomer and find the original NES version of Final Fantasy to be a bit too antiquated, Final Fantasy Origins has you covered. It's the 2003 PlayStation port of the Wonderswan 16-bit remaster of Final Fantasy (and Final Fantasy II). While the story and characters were left intact, the graphics and gameplay elements were fine-tuned to make for an even more accessible game for a newer generation of FF fans.

First and foremost, auto-targeting is available to make battles less of a headache. White Mages can now revive party members and cure the stone status on the battle screen. Square also streamlined the process for equipping weapons and armor by containing the needed options and character statistics within the same menu.

Perhaps best of all, the game comes with an easy mode. In this mode, your characters level up faster, gain more money after battles, and generally have stronger character stats all around. The shop prices for magic, weapons, armor, and items all reduced as well, making it easier to afford the best of everything much sooner.

Better still, magic users have a much more generous allotment of charges per EXP level. Basically, playing in easy mode virtually eliminates the need for grueling level-grinding or trudging through countless fights for the sake of gaining enough cash to just barely be able to purchase the latest equipment for everyone.

Of course, you still have the option of playing under the original game's settings if you prefer that style of play. Either way, Final Fantasy Origins is a great remake and a perfect way to see how the series began with a fresher coat of paint.