Burnout Crash! Review
RECOMMENDATION:

For fans of the Burnout series' Crash Mode and little kid inside all of us.

Like most people, my favorite moments in the Burnout series have always revolved around the wrecks. Slamming a competitor into an oncoming car during a race or just causing as much damage as possible during a crash mode is endlessly entertaining to me, so when I heard that Criterion Games was making a downloadable version of the Crash mode I was more than excited to get my hands on it.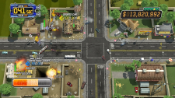 And then they released Burnout Crash. A cartoonish, bird's-eye view spin on my beloved franchise. I'll admit, I was initially very disappointed, but as I began to play something strange happened inside me. I realized I loved this game.
The game is extraordinarily simple to pick up. Your car careens toward an intersection and you steer it as best you can into traffic in an effort to muck up the streets with the burnt out remains of cars and trucks and damage as much of the surrounding structures as you possibly can. As you cause havoc your Crashbreaker meter builds and builds. Once it's full you can press the X/A button to unleash an explosion that will damage cars around you and send you flying through the air towards whatever object you wish to destroy next. This symphony of destruction continues until five lucky drivers manage to avoid your path of destruction and move untouched through the intersection.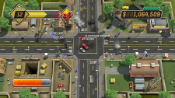 Besides the obvious destruction of property there are many different ways in order to drive up your damage total/score. Crashes and explosions can be linked together for chain bonuses and there are various "trick shots" you can perform such as launching one car into another or knocking someone into a hole in the stage. Finding the best way to cause the most damage is fun and adds a bit of strategy to a game that could easily get lost in a chaotic mess.
There is also a slew of wild card instances like cop cars, gas trucks, and ambulances that can be a help or hindrance to your destructive ways. If you're destructive enough you'll also work your way to the intersection's main feature—an environmental disaster such as a tornado that will wipe out the playing field and end the game round in an extraordinarily satisfying fashion.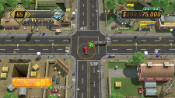 The fruits of your destructive labor are rewarded in the form of stars, which are necessary to unlock new modes, vehicles and intersections. There are three modes of play for each intersection, all of which are subtle variations on the basic 'destroy as much as you possibly can' premise and each mode has five stars to attain.
This star system proves to be a rather addicting hook and I found myself playing through intersections "just one more time" in order to pick up those last few stars and wrangle up a higher score. Burnout also borrows a feature from its sister series Need for Speed called Autolog that allows you to pit your high scores against your friends.
Crash sets itself up to be a fantastic game, but there is one glaring issue: the announcer. In true, obnoxiously over-the-top form, this disembodied voice will be unable to contain its excitement and shout out "Awesome!" every time you brush up against another vehicle. Thankfully there's an off switch in the options menu, but I wouldn't recommend using it until you're familiar with the game as you could easily miss some tips and other game-related details.
Insufferable audio aside, Burnout Crash is a fantastic little game that is easy to pick up and hard to put down. The simple frenetic fun, coupled with an addicting star collecting series is sure to put a smile on even the most jaded of gamers.