Ratchet & Clank Future: Quest for Booty Review Rewind
See PixlBit's Review Policies

On 10/20/2011 at 12:00 PM by Nick DiMola

What once made for a great holdover between Tools of Destruction and A Crack in Time is now a side quest that's mostly forgettable.
RECOMMENDATION:

Not recommended if you have yet to obtain a copy of the game.

At this point in time, Ratchet & Clank Future: Quest for Booty serves little purpose. The PSN release is an extremely short 2-3 hour experience that served only as a holdover for the (at the time) upcoming release of A Crack in Time. The entire quest is focused around contacting Clank, given the events that concluded Tools of Destruction. As such, he's not available for use and Ratchet is provided with a few nifty tools to get the job done.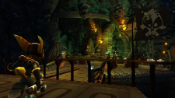 Comprised of a mere three levels that are each visited twice, Quest for Booty is an extremely thin offering with little variety. Worse, players are stripped of all of their equipment for around half of the game, taking away a crucial part of the enjoyment of the gameplay. Instead, players are given the ability to both lift and throw small items and manipulate particular objects in the world. The Swingshot has also conveniently been made a permanent fixture and can be activated during contextually sensitive situations (which produces the occasional issue).
The lifting, throwing, and manipulation abilities do prove to be successful additions to the series. Whether you are positioning platforms to jump on during a jumping segment, or pulling out a new pathway, or solving a shadow puzzle, it's fun and easy to move around the objects. Lifting and throwing are used in conjunction with other techniques, like rail grinding, to open new pathways. It's also used as an attack mechanism during the final boss battle.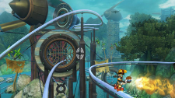 As you recover your weaponry throughout the quest, it's clearly underpowered, even after discovering the upgrades hidden within the levels. Because it's such a short experience, the intricate details of the weapon upgrading system have been excised here, leaving you to only continuously use your weapons and progressively upgrade them to level 5.
It's an extremely stripped down experience that cuts out almost everything that Tools of Destruction brought to the table. Furthermore, it still suffers from the same annoyances of Tools of Destruction, including the misguided health upgrades and the inconveniently placed checkpoints.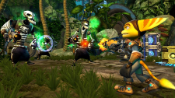 The game's side story isn't of much interest either and could easily be summed up in a single sentence. As a teaser, all of it would've worked great, but coming in after the fact leaves little to appreciate. The game does, however, maintain the character and much of the charm of the series, despite its numerous changes. This creates an experience that's still inviting though nowhere near as full or polished as past titles.
While the Welcome Back program provided a few European gamers with access to Quest for Booty, any others who missed out are best skipping this entry. For the still steep price of $14.99, it's not a significant or relevant enough entry to warrant the price of entry, especially at this point in time.