Michael Jackson: The Experience HD Review
RECOMMENDATION:

A great buy for anyone, when the price drops.

I'm sure the latest port of a Michael Jackson game that has already come out on every system imaginable isn't on the top of your "Vita games to grab at launch" list. But surprisingly enough, it wouldn't be an awful one to occupy said space. I absolutely would not consider myself a fan of the King of Pop's music, but he has some undeniably catchy songs in his extensive catalog that - when paired with The Experience's sharp gameplay- make for an engaging and enjoyable play experience.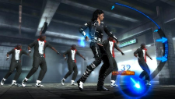 If you're not living under a rock, you've certainly heard a good bit of the soundtrack featured in Michael Jackson: The Experience HD. Hits like Billie Jean, Thriller, Don't Stop till You Get Enough, Bad, and Smooth Criminal are all present alongside some of his later work, like Black and White. As with most of Jackson's tracks, the fifteen featured here all have an easily recognizable beat that's absolutely perfect for a rhythm game.
Rather than controlling some virtual instrument, you're tasked with making Michael dance. Each song takes cues from its real life music video for the setting, and the dance routines executed by Michael mimic those featured in those videos. Taking exclusive use of the Vita's touch screen, your fingers will perform the fancy moves via a variety of gestures.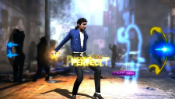 Instead of touching some portion of the screen or merely tapping with the beat, you'll be swiping in the direction indicated by the on-screen cues. These cues roughly represent the motions Michael is performing, building a solid link between your actions and the animations.
Once you get in the groove, it's incredibly satisfying to play the game. As mentioned earlier, the great beat featured in Jackson's tracks makes it very easy to perform well. Recognition of the gestures is almost always accurate, save for a few instances here and there where your taps are recognized as swipes. Even during instances where the gestures come fast and furious, you'll be swiping across the screen with relative ease.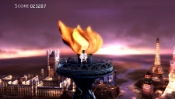 What's most interesting is that the game even takes use of the Vita's multi-touch display, tasking players with performing opposite swiping gestures with each of their hands. Because you can swipe towards a general direction from anywhere on the screen, input isn't as rigid as it typically is for this type of game, making it feel as if you have a bit of freedom to perform as you see fit. It's a refreshing approach to the genre, to say the least.
Because all of the gesture instructions appear on the fringes of the screen, it can be easy to obscure them with your own hands while executing a gesture. This becomes especially true in the higher difficulty songs, where both your hands are hovering over the screen at all times.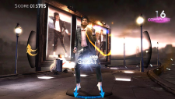 You won't be hopping into that level of difficulty quickly though. The game starts slow, going to ridiculous lengths to hold your hand as you become acquainted with the gameplay. It's so restrictive intially that you can't even execute a gesture and receive a "perfect" until you play enough songs to unlock the ability.
Difficulty tiers are also locked, forcing you to grind through enough songs to eventually unlock the expert difficulty setting. Needless to say, the game doesn't become respectably challenging until you start tackling each song on expert.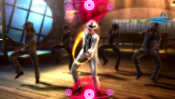 With only fifteen songs, The Experience HD is woefully thin on content. Despite the various challenges, like executing a certain number of gestures successfully in a row, there aren't enough to carry the game much further.
I'll be the first to admit that I had fun with Michael Jackson: The Experience HD, but the content is just too thin to recommend investing in the game at launch. It's a title that anyone will enjoy and Michael Jackson fans will adore, but until it comes down in price, it's simply not worth the price of admission.