BlazBlue: Continuum Shift Extend Review
RECOMMENDATION:

For those already looking to get the title and would prefer it on the handheld. Otherwise, the high learning curve will likely scare the uninitiated away.

With this new generation of handhelds it has become clear that home console fighting games can be brought to portable systems without cutting down the original in any way shape or form. To that point, BlazBlue: Continuum Shift Extend, a massive game, has been ported wholesale to the PlayStation Vita with absolutely no concessions.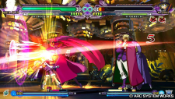 Rather than rehash Esteban Cuevas' review of the home console version, I'll say in short that BlazBlue: Continuum Shift Extend on the Vita is every bit the game that the Xbox 360 and PlayStation 3 versions are. This makes it an ideal investment for those who'd prefer to play the game on the go, rather than in front of their televisions.
The major and most noticeable difference is just how phenomenal BlazBlue looks on the Vita. The system's huge OLED display depicts the vivid colors, smooth animation, and frame rate flawlessly. It's always a treat just to watch the game in motion, regardless of whether I'm playing or not.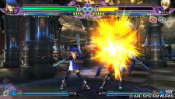 Taking the game online, it appears the same spotty connection and matchmaking issues of the home console release hold true. Some matches are completely smooth, others stutter to the point of being unplayable. The spectator mode is a nice addition and it's even more surprising to see it available in the portable release of the game.
Despite launching on the Vita, which is host to a number of new control methods, BlazBlue doesn't opt to force players to use Vita controls. Players are given the ability to map a button or combo to areas on the rear touch pad. It's not a particularly functional control option and with the ability to enable "Stylish" controls, the proposition is even less enticing. With this configuration, not only are combos greatly simplified, but they're guaranteed to execute because they are tied to a single button. This makes the game a bit more accessible for newcomers.
Outside of this single attempt to shoehorn in Vita controls, everything about BlazBlue: Continuum Shift Extend is congruent with its home console release. If you're the type of gamer who'd rather have the game on the go or don't have a friend to play with on the console, you can't go wrong with the latest in the BlazBlue series on the Vita.