Journey Review
RECOMMENDATION:

Everyone should make this journey at least once in their digital lives

At its core Journey's focus is on something we do every day without thinking about it – walking. We walk around our homes, we walk to our cars, and some of us may even walk to where we are going throughout the day. Even those of us who are unable to walk with our legs find some other means of locomotion to trek to and fro. Basic movement to us is like breathing – we do it unconsciously even though it is an important aspect of life. So when I say that Journey is about walking, I am saying that Journey is about something we take for granted. It's about what happens on our way from point A to point B.
Simplicity is the key to any journey. Adding in too many variables or controls takes away from the overall enjoyment of your movement and Journey understands this completely. Your avatar is limited to basic forms of fluid movement. They can walk – at times electing to ski down a slope if the situation should arise – and they can jump, so long as they've been "charged."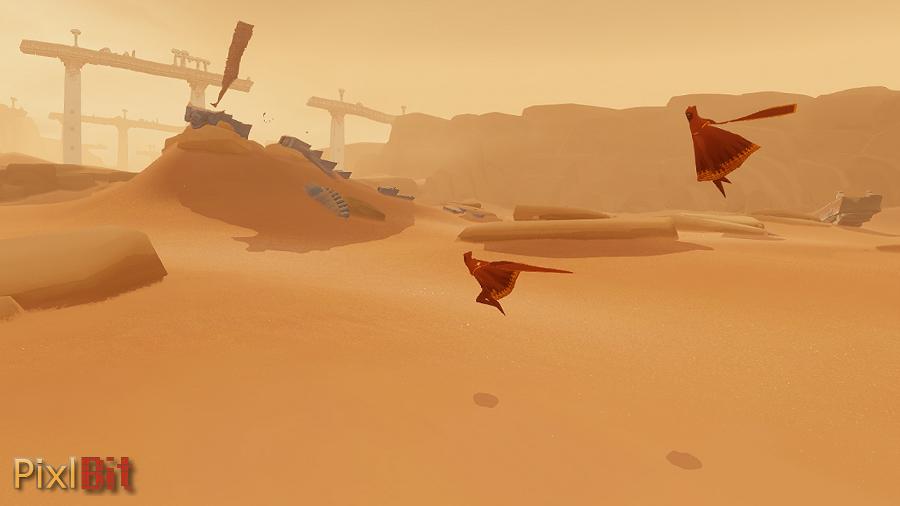 Jumping is a luxury that most gamers take for granted. After all, many of us were weaned into gaming on Super Mario Bros. – a game based almost entirely around the concept and whose main protagonist was originally dubbed Jump Man. But Journey takes steps to ensure you only use the ability as necessary. Scattered throughout the various areas you'll traipse through are magical glyphs that, when collected, will add to the length of your scarf. The length of your scarf determines how much "charge" you can harness from the local wildlife – read: carpet animals – and this charge, in turn, determines how high/long you can jump through the air.
The placement of these glyphs is very deliberate. The game doesn't force you to collect an arbitrary amount of glyphs before moving on to the next area. Those simply pressing on through the level will have no issue proceeding solely on the glyphs that are placed along the direct path. However, those that do decide to wander haphazardly through the wilderness will be rewarded. Collecting the various glyphs will ultimately allow you to experience the journey in a unique way and will provide alternate methods of traversing some of the land's obstacles.
The idea of walking from one point of interest to another in itself is not the most appealing idea, but Journey makes this work because of the focus on exploration and discovery. Taken in a straight line, the game is packed with interesting vistas and simple vertical puzzles that are usually accomplished by finding the appropriate jumping point. But taking the path less chosen unveils an interesting world, rife with discoveries to be made – whether it be coming across a lone desert flower or an interesting cave dweller. Enjoying the game isn't a matter of possessing the technical skill necessary to pull off a complex action; it's a matter of finding joy exploring the world around you.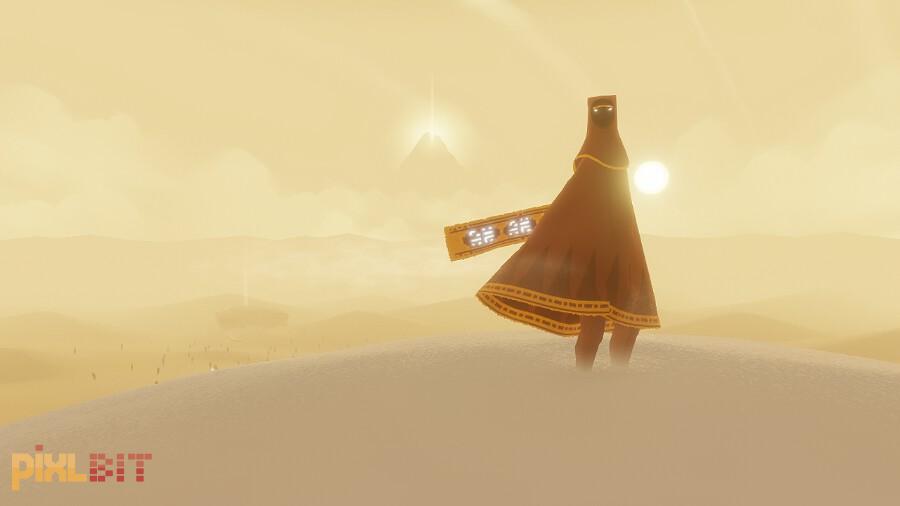 The game's score is perfectly designed to impart this idea upon the player. The music is often understated so as not to distract from the world around the player, but is present just enough to enhance the small moments and punctuate the more impressive set pieces.
Undertaken alone, Journey is a thoughtful experiment in gaming habits, but those that experience their travels with another are rewarded with an interesting and unique emotional bond that is not commonplace in video games. While walking amongst the sand dunes or avoiding great beasts in the caverns, it is likely that you'll come across the avatars of others making their own pilgrimage. You can join them if you so choose; or perhaps you can let them accompany you. In keeping with its simplistic nature, there is no specific way to communicate with those around you. You can't communicate through voice or text and you can't affect their progress in any real positive or negative fashion. You can signal others, but beyond this you can only choose whether you wish to share your journey or not.
While most of my time with Journey was spent alone, those segments when I had a companion were by far more memorable. As you progress the land becomes more treacherous. Blizzards hamper your progress and large beasts prowl the tundra, and though there is no real threat beyond losing some length from your scarf, I would worry for my companions. I would slow down when they fell behind and attempt to point out paths that were perhaps safer than the ones they were on. I cared that they made it to the end whole – I forgot that this was a game you couldn't really lose.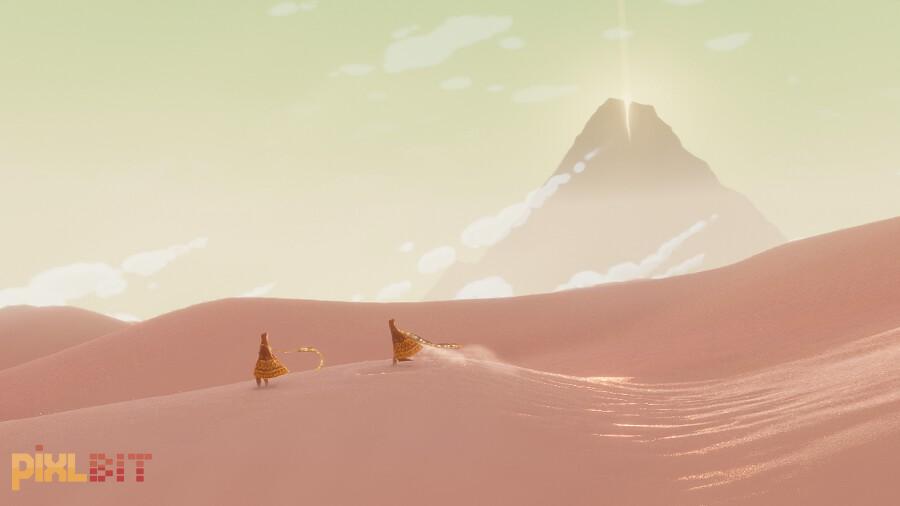 There is an end goal in Journey – but the nature of exactly what that goal is, is debatable. Some will say that it's to reach the glowing mountain – that spot on the horizon that draws nearer and nearer and larger and larger as you progress. Others will say that reaching the mountain's peak is not the end goal at all; rather the whole of the physical and emotional journey there is the game's point. After all once you reach the end you can elect to start your journey anew – a choice I was more than happy to comply with.
When asked to describe what the game means to me, the words just don't come. It's not that I don't know the answer, but that answer is personal. My journey was mine and mine alone. Even though there were times I enjoyed companionship the experience was unique to me, just as it was unique to them. It is not a static thing – my next journey will be different, but still important.
Whatever the point may be, Journey is a game that will warrant discussion amongst all those that decide to take it on. And while my thoughts on games as art are well know, I will admit that this game gives me reason to evaluate my thoughts on the subject. Perhaps that's the point after all.