Tomba! Review
RECOMMENDATION:

For nostalgic fans looking to experience the game again.

Due to its rarity, Tomba has become highly sought after for fans and collectors alike. The title, created by the now defunct Whoopee Camp, was the brain child of Ghosts'n Goblins creator/Mega Man producer Tokuro Fujiwara. While the multi-plane sidescroller has Fujiwara's signature, it doesn't quite capture the magic of his prior works, especially 15 years after its release.
Like many games from the PlayStation era, Tomba is far from easy if you're approaching it for the first time, years after its release. With little to no instruction, it can be extremely difficult to deduce what to do next or where to go. If you're not paying very close attention to your surroundings, it's easy to miss pathways to new areas or characters that need to be talked to.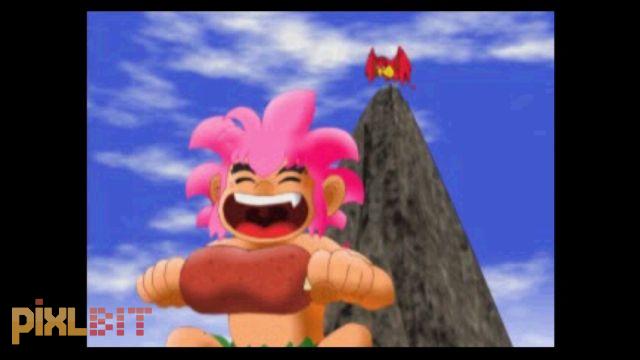 It's easy to label Tomba a sidescroller and move on, but its construction is rather atypical. Traversing the landscape is accomplished through the traditional run and jump mechanics; however, attacking enemies is done in a unique fashion. All enemies can be jumped on, grabbed, and tossed, but with many you'll have to use a weapon to knock them down, or wait for them to enter a vulnerable position to be attacked. When tossed, they can act as a weapon against other enemies or a means of modifying the landscape to enable progression. This unique implementation is one of the items that really sets Tomba apart from the crowd.
What further differentiates the experience are the RPG elements that accompany it. The entire game is built upon a quest-based structure that nets players AP points. These will help expand the life bar to make it less treacherous to traverse the disparate lands. What's unfortunate is that the game does a poor job of distinguishing quests that will progress the story and those that are tangential. Even worse, the objectives in the quests can be vague and will offer little direction on where to go or how to move forward, often bringing your experience to a screeching halt.
While there are some 130 quests in the game, for most you'll always be doing the same thing, which is in essence: finding the proper location, talking to the right person, and/or collecting the expected item(s). Given that traversal isn't particularly challenging or often interesting, this gameplay quickly loses its luster.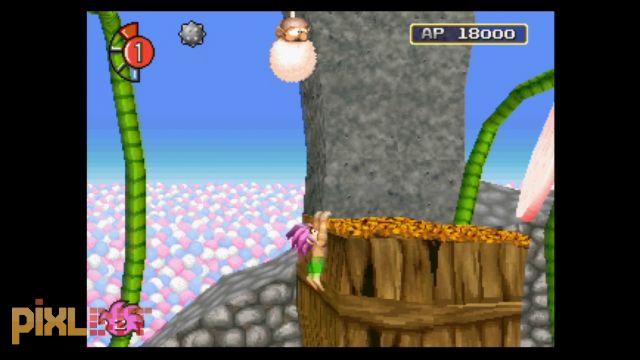 The diverse and unique environments serve as the true reward of Tomba. In one portion of the game, I encountered a mushroom stage that featured items to eat that had Alice in Wonderland-like effects on the world. Furthermore, they'd cause my character to randomly laugh or cry without a moment's notice or disable the use of my weapon. The area was unlike any I've seen in a game and was incredibly memorable.
The ability to jump in and out of the background often created some interesting opportunities for exploration as well. Though with little else going on in the game, the instances that encouraged unique exploration were welcomed.
It's easy to see why Tomba has become a game that collectors actively seek out. While it's not particularly engaging, there's no question that it's a unique piece of gaming history that demonstrated what could be done with a tried and true genre. As the years have gone by, we've seen some incredible things done with the platformer, so approaching it for the first time 15 years later makes it hard to appreciate. However, if you've played Tomba in the past and are eager to give it another whirl, you can't go wrong with the PSOne re-release that you can enjoy on the PlayStation 3 at home or on your Vita/PSP to go.