Steamworld Dig: A Fistful of Dirt Review
RECOMMENDATION:

For fans of old school platformers and unique 2D games.

SteamWorld Dig is one of those completely out of left field games. Before it hit the market, I had no idea it was even a thing that existed. Shortly after witnessing a small sample of the gameplay, my interest level shot through the roof; rightfully so, as it turns out. This mining action-platformer is innovative, interesting, and fun from end to end.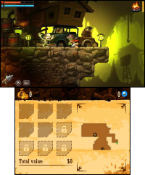 If you're into obscure Nintendo games, you might remember a little gem on the Gameboy Advance called Drill Dozer. While not totally parallel, it's the first game that came to mind as I began my adventure in SteamWorld Dig. That and Terraria, of course.
As it turns out, your character, Rusty, has inherited a mine from his late Uncle Joe. The mine sits below the town of Tumbleton and is rich with resources. Unfortunately without Joe around, they've got no one to extract the goods to help this flailing town thrive. Rusty literally falls into his new mining responsibility as he approaches the town and begins digging down through the earth with a trusty pickaxe.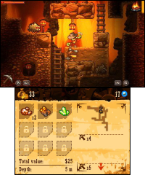 Digging through the mine has permanent consequences; if you destroy a block in the mine, it's gone forever. As such it's imperative to make smart pathways through the mine to reach the various treasures that lie beneath.
While digging in and of itself can be a chore at first, it's the progression loop that makes this experience so engaging. As you collect these minerals from the earth, you'll slowly (or quickly) fill up your pouch, which will force you to the surface to sell off everything you've collected. These funds should be properly reinvested in new equipment for Rusty that will make it much quicker and easier to progress through the mine.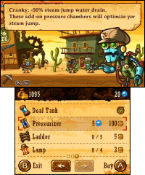 However, it's not a game that's just about collecting loot to make it easier to collect loot. Moving further down the mine, you'll eventually uncover hidden caves that each pose a unique challenge. Some are more focused on pure platforming mechanics, while others are more of a puzzle – naturally, there are plenty that sit right between, giving players a taste of both. Not only do these caves provide some of the most valuable minerals, but they also house stations which will grant Rusty with either new equipment or new abilities.
Like the Metroid games, these abilities and equipment will grant access to new areas both in and out of caves. The story is wrapped around finding these caves and uncovering entirely new worlds that were only rumored to exist in the folklore of Tumbleton. This sense of discovery and exploration is absolutely enamoring and it helps to continuously drive the experience.
Even better, SteamWorld Dig is no walk in the park. There's some legitimate challenge to be found and a strong possibility, especially early on, that you're going to perish in the mines. Thankfully your loot is dropped at the site of your death and can be retrieved a la the Souls games. You also have to contend with a limited and ever diminishing water supply for some of your tools and abilities, as well as keeping your torch lit so you can see the contents of the blocks in the mine.
It's hard to pinpoint anything that's really wrong with the experience. While it only clocks in at around five hours, I was absolutely glued to my 3DS from beginning to end. I'd say it's a bit on the short side, but the developers knew the appropriate time to call it quits, because it's likely the mechanics would wear thin if it were any longer.
At only $9, it's hardly a question of why you should buy SteamWorld Dig, but rather why you shouldn't. This is yet another gem in the 3DS eShop that should be mined immediately.