Xexyz Review Rewind
RECOMMENDATION:

Worthwhile for anyone willing to overlook the somewhat loose controls and difficult boss battles.

Every now and then, game developers like to mix it up a little and create a game that pitches together several genres into one, like Xexyz (pronounced "zeks-zees") on the NES -- a rarely seen attempt to blend elements from the platformer and shoot 'em up genres, with just a pinch of RPG/adventure thrown in there for extra measure. Released by Hudson Soft in 1990, Xexyz proved that fusing three genres together can work quite well.
The story takes place in the year 2777 in a post-apocalyptic Earth. Only five islands remain in existence, forming the new nation known as Xexyz. Eventually, it was attacked by Goruza -- an attack fortress from another world. Forced to surrender, Xexyz now turns to the space warrior Apollo (that's you) in hopes of being freed from the tyrannical rule of Goruza.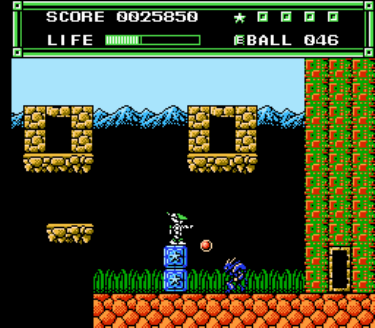 Most levels are divided into 3 parts: the outside area, the Mechanical Castle, and the boss for that level. Most of the platforming elements take place in the outside areas. Along the way, there are various rooms that Apollo can enter and do a variety of things. Most rooms feature shops, weapon upgrades, or life refills. Some rooms contain advice-giving fairies. Occasionally you'll enter a room with a fairy being held captive by a floating creature. If you destroy the enemy and free them, you'll be rewarded with extra money you can use in the shops.
The castle sections are similar to the outdoor areas with several differences. First, you can explore different parts of the castle by using the air vents found in either the ceiling or floor. And secondly, you'll need to pilot an armored aircraft so you can get to the second half of the castle. This is where the shoot 'em up elements kick in. These sections are pretty decent. As you're flying through the area, you can pick up capsules that help to speed up your ship (S) or you can collect another capsule that increases your firepower (P). At the end of each shooting section is where you'll face off with the boss enemy of that castle.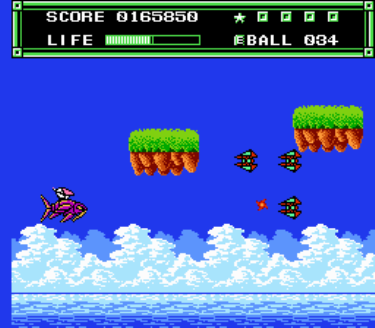 Make no mistake about it, Xexyz is definitely a difficult game. A big chunk of the difficulty is in bringing down the boss of each area. First and foremost, it always serves you well to have just about any weapon other than your standard hand beam. Even the first level's boss can be a tough one to break if you're only using your normal weapon. Thankfully, you can usually purchase a better weapon (if you don't have it already) from one of the shops within the castle, just before you go off to the big battle. If you don't have enough money, it would be best to hunt down enough foes to fill your wallet, which can also be a real chore to do if you're in a hurry to complete the area.
But even with the right weapon, you'll still be in for a very tough fight with a few of the later bosses who have shooting patterns that are sometimes impossible to dodge. Also, enemies' bullets take down a wealthy chunk of energy with each hit. This all adds up to a rather annoying element that is all too common in shooter games: near-impossible odds, perhaps too soon in the game for some players. It doesn't render the game unplayable, but it can sometimes discourage you from even attempting to come up with a strategy when you just can't work past the barrage of attacks.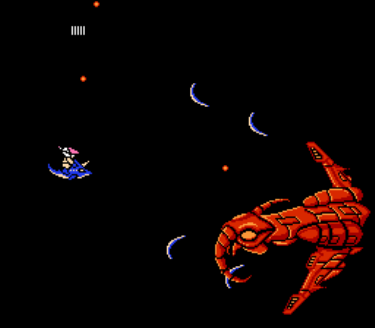 There's also this added gimmick of choosing which path to take as you reach the end of certain shooter segments. Choosing poorly forces you to repeat that section. It's hard to see why the developers saw it necessary to have this feature, but maybe they were just looking for a way to prolong the game a bit. Whatever the case may be, you have a 50/50 chance of choosing the correct door.
The controls aren't too bad, but they still needed some improvements. While Apollo moves quite nicely on the ground, the frustrating moments kick in when you're jumping to other platforms, especially later in the game. The problem is that Apollo feels a bit loose when he's in the air, which makes it tricky to dodge the onslaught of enemies. It's equally annoying to take hits while in mid-air, because you'll usually end up getting knocked straight into a chasm, after getting bounced around a bit.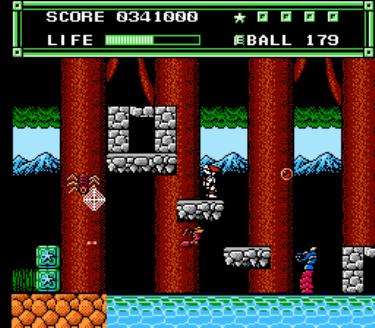 In the shooter areas, Apollo feels a little sluggish at first. Collecting the speed-up capsules will help out a lot, if you can collect enough before more obstacles start showing up. The downside is that you might be prone to pick up every speed-up capsule in the area, which may result in your craft moving a little too fast for you. This can be a hassle when trying to dodge enemies, as you may end up smacking into them or their projectiles. As with most shooters, good reflexes are your best friend with this game.
The graphics are very well done and stand out from many of the other NES games of its time. The main character, supporting characters, and enemies are all well-crafted and quite detailed, for the most part. The backgrounds and overall colors in the game are bright and lush, giving Xexyz a rather upbeat look, considering the game's plot. The boss characters are usually big and imposing, not to mention ugly in that evil sort of way. The sea creature design of many of the bosses reminded me of the Darius series. If you've played any of the Darius games, you know what I'm talking about.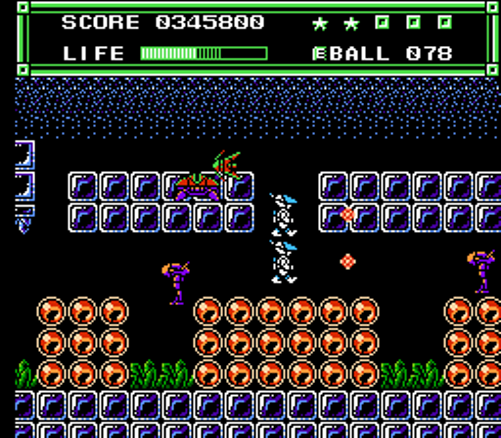 The music is one of the absolute best parts of the game. It has a very '80s sound to it. All the tunes are really spacey in that 8-bit kind of way and some of them almost make you feel like you're in a dream. The sound effects are just as good too, sounding unique and a little bouncy. All these things give the game a light, happy feeling. The only time that changes is when you're fighting one of the bosses. That's when the music gets a little sinister, yet it's still not too "heavy" either. It difficult to describe just how good the music is, but it definitely makes up for the less appealing aspects of the game.
Even with its problems, Xexyz is still a game that's worth experiencing at least once, especially with the nice music and all. It could have used a little more polish with the controls and difficulty, and it will take time and patience to progress past the middle of the game, but it's time well spent. If you're into both platformers and shoot 'em ups, then you must make sure to have this in your NES collection. Just don't go into it expecting the precision of Super Mario Bros. or Gradius.