Don't Starve Review
RECOMMENDATION:

For lovers of learning through failure.

It's getting late again, and not to mention, cold. I'm doing my best not to head farther east to satisfy my curiosity about that peninsula, and I've got to resist or I'm going to die – again. I'm hoping to make it through the winter. With what I've learned from the last few times I've survived that long there is a chance I might make it, but then I find an entirely new way to screw it up – again. And so it goes over and over, slowly learning, slowly progressing, slowly making it through another day all to fail and start back at the beginning – again. Somehow, the repetitive advancement through the generated worlds of Don't Starve stays engaging and challenging for quite a while, until you will inevitably be unable to force yourself to toil through the opening days – again.
Luckily for me, my favorite part of Minecraft is the first tense days of Survival Mode, because that's essentially what Don't Starve expands on. Complete with randomly generated landscapes and biomes, you have to survive in a dark and creepy landscape so that you can eventually, well, keep surviving.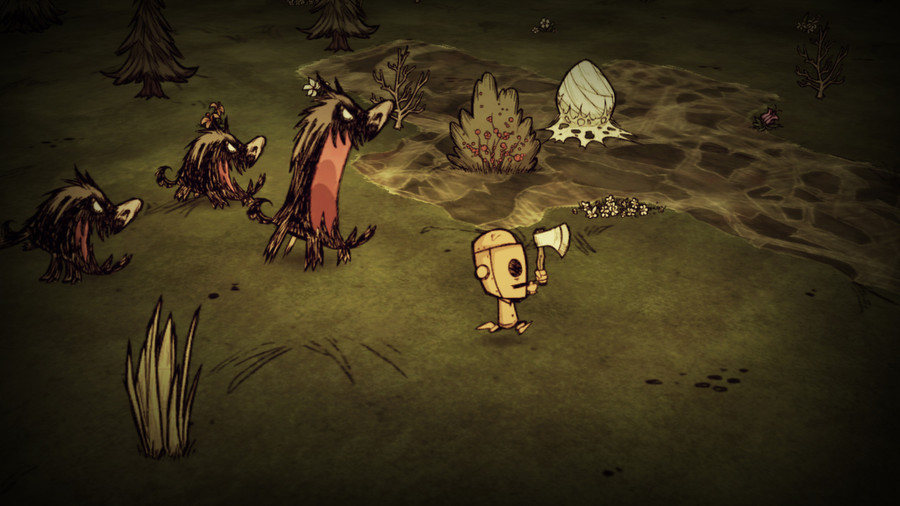 You never know what resources will be around your starting position, so you'll have to learn to improvise. If you're surrounded by grass, you're probably best off grabbing batches of that and setting rabbit traps. Perhaps you'll spawn near a few berry bushes so you can gather bunches of those; that should get you through a day or two. More importantly, you've also got to keep an eye on the clock so you make sure to have enough fire wood around to light the darkest part of the night or else you'll be consumed by unseen forces.
It's a stressful first few days in-game, trying to just scrape by and make time to slowly prepare for the deadly winter and other upcoming hardships. Although there are very useful tool tips, there is a ton of trial and error involved in figuring out what is important to do next, go in search of, or to prepare for. And it isn't the same every time either since the world is never quite in the same configuration each time you restart.
The cycle is pretty enjoyable for a good while. I really enjoy trying to muddle through and figure out why I might want to make an alchemy machine or why I am going crazy and seeing shadowy figures creeping in to get me. I could look at a wiki, no doubt, and get a lot of help, but figuring it out was a lot of the fun. Why was my large-noggined fella stuck on this island? Would he ever get off? Are the pig men my friends or what? What the heck is an eye-bone? The mystery and the discovery in the world that looks like a Lemony Snicket diorama kept me pretty hooked for a good while.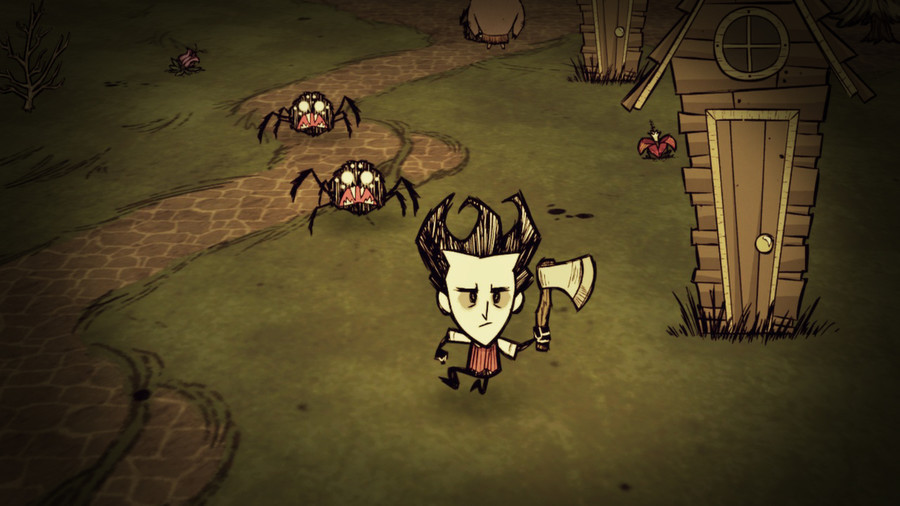 Then I hit that wall. I had failed so many times and had to start over from with nothing so often that I couldn't bear to do it yet again. I know there is plenty more I haven't seen in this world – I've barely explored the cave systems, and there are plenty of things I've never crafted. Don't Starve provides a fantastic, tense survival experience that forces you to explore and manage your time and resources every single moment. It's a perfect mixture of Minecraft-borne crafting systems and the trendy rogue-like-like randomly generated levels to provide a real challenge. A challenge that's very rewarding and satisfying, until you fail once again and have to walk away.