Steamworld Dig: A Fistful of Dirt Review
RECOMMENDATION:

For Everyone.

It's been roughly a year since SteamWorld Dig first hit the scene on the 3DS eShop. Now, Nintendo fans can experience the game on the Wii U in full 1080p HD, with some exclusive content. If you didn't catch it, I had an opportunity to review the game when it released last year and I absolutely adored it. Digging back through the mines on the Wii U has only solidified the strong love I already felt for the game.
Once again, the game's progression loop is the key to the experience. The cycle of heading down into the mine to make a path and extract as much mineral as possible before returning to the surface to cash it in for new gear to make mining easier, longer, and more productive is unbeatable. It's a highly satisfying routine that encourages progressive exploration that ultimately leads you to the game's story objectives.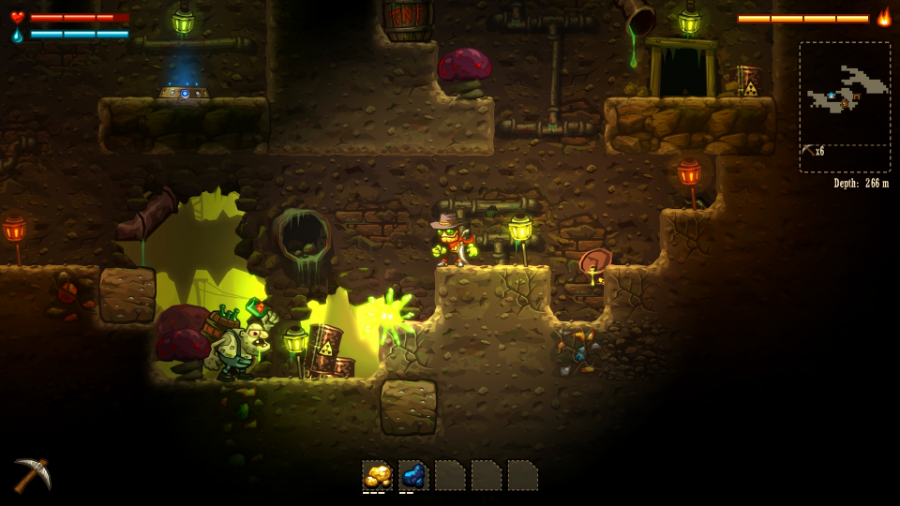 Caves within the mine hold new abilities for Rusty or rare minerals and orbs. Finding them is a treat and solving their platforming or puzzle challenges is always engaging. On the Wii U in particular, one of the caves now contains a secret area that harkens back to Nintendo's past. It's a fantastic easter egg that only serves to make SteamWorld Dig more endearing.
The Wii U also has an edge on the other platforms thanks to its multiple control options, inventory and map management on the Wii U GamePad, and Off-TV Play. Oh, and the beautiful 1080p graphics it boasts.
If you didn't take the plunge on SteamWorld Dig yet, I highly suggest the Wii U version. It easily trumps the 3DS release, and is more feature rich than its PC, PS4, and Vita counterparts. However, if you have both a PS4 and a Vita, you might be best served grabbing it there thanks to the game's support of cross buy. Regardless, SteamWorld Dig is a must-have game that begs to be played on any platform.