Kirby and the Rainbow Curse Review
RECOMMENDATION:

For fans of Kirby: Canvas Curse on DS and other experimental games. Great for families if you don't mind some trial and error.

Kirby's morph ball versatility has allowed him to assume the role of a pinball, a golf ball, and a rolling ball controlled by a… rainbow brush. That last one came from 2005's Kirby: Canvas Curse DS, which used the touch screen to draw lines for guiding Kirby through all sorts of obstacle filled levels. Kirby and the Rainbow Curse, the pink puffball's first Wii U title, follows the same style of gameplay but improves the experience in a number of ways and does it with a fantastic visual style.
The basic gameplay of Rainbow Curse has you directing Kirby, who does not stop rolling, through seven worlds, each with three levels and a boss fight. Every single level has tons of challenges and hidden secrets that require a creative use of the rainbow drawing, from collecting stars to finding treasure chests to unlocking hidden goodies. To mix up the gameplay, some treasure chest require you to complete challenges under a very strict time limit to unlock them, while certain stages transform Kirby into a tank, submarine, or rocket, and continue to make use of the rainbow line drawing. With these brand new gameplay mechanics it definitely improves upon Canvas Curse.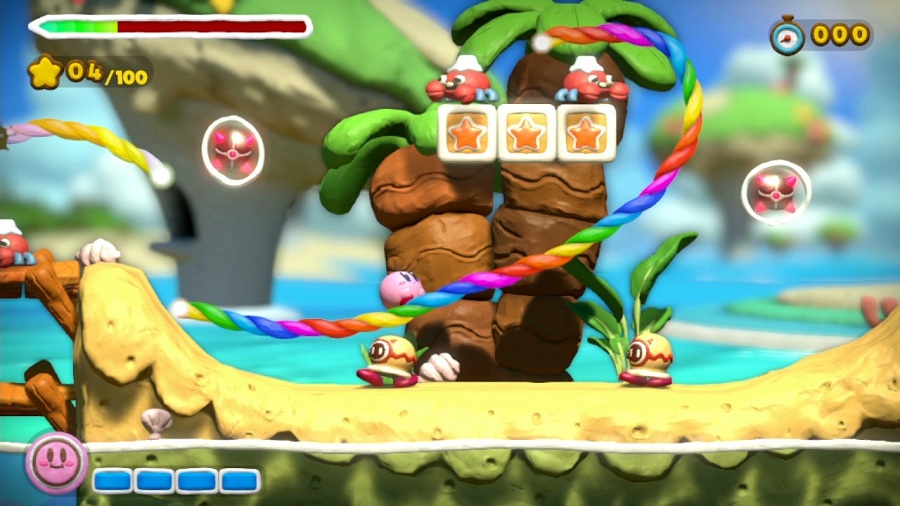 There are, however, faults in its design. While the drawing is extremely simple if you already have DS experience under your belt, there were times when I drew a line and Kirby didn't go where I wanted him to. I lost out on a chest a couple times because of this. Then there's this new supercharge ability that is activated once 100 stars are collected by holding down the stylus on Kirby, but it too also falters from the same touchscreen touchiness. This game also has a world where there is auto-scrolling involved; I was never a huge fan of these types of levels, and coupled with the fact you don't have a lot of direct control of Kirby, they led to a lot of frustrating deaths. Lastly, after a certain number of bosses, they begin to be recycled with different attack patterns. I would've preferred new ones.
Visually, this game is very pleasing and creative. Every level has a unique look and Kirby, along with enemies both new and old, look incredible with the claymation look that shows all the molds and bumps which trick the eye into thinking it was all hand-crafted. The backgrounds and foregrounds in the game also rock the look and change with each new level, with environments ranging from peaceful looking grassy plains to rotting sunken ships, all at a smooth at 60 frames per second with no hiccups.
A Kirby game wouldn't be a Kirby game without a great soundtrack, and Rainbow Curse does not disappoint. The new music tracks are well composed and arranged to mesh with the theme of the stages they play in, and on top of that you can unlock music tracks from past Kirby games arranged by the music team of Rainbow Curse. The sound effect department contains some of my favorites sound jingles from the Kirby series, like the 1up and damage sounds, and Kirby's cute voice will never get old.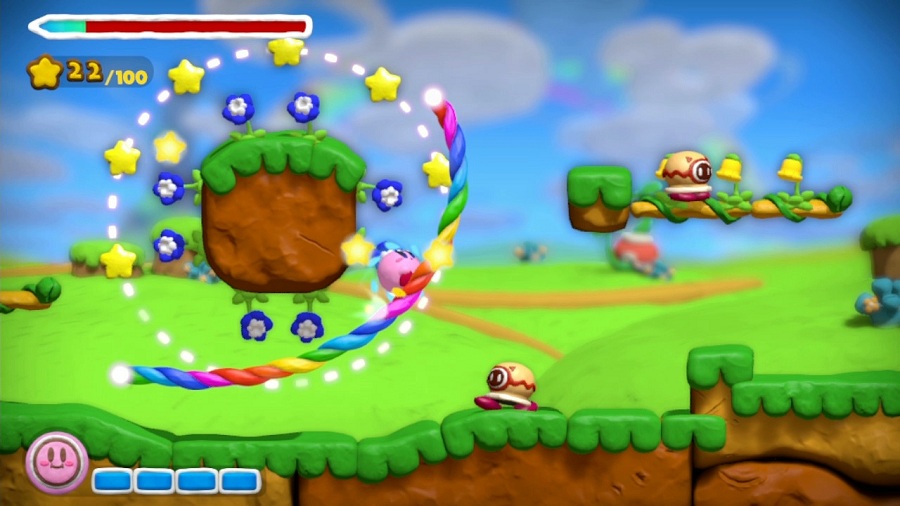 Kirby and the Rainbow Curse serves as a nice debut for Kirby on the Wii U; it's simple to learn and fun to play through for the whole family, despite some issues with auto-scrolling levels and line drawing. With a fun visual style, music and replay value, Kirby fans shouldn't pass this one up. It isn't even a full priced video game either!