Castlevania Review Rewind
RECOMMENDATION:

A good time for anyone that enjoys the classic NES platformer formula.

For years, the story of Count Dracula has been told many times over, with different spins on how he wrecked havoc on human society and such things. I dare say that there isn't a person on Earth who hasn't heard of the guy...at some point in their lifetime. So given the popularity of this character, it was only natural that Dracula would find a new life on the NES. And sure enough, in 1987, Konami released Castlevania-- a game that featured a whip-wielding hero on a mission to defend the local townsfolk and stop Dracula's bite for good, or so he hoped.
I vaguely remember seeing my brother take turns with a friend playing the early sections of this game many years ago. I especially remember catching episodes of Captain N, featuring a poorly drawn [and awfully characterized] Simon Belmont. Between watching the show and looking at screenshots of the game in those Nintendo Power hint books, I always wanted to play Konami's vampire-hunting series for myself.
Long story short, the Belmont family has been waging war with Dracula and the terror he spreads over Transylvania for hundreds of years. Each time he is defeated, some of Dracula's minions somehow revive him with the passing of time. The current year is 1691 and he has again come back to life, bent on doing what evil blood-sucking counts do best. Simon Belmont, the current descendant of the Belmont family has vowed to stop Dracula with the legendary whip, the Vampire Killer. His whip in hand, Simon goes to Dracula's castle to face the destiny that awaits him.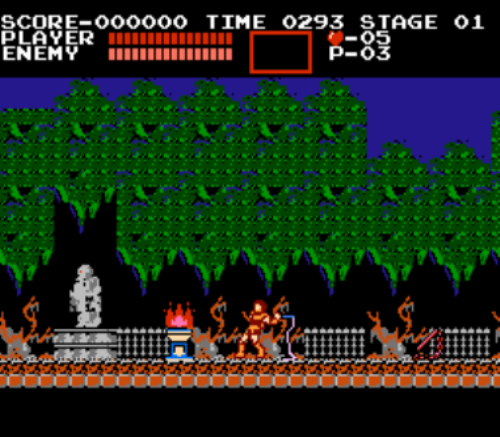 Starting off, the game lets you know that a serious undertaking is ahead, showing Simon preparing to enter Dracula's castle. From there, the action keeps on rolling and rarely lets up for very long. You'll have to help Simon battle zombies, bats, walking skeletons, and sewer creatures called "Fishmen"- just to name a few. Enemies like the zombies or bats are the easiest to kill, as they are among the weakest of your foes. Of course, as any game would have it, that all changes as you advance further into the castle.
Simon starts out with his trusty whip, which can be powered up twice by destroying candles or normal enemies along the way. With each power-up, the length of Simons whip increases, allowing to attack from a greater distance than you could without the enhancements.
You also have a good selection of sub-weapons that can be used during your journey. You'll be able to utilize such weapons as the dagger, ax, and the occasional holy water (I hear vampires hate that stuff). Other helpful items include a small jug of liquid that grants Simon temporary invincibility, and the cross & chain- a weapon that clears the screen of all enemies.
Simon has stamina points that get drained every time you use one of your secondary items. However, stamina can be restored by collecting hearts from candles or fallen enemies just like all the other items in the game. Also, Simon's health bar can be restored by finding roast beef dinners hidden in the faulty bricks of the castle.
I guess we should give Dracula some respect for at least being kind enough to feed our hero before he makes an attempt on Simon's life in a very painful way. Of course, only he would be evil enough to hide these instant meals in the walls of his castle. Believe me, you'll be hard-pressed to find this life-giving food as you progress through the castle, unless you've probed this game for all it's worth...or maybe use a strategy guide. Regardless, it's fun to discover these things on your own when you least expect it.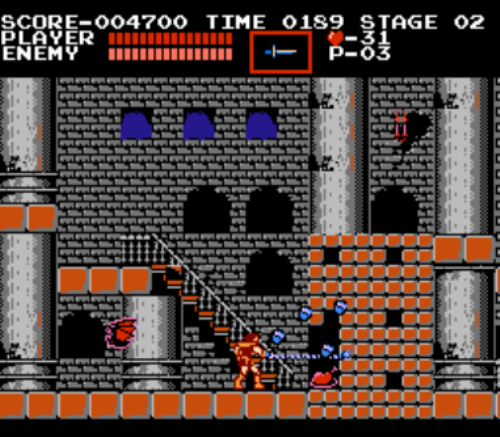 Almost every section in the game presents its own particular challenge. Some areas can be a bit daunting to pass through when you have to jump across chasms or over water while fighting enemies conveniently placed in your path. But that's really just a minor irritant, compared to what's in store in the later levels.
The major difficulties mostly come from the stronger common enemies, such as the Skeleton Snake, which block the hallways and require about 6 hits to kill with your whip. It doesn't help that the monster spits fireballs that are very difficult to avoid.
The bosses at the end of each section are no walk in the park to kill either. You'll be going up against likes of Medusa, twin mummies, Frankenstein & Igor, and a few more foes before you face Dracula himself. I can tell you right now that, in most cases, the holy water or stopwatch will be your best friend in a tight spot. Just make sure you have enough stamina points to use them.
Thankfully, you have unlimited continues at your disposal. The only downside is that you're forced to start at the very beginning of the level when using a continue. Even so, it's way better than only having 2 or 3 chances before being forced to completely start over.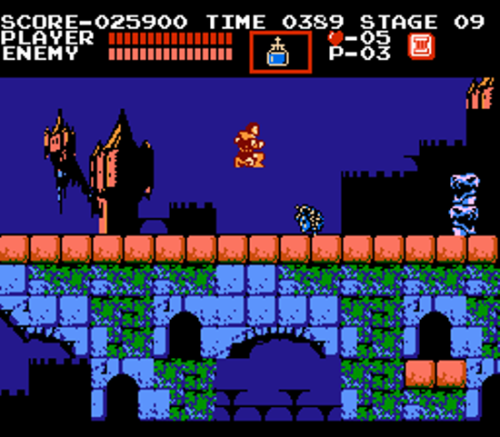 The controls are a mixed bag. While on foot, Simon moves with ease and seems just fine. But that changes when he has to jump to different platforms. Part of the problem is that you can't alter your direction while in the air, which means big-time trouble if you suddenly have second thoughts about taking that leap. It also would have been nice if Simon could strike with the whip a little faster too. Maybe it's just me, but he seems to attack a half-second slower than I would have liked at critical moments in battle.
When Simon takes a hit, he gets knocked backward. This often presents a problem because enemies will constantly be a threat to your ability to cross platforms...especially when you're on a short one with little or no room to safely dodge an attack.
Konami's games were usually known for displaying crisp graphics and bold colors and Castlevania is no exception. Every area captures what a European castle of the 1600s would look like. Huge windows in the background, candles lining the walls, piles of bones in the basement dungeon-- it all looks authentic and is enjoyable to take in. Everything has an overall dark look and feel to it, which really shows up best when you reach the higher outer areas of the castle.
You'll see overgrown vines and moss that line the walls, along with broken statues sitting on old ledges and extending catacombs that are present in the background. Not to be overlooked are the color patterns that Konami used in each area. It's very easy to distinguish which objects can be interacted with, or where you need to jump, and Simon will always be easy to spot, should you take eyes off the screen for a moment. These details are outstanding for a Nintendo game of its time.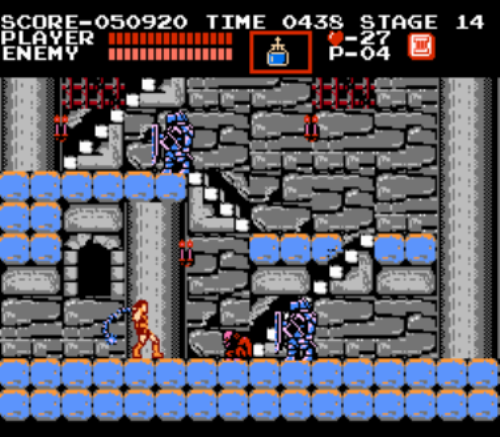 Another high point for Castlevania is its audio quality. From start to finish, each tune is well composed and really goes well with the whole Dracula theme. The often moody music goes hand-in-hand with the wonderful graphics mentioned above. The sound effects hold up just as nice too. You'll hear all the usual 8-bit Konami sounds here.
The high-pitched, bouncy sound effects add a lighthearted balance to the overall serious feel of the game. And really, Konami has always been very good at providing a nice audio experience in many of the games that they've produced over the years. And this game is certainly no slouch here either.
Castlevania was truly an outstanding game for its time. Despite the few irritations that can be found in this game, it doesn't take anything away from the better parts of this fine title. Since 1987, Castlevania has spawned sequels and spin-offs across a large variety of home consoles. In fact, I'm pretty sure that this is one of the longest-running series that's still relevant today. It's definitely worth having and is also a great way to see how one of the most popular names in gaming history got its start.