Donkey Kong Country Returns Review
RECOMMENDATION:

For fans of classic platforming.

After a fourteen year hiatus, the Donkey Kong Country series has returned thanks to a combined Retro Studios and Nintendo effort. This return to the beloved series is, for the most part, a good one; however, the game's controls are extremely problematic, particularly, finicky analog stick controls in 2D and unreliable motion control that performs many of the game's core functions. Combine this with a distinct lack of heart, and Donkey Kong Country Returns doesn't quite match up to its SNES predecessors.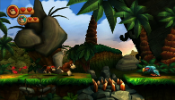 While the last title in the series featured both Dixie and Kiddy, Donkey Kong Country Returns brings the series back to its roots by reuniting Donkey and Diddy Kong once again. Once present, but now gone, the game contains not a single Kremling, but instead the new Tiki Tak Tribe who also has taken Donkey Kong's banana stash. Needless to say Donkey and Diddy embark on an adventure to liberate the world of the Tikis and rescue Donkey Kong's bananas.
A few other changes have also been made this time around, primarily to the types of items players collect in the game and the manner in which they collect them. The KONG letters have returned once again, but this time they play a much more significant role. In order to unlock a secret, ultra-difficult level in each world, players must have collected the KONG letters in every level of that world. Joining the letters are puzzle pieces, a first for the Donkey Kong Country series. These puzzle pieces essentially replace the Hidden Coins found in the past two games, and the DK coins have been omitted entirely. Of course, the standard bananas, banana coins, and balloons are all back once again, with the banana coins allowing players to buy items in Cranky's Shop.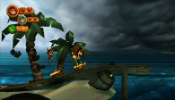 The shop has seven different items available; three are different increments of balloons, one is a key that unlocks a level path in that world, and the last three offer various services that can only be used once in a level when activated by the player ahead of starting said level. Squawks makes a return via these items, assisting players in finding hidden puzzle pieces during a level.
New moves have also been added for this adventure. Once again, DK can perform a ground pound, as he could in the original game, but here it plays a much bigger role than ever before and is activated with a shake of the Wii Remote. In addition to the ground pound, he can blow a gust of air by ducking and shaking the Wii Remote. These moves complement the standard set found in prior games, primarily the ability to jump and roll, with the exception that here, a roll is executed with a shake of the Wii Remote while the character is in motion. When Diddy is available, players can also perform a short hover move that is reminiscent of Dixie Kong's ability, though far less versatile and effective.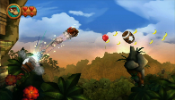 In a nutshell, these controls are atrocious for a number of reasons. First and foremost, binding something as crucial as the roll to a motion control was an absolutely terrible idea. It never seems to consistently go off, and I've encountered countless times where it has forced me to redo an entire challenging level because it didn't function properly. With a lack of consistency and reliability, it definitely makes the entire game more challenging since players can never be sure what they are trying to do is actually going to work. This gets worse when you factor in the two other moves that rely on the same motion. If players aren't perfectly still, they will wind up rolling instead of ground pounding, which can often result in lost health or death. When trying to blow a gust of air, if players aren't holding perfectly down, they will roll, with the same possible results.
If players choose to use the Wii Remote and Nunchuk, ducking becomes a definite issue as well. The analog stick must be pressed perfectly downward or the duck will not work. A number of segments in the game require players to duck perfectly at given times, and because it's so hard to execute consistently this concludes in frustration once again. Of course, players can opt to play with the Wii Remote only, but I found this control scheme to be even more awkward and uncomfortable for playing such an intense platformer.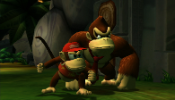 These new moves are put to use primarily to locate puzzle pieces in the world and secondarily to defeat certain enemies in the game. While in past games the hidden coins were located behind secret barrels or rooms, only a portion of those coins are found there now. The rest of the puzzle pieces are found scattered throughout the level, most often attached to or contained within things in the background. For example, blowing various plants will cause them to fly away pulling a puzzle piece from the ground, while ground pounding will break objects in the background, occasionally producing a puzzle piece. Constantly looking for these background pieces initially seems inventive and original, but quickly becomes tedious and overdone.
If you aren't a completionist like myself, you'll likely have a much smoother experience simply progressing through the levels grabbing what you can along the way. Playing in this manner reveals an experience that is far more enjoyable and smooth moving. Levels are clearly thought out in their composition, and while it doesn't quite align with the older games in the series, Donkey Kong Country Returns conjures up a very similar experience, which is great.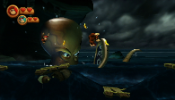 This is especially true when taking the game's challenge level into account. Like the old games, Returns is unbelievably challenging, if not more so, particularly in the secret levels unlocked after collecting the KONG letters. Each world provides a different setting to platform in, which in turn produces different enemies to watch out for, different types of challenges and varying levels of difficulty. The Super Guide is available for the faint of heart, and will become available after dying eight times in a row.
For the first time, the Donkey Kong Country series is truly cooperative. While players used to take control of their own character, they would be forced to take turns, only able to jump in when the other player died. Here, both players are moving around at the same time, which means there have been some changes to the core dynamics of the game from the older titles. When one player dies, he can hop back into the game with a press of a button, using a life from the overall pool. This means that players can die any number of times to make it through the level when playing as a team.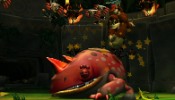 There are some negative side effects that come from this arrangement that spill into the single player portion as well. Now, when on mine cart or rocket barrel levels, getting hit at all will result in instant death, and death, even with both members present at the time, will result in starting the level again with only Donkey at your disposal. This small change has deeper implications in co-op because it will cost an extra life to bring Diddy back every time, but it's frustrating nonetheless in single player.
Extensive play in co-op quickly revealed that playing alone was preferable and much easier. Keeping together through some of the tougher challenges in the game was almost impossible without losing an enormous number of lives. This becomes most obvious in any levels with vines, as it's very easy to kill Diddy with Donkey. Hitting the grab button will pull Diddy onto Donkey's back which is extremely awkward for whoever is controlling Diddy.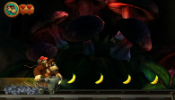 This issue, while frustrating, is a minor one. In general, playing with both players together is awkward because so much of Donkey Kong Country Returns requires constant forward motion. If one player doesn't keep up, they will likely die as they are left in the dust. Even though the game will eventually push the lagging player up to the leading one, it usually takes too long and death occurs in the meantime. Donkey and Diddy also seem to blend together, which can often make it confusing while traversing the levels. Due to these concerns, by the fifth world of eight, I decided to press on alone. It was obvious at that point that the game wasn't truly designed for this style of play.
Co-op did pay off in the game's boss fights, which are quite challenging. Needless to say, they are a huge improvement from the boss fights in the original games and are much more unique than chasing an enemy around a stage and jumping on his head. One that stands out for me takes place on a mine cart, forcing players to dodge projectiles and perform a whack-a-mole type section where you jump on ten miners heads. It was extremely challenging, but it felt approachable and it was an ingenious way to end a world full of mine cart levels.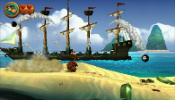 It's hard for me to be completely objective with Returns as I'm a massive fan of the original trilogy. While it does offer a great challenge and some excellent 2D platforming, I feel it really falls short of the original games on a few different fronts. For one, the game moves a lot slower, mostly due to the roll being tied to motion control rather than a button. In addition, having to constantly check the background for items disrupts the smooth flow seen in its predecessors. Finally, Returns is much more rooted in a design that punishes the player for trying to move ahead without caution. In the other games, players could often take leaps of faith and not expect to die. On occasion, that plan would backfire, but here, they are almost always consistently killed for being too ambitious.
In addition to some stylistic changes to the gameplay, the enemies and setting have vastly changed, and none prove as varied or as interesting as the old games. While the game is gorgeous and the music and sound are expertly done, there is a certain amount of soul missing from the game. It's hard to pin down, but something about Returns feels off, especially when compared to its SNES brethren. Perhaps it's the lack of support characters (aside from Rambi), or maybe it's the lack of snow and water levels, or rather it's the seeming lack of exploration, but whatever it is, it's entirely too apparent throughout the game.
When it comes down to it though, if Nintendo would've just opted to drop the motion controls and support the Classic Controller, I think I could've overlooked all the other flaws of the game due to the old school platforming design, which still proves quite enjoyable. Those who enjoy platformers of this nature will probably find a solid game in Donkey Kong Country Returns. It provides nine challenging worlds, lots of objectives to complete, and an overall experience that will take them hours upon hours to fully complete.