Overall Game of the Year 2012
The moment you've been waiting for!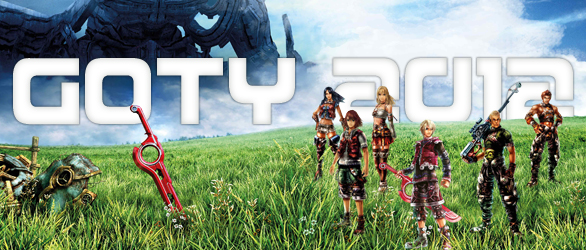 Xenoblade Chronicles appeared at the unlikeliest place and time—the Wii, toward the end of its life—and refreshed the JRPG with its outstanding gameplay and presentation.
Xenoblade's large, open world of Bionis is a joy to explore because it is so fantastically designed. The degree of care with which Monolith Soft crafted it is clear. Around every corner is something new to discover: an item to collect, a landmark to see, a rare monster to fight, a quest to start. And with a 24-hour time cycle, the world is always changing. While the sun sets, the sky is painted with warm colors, the previously upbeat background music slows, and the NPCs comprising the world's population retire for the night. An impressive number of these NPCs have names, personalities, and stories of their own. Each one you interact with is logged into the Affinity Board, Xenoblade's implementation of the classic RPG affection system, creating an impressive mosaic of the people your heroes are fighting to protect.
Xenoblade's expansiveness is matched only by its depth. In battle, the player may control any character, each of which plays differently. The MMORPG-style battle system is active and strategic. Certain Talent Arts may trigger additional effects depending on where and in which order they're activated. The player's character may have a story-justified "vision" of the enemy's attack before it occurs, offering a chance to adjust your tactics before it's too late. Bosses are challenging without being unfair, more often requiring skill than high levels to defeat. Gameplay options are further varied with the abilities to set and upgrade Talent Arts and add special attributes to a large selection of equipment.
Supporting the gameplay is a story about survival against the Mechon, a force of machines whose only weakness is a sword of mysterious origin. The story is driven by a cast of likeable characters, from thick-headed but loyal Reyn to simple-minded but good-natured Riki. Characters with enough affection may engage in optional "heart-to-heart" scenes, which add a lot to character development from a narrative perspective. The main story is of average length for an RPG, but the game is packed with enough extra content to last more than 100 hours. It even boasts its own achievement system.
Xenoblade is a visual achievement as well, limited only by the Wii's SD graphics. Bionis is a beautiful world with a wide range of environments and no short supply of stunning vistas. A strong soundtrack by a team including Yoko Shimomura (Parasite Eve, Kingdom Hearts) and Yasunori Mitsuda (Chrono Cross, Xenosaga) appropriately matches the larger-than-life setting, the thrill of battle, and the solemnity of a people trying to live in spite of too-frequent tragedy.
In 2012, Xenoblade was one of the year's biggest surprises and represented both the best of its console and the best of its genre. It stands as a paragon of game design for JRPGs to come and is well deserving of PixlBit's Game of the Year award.
Write-up by Dan Iverson