MIA - Lunar
Stop with all the re-releases and enhancements! We want a new Lunar game!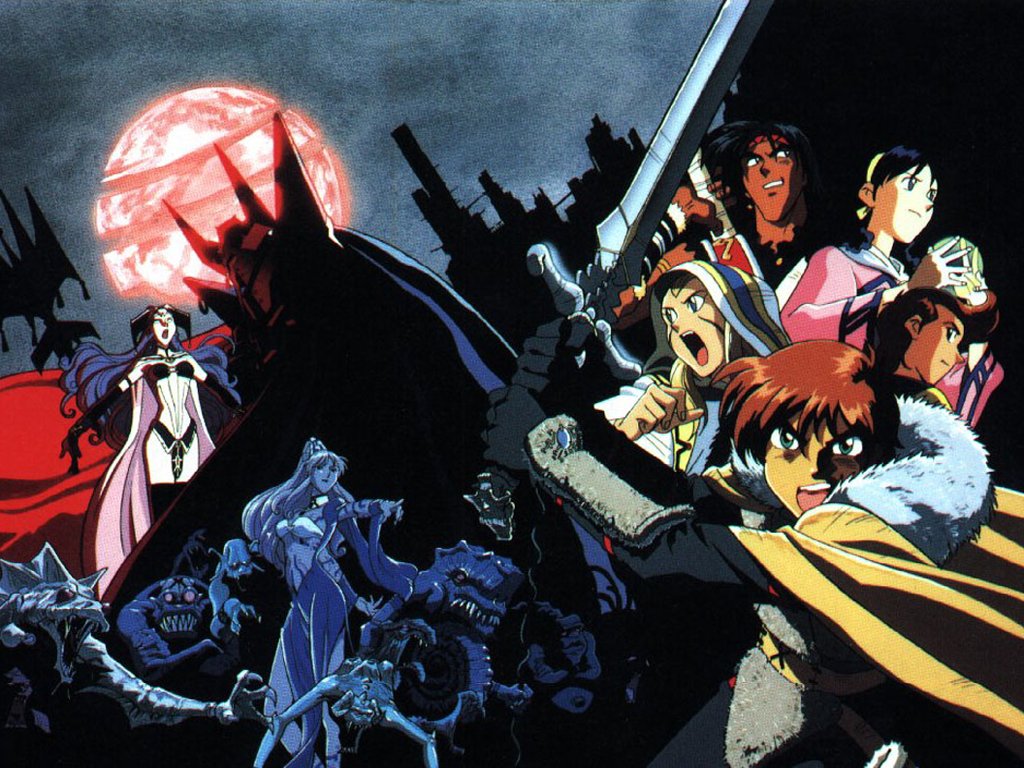 What is this?! Two MIA features in a single week?! This is madness…no. This is PixlBit!
Here at MIA we don't just write about long defunct franchises and games, we also make references to movies years past their relevancy. It's just what we do.
In all seriousness, it is no coincidence that this is our second MIA feature this week. Why the influx? You'll just have to wait a little longer to find out, but know this – March will be all sorts of mad. I may have said too much.
For those of you who are new to this PixlBit staple, MIA is an ongoing feature where we pick a game or franchise out of the gutter, clean it up and present it for a current/next generation update.
In order to qualify for the MIA spotlight the game or franchise cannot have a new entry on any of the current generation consoles (or a PC release in the last 5 years), nor can a new title be in development. Unconfirmed rumors and speculation are admissible and HD collections, digital re-releases and cameos in other games will not hinder count as a new entry. The title or franchise must also be served well by a current generation face-lift. Certain games should remain in the shadows and never grace our living rooms again.
This week for your consideration, Lunar!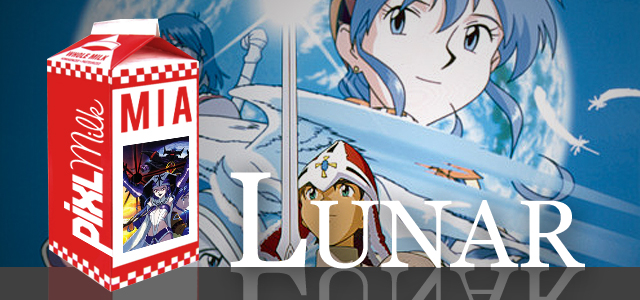 The Lunar series traces its humble origins to the not-oft utilized Mega-CD/Sega CD in the distant year of 1992 in Japan and then was brought to the states by Working Designs one year later (I bet some of you are feeling really old right now – don't worry, I do too).
Lunar: The Silver Star would kick the series off. Developed by Game Arts and Studio Alex, The Silver Star followed the wondrous adventures of a young boy named Alex. Like most young boys, Alex had designs on one day rising above his lot in life to become a great hero, like his chosen role model Dragonmaster Dyne. Starting with a harmless, albeit naïve, outing, Alex embarks on a grand adventure that hits on almost every JRPG cliché you can imagine.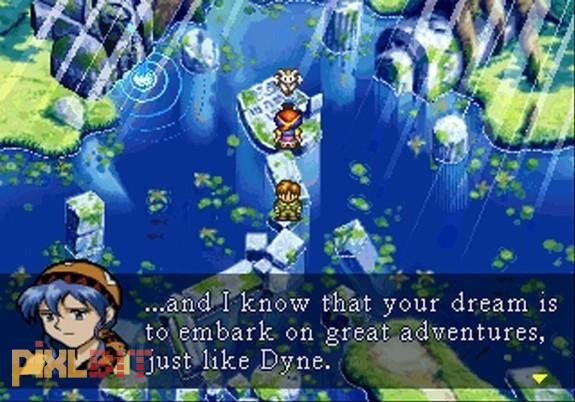 Cliché or not, Lunar imagine to capture many a gamer's heart through its exemplary production values. The Sega CD offered technological enhancements that previous platforms hadn't, and the developers were able to include short FMV segments and impressive CD quality sound that would wow gamers and help to make it stick out in what was a rather saturated market at the time.
The Silver Star's sequel, Eternal Blue, also released on the Sega CD, was released in Japan in December of 1994 before coming over sees the next year, courtesy of Working Designs yet again. Set a thousand years after the events of the original, the player was put into the shoes of Hiro, an adventurer who shares quite a few personality traits in common with the previous protagonist, Alex.
Hiro sets upon his own whirlwind adventure when he crosses path with Lucia, a visitor from the Blue Star. We all know what happens when the protagonist finds themselves somehow involved with a mysterious stranger from "another world". It hits the fan, of course, especially since Lucia claims that she is visiting to prevent a catastrophe.
Aside from a couple of handheld spinoffs (I'll get to those in a minute), Eternal Blue would end up being the last chapter in the Lunar story on home consoles. This didn't mean that the games wouldn't be re-released and enhanced over and over again, however.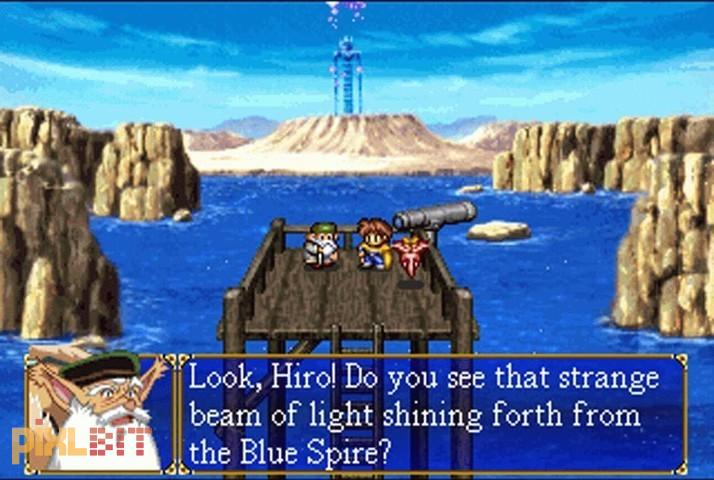 The first re-release came in the form of Lunar: Silver Star Story Complete, released in Japan on the Sega Saturn in 1996. An even further enhanced version of this game was released in Japan on the Sega Saturn the very next year under the title Lunar: Silver Star Story Complete MPEG. The former was later ported to the Sony PlayStation in 1998 for Japan and then in 1999 for North America (the MPEG version was never ported). A North American Saturn port had been planned, but was scrapped due in part to the console's inability to create a stabilized market here.
Eternal Blue got its first re-release under the title of (you guessed it) Lunar 2: Eternal Blue Complete. The Sega Saturn was the first home of this re-release in 1998 in Japan. A PlayStation port came to Japan in 1999 and North America at the tail end of 2000.
Yet another enhanced version of the original was released in 2010 for the PSP under the title Lunar: Silver Star Harmony.
As I had previously mentioned, the handheld market got some love with a couple of spinoffs and an all new entry in the mainline series on the DS. Lunar: Walking School released on the Sega Game Gear in 1995. Released only in Japan, Walking School takes place in the same world as the original Lunar games and follows a young heroine named Ellie. This title was actually enhanced and re-released on the Sega Saturn in 1997, though this also never made it to the states.
Lunar Legend is a re-telling of The Silver Star, and was released on the Game Boy Advance in 2001 in both Japan and North America. The import is noted for being the first Lunar game not published by Working Designs in the states, and was rather handled by Ubisoft, who would also publish the next title in the states as well.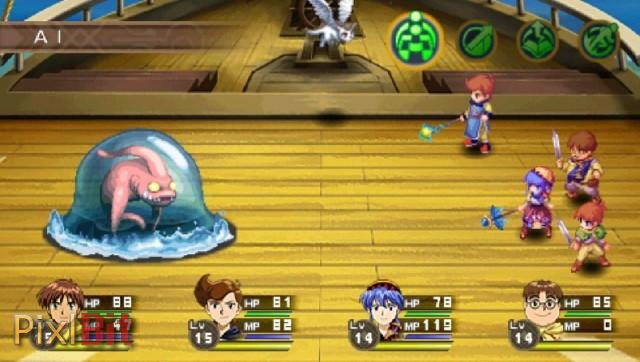 And finally we have Lunar Genesis, or Lunar: Dragon Song as it is known in North America, which was released on the Nintendo DS in 2005 in Japan and North America, with Europe getting their hands on it in 2006. Taking place a thousand years before the events of The Silver Star, Lunar Genesis finds its young protagonist in the form of Jian Campbell, a young delivery boy who must become a hero and save the world.
This final entry in the Lunar series did not receive the same critical treatment that its forerunners had, and was instead largely panned due to poor mechanical decisions made by development and the removal of elements that had previously made the series famous, like the voice acted cutscenes.
And that brings us up to date. It's been about 8 years since we've seen a new Lunar game, and the last title didn't exactly leave the series on a high note. So how can we modernize this series, and make it relevant once more?
Embrace the Future: Many of Lunar's weaker points evolve around its ability to embrace new ideas. The games have grown stale over the year, with mechanics that are outdated, and stories that are riddled with clichés. A more modern combat/encounter system and a better focus on creating a more original narrative would do this series very well.
Embrace the Past: Moving forward doesn't mean you should drop everything that made you successful in the first place. The Lunar series has been well known for its music and it's fully voiced FMV cut scenes. Fans expect these to be tip-top; anything less would be a disappointment.
Anime Aesthetic: Speaking of those classic FMV sequences, why not blur the lines between FMV and the player controlled elements by utilizing an anime inspired aesthetic? Ni No Kuni: Wrath of the White Witch did this to astounding results, and Lunar would be a prime candidate to do just the same.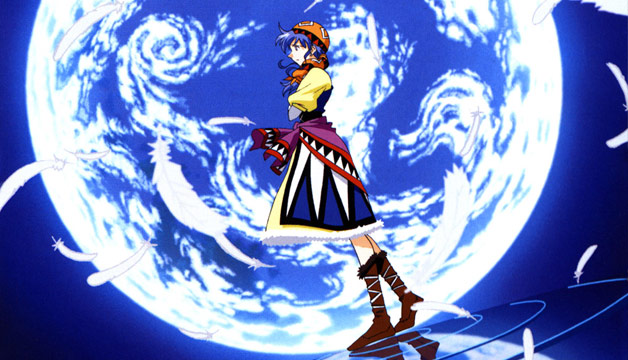 So what do you all think? Is it about time that Lunar returned? Or should this JRPG ride off into the sunset? Have any other suggestions to bring this series forward? Let your voice be heard and add to the discussion by sounding off in the comments section below!