A New Handheld War Begins
Switch vs. Smach
The Nintendo Switch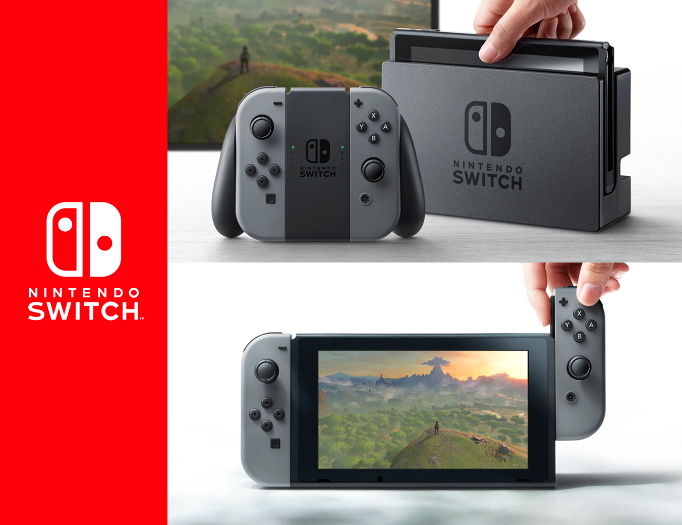 Nintendo's last two pieces of hardware had ironically opposite problems. The 3DS had a simple gimmick that Nintendo explained very clearly, but unfortunately was not practically implemented. Players had to hold the system at the perfect angle to see the effect (until the New 3DS arrived) and the 3D caused many headaches, did not work for everyone, and usually offered little to improve games. The Wii U on the other hand, had a neat gimmick which offered unique gameplay experiences in local multiplayer, but it was poorly explained and as a result, the system suffered. While the 3DS was able to recover thanks to its impressive game library, the Wii U, unfortunately, did not.
The Switch seems to learn lessons from both and at first glance has neither issue. The gimmick's merits are simple: An easy, convenient way to have games on the TV and on-the-go with one device. The gimmick has been explained well with the name: Just pull the tablet out of a dock connected to the TV and switch to playing on-the-go. The controllers on the side of the tablet can be pulled off and connected to a dedicated gamepad or held in each hand to be used for the Switch. These options are available whether you want to play on the TV, hold the tablet, or place the tablet on a table or stand, allowing a lot of freedom in how you play games. The gimmick is not about playing games in new ways, but convenience.
Nintendo's selling point with the Switch is convenience. Whether it's convenience that consumers want or is simply solving an issue most people don't have remains to be seen, but the company has been very clear on their goals. We must await the March 2017 launch to see what's in store.