Live Stream of Duke Nukem Forever at 8:00pm EST
We've got our hands on a review copy of Duke Nukem Forever!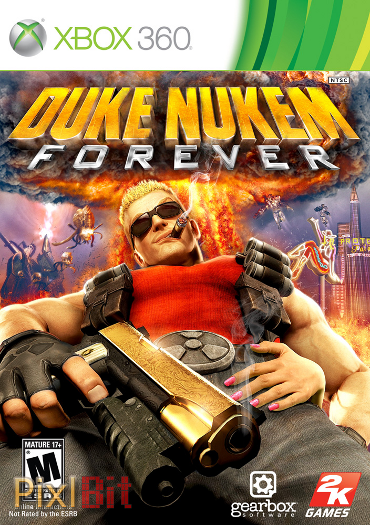 PixlBit has received a review copy of the perennially delayed Duke Nukem Forever! It's rated M for Mature, so please only watch if you are over the age of 17. Duke Nukem Forever has Blood and Gore, Intense Violence, Mature Humor, Nudity, Strong Language, Strong Sexual Content, and Use of Drugs and Alcohol content descriptors from the ESRB. We at PixlBit can also be prone to vulgarity, so consider yourself forewarned. For those curious, our copy of the game is for the Xbox 360.
Join Nick, Chessa, Jason R, and Chris as they play through the first several hours of Duke Nukem Forever in a live PlayBit! We've got a direct feed of the game, and we'll be capturing audio from the room, to discuss Duke Nukem and all the events at E3. Join us in our chatango chat to provide input and ask questions. It'll be a great experience for everyone, as we give you a glimpse at the final release of this years-in-the-making title.
Watch live video from PlayBit on Justin.tv