What Do The Epic Mickey Banners Mean?
Epic Mickey's concept artwork has lead to quite a bit of speculation. What's my take?
There's one particular picture I'd like to make the heart of my idea, one taken from the banner artwork of Epic Mickey at E3. Take a look for yourself, and you'll see why:
Does that look familiar to anyone? If you've ever been to one of Disney's flagship themeparks, Disney Land or The Magic Kingdom, you've probably seen this statue somewhere. Or at least, almost... Care to play "Spot the Difference"?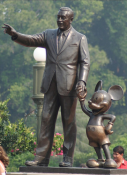 You probably already know Epic Mickey is the imagination of a world where a jealous Oswald seeks out revenge against Mickey. What never processed for me was that the world, at least the one in the first picture, is a world where Oswald was, in fact, the one triumphed. He's the cartoon creation sharing Disney's vision and holding Disney's hand.
What do we see there? To me, it looks a little bit like a twisted, altered Main Street, USA. For those who aren't aware, Main Street, USA is the first area of Disney Land/The Magic Kingdom guests of the park see. It's bright, it's cheerful, it's colorful, and here, it's twisted. And beyond that? Cinderella's Castle, the most notable and well-known landmark in both Disney Land and The Magic Kingdom. Again, twisted and manipulated.
My point is this: Epic Mickey isn't just a twist on the classic Disney cartoons. It's a twist on the classic Disney World. That's a little more grand of a scale than my first impression, where I thought we'd mostly see the pathway of Mickey, Oswald, and other Disney characters through legacy cartoons.
Above, we see a twisted take of Adventureland, another one of the several lands in the Disney parks, which consists of the Enchanted Tiki Room, the infamous Jungle Cruise, and the Swiss Family Robinson tree house. While we can't see everything, I definitely make out at least the tree house in the banner, though while we got pictures, we didn't have the time to take a closer look.
The last unique banner pic we captured was clearly based off another part of Main Street, USA, with the Haunted Mansion, another theme park attraction.
My guess is simple: Epic Mickey will be Epic, yes, but its basis will be far closer to the real world than most of us imagined. I certainly hope so, but I don't suppose we'll know until later in the week. Keep an eye out for more coverage, and watch the Epic Mickey game space for a few more banners we missed the first time through!