The Exhibitor Impediment
Two years in a row, media have been impeded by exhibitors to provide content to eager game fans and readers worldwide.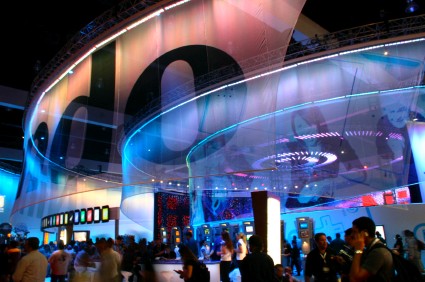 E3, the future of gaming. A mecca for all those involved in the industry. This is my second year attending the show, and it's the second year this same scenario occurred. There's a problem, particularly an issue with select attendees, and it needs to be discussed.
Last year at the show, the gaming world got their first glimpse at Nintendo's latest handheld console, the 3DS. Before Nintendo's annual E3 press conference, few knew anything about the device. Afterward, many at the show had seen the device for their selves in person. Having been told that the units on the floor of the press conference were displaying the only content Nintendo brought to the show, on the first day of E3, the 3DS line at Nintendo's booth was mostly empty. By the second day, however, word got out that Nintendo's booth was full of 3DS games, videos, apps, and movie trailers.
That second day, after hearing this, the entire PixlBit crew decided they'd head to Nintendo's booth to catch a glimpse of the 3DS for themselves, to try to bring a landslide of our own impressions to the web. 10 am approached, and we dashed to Nintendo's E3 booth. What did we find? A legion of exhibitors had already lined up to demo Nintendo's new technology. The story was published everywhere. Pictures of the exhibitors were easily found on the internet and covered by all types of gaming media. To be brief, it was much more than a mild inconvenience.
Exhibitors have access to the show floor before it opens. They're allowed in to prepare their booths and finalize the day's plan. An exhibitor can be one of several types of people. For instance, Nintendo's own booth is filled to the brim with exhibitors hired just to chauffeur individuals waiting in line to where they need to be. This type of exhibitor often has little game industry experience. Often, exhibitors are those who work on PR for the game company they represent. Sometimes, exhibitor badges are even given to friends or families of employees of publishers who buy floor space, despite the friends having no affiliation with the gaming industry otherwise. In few cases, an exhibitor might be talent that actually had some hand in the development of a particular title.
This year, Nintendo revealed their newest console, the Wii U. Due out next year, the system will unlikely be shown to such a massive group of people more than once or twice this year. Today, in order to get early coverage of the newest console, I lined up outside the E3 show floor, and was near the front of the pack when the doors opened. I rushed into the hall, and down the side of the Nintendo booth.
What did I see? Exhibitor badges everywhere. Yes. Like what happened the second day of E3 2010, here, at E3 2011, it happened again. I braved the line, which had hundreds, if not thousands of individuals inside it, only to find out, after waiting in line for half an hour, that where I was standing, it would be impossible for me to get a hands on experience with the Wii U. I held steady, moving up in the line after the people in front of me gave up on their chances for today, and eventually, the "New Nintendo Console Line Ends Here" sign was within sight. After an hour and a half of waiting in line, the sign was moved back, to the next group of people, and I was about to have my chance.
I won't be able to take that chance, due to a few appointments I have scheduled in the next hour. I passed the spot in line I held to Matt R. He'll be providing Wii U impressions sometime this evening. However, I felt I had to take the time to say something, to mention this major issue with exhibitors, the exhibitors who take advantage of early access time into the show floor, and push media and actual industry professionals outside of access from important show floor interactions. I also felt I had to take the time to call out Nintendo, who, for two years running, has done nothing to help solve the issue, if they haven't encouraged it themselves.
I'm at E3, the place I've read about for years, the place I've anticipated attending since last June, after my first visit. I should be happy and excited. I should be able to provide great coverage of all the newest consoles and games. Instead, I've waited in line. That's a problem.