Nintendo Announces New Super Mario Bros. 2 for 3DS, Kirby Anniversary Collection for Wii
New 3DS updates are also on the way.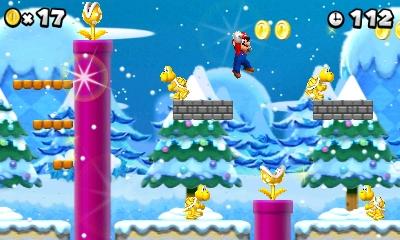 Today, Nintendo revealed plans to release the third New Super Mario Bros. title, New Super Mario Bros. 2 for the 3DS. The game will feature Mario, Luigi, and a slew of recognizable characters with the same side-scrolling gameplay suitable for players of all ages. The title is due for release this August, but no specific date has been revealed.
Based on the provided screenshots, the game will include the tanuki power-up, as seen in Super Mario Bros. 3, with similar functionality. There also appears to be something that both turns enemies gold and Mario himself gold. It's unclear how this power-up works as it is completely new to the series. Finally, the game will feature at least a desert, forest, and snow area, as well as the standard Mushroom Kingdom.
With Kirby's 20 year anniversary happening this year, Nintendo is planning a special compilation disc for Wii that will feature past fan-favorite Kirby games. Currently the game has no release date, nor firm details on what titles will be included. Given the varied past of the series, there are plenty of mainline and off-beat titles that could make an appearance. Kirby's Dream Land, the first game in the series, was released in North America in August 1992, and as such it's possible the anniversary collection will release in the same time frame.
3DS owners will be treated to a new update on April 25 that will allow users to group content on their Home screen into folders in order to create a cleaner and more usable interface. Furthermore, the 3DS eShop will be updated to include recommendations from Nintendo and the ability to update retail games. Mario Kart 7 will be the first to be patched in mid-May, removing various track exploits that allow players to skip sections of the track.