Persona 4: Dancing All Night Review
RECOMMENDATION:

For all fans of Persona 4 and rhythm games.

For those of you out there sold on both Persona 3: Dancing in Moonlight and Persona 5: Dancing in Starlight, the Persona Dancing: Endless Night Collection on the PS4 is a great way to get both, along with one fancy bonus: a PS4 port of Persona 4: Dancing All Night. The title once exclusive to Vita makes an appearance in this bundle and offers up a bit of a different approach to the Persona Dancing formula when compared to the newer titles. A full-fledged story mode is on offer rather than the simpler sidebar social interactions. For those vested in the characters and story of Persona 4, there's a lot to like about this brand new story.
Rise Kujikawa has returned to her former life as an idol and she's asked her shadow fighting friends from Inaba to be her backup dancers for the big Love Meets Bonds Festival. As the festival approaches, the girls from Kanamin Kitchen, an idol group performing along with Rise, suddenly go missing. You quickly discover they've been pulled into a shadow world, like the Midnight Channel, but different. Personas can be summoned here, but no violence or aggression is allowed. Instead, dancing allows you to channel their power to dispel the shadows and avoid being consumed by the dark forces at play.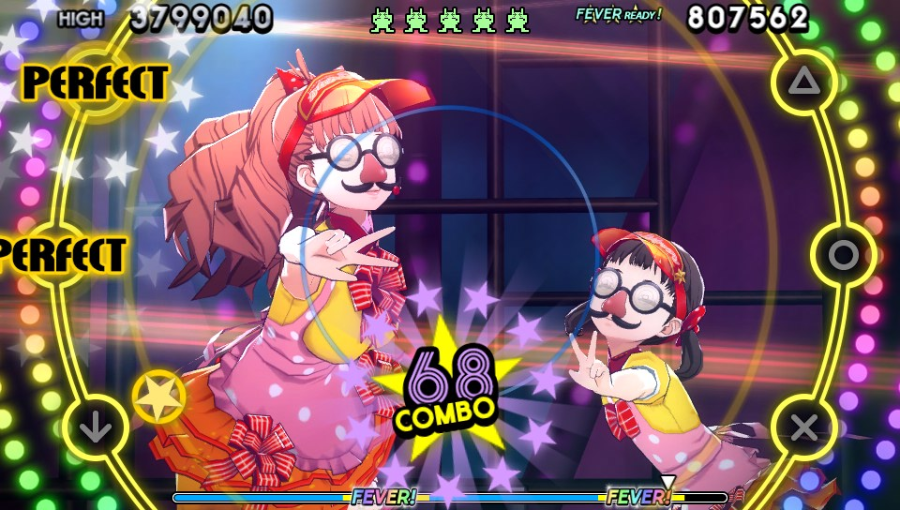 Following along with the events and progressing through this new Shadow World is intriguing, but all of the text can be a bit overbearing at times. You'll need to wade through a significant amount of prose before you're even dancing to the first song. Thankfully once the music kicks in, the same great gameplay that laid the foundation for Persona 3 and 5 Dancing takes over. While the dancing parts are worked well into the story, it's hard not to wish they'd come up a bit more frequently.
That said, if you just want to enjoy the rhythm gameplay and the great soundtrack to Persona 4, you can jump into the dancing mode, which allows you to play track after track and unlock more as you progress through. Offering similar modifiers and difficulty settings to the new games, you'll unquestionably have a blast working through these tracks.
The note patterns do feel a bit tougher though because they don't move as cleanly in a circular pattern, sometimes jumping around unexpectedly. It's easy enough to get used to, but more noticeable after spending a bunch of time with both 3 and 5. The user interface and experience have also been improved in the newer games, making it easier to work through the menus and options. The characters are also just portraits here, rather than fully animated 3D models, which definitely loses some of the sharpness and charm.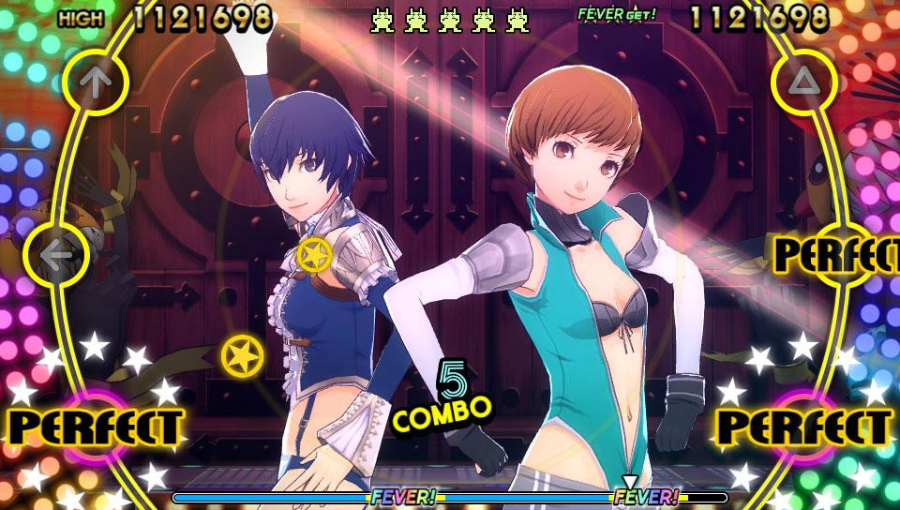 Any small gripes aside, this is another title in the series that leverages the stellar Persona 4 soundtrack to make for some fantastic rhythm gameplay. The story told here is also a great bonus for super fans who don't mind a bit of long winded dialog. If you're already interested in the new games, grabbing the bigger bundle that includes all three should be a no-brainer. This spin-off series is excellent, just like the mainline series that inspired it.