Sega Genesis Classics Review
The Bottom Line: If you're a fan of Genesis games, or want to see some of Sega's best, this is worth a purchase for some great games on-the-go.

Sega has done a lot of great things with emulation as of late. On the 3DS, they released 3D remasters of a handful of games, which boasted a handful of improvements to the source material. Their Sega Ages line marks another batch of games that are seeing improvements to the original games as they release on the Switch. However, Sega Genesis Classics is more of a compilation of classic Genesis games with some additional features that make it a great collection to have on your Switch if you grew up with these old games.
With the Nintendo Switch Online service, subscribers have received access to what is effectively an NES emulator, but it offers online multiplayer for any two player experiences. Sega Genesis Classics provides very much the same type of experience, allowing you to jump online with others who want to play a game. It's admittedly tough to match with a random player and there was some noticeable lag, but under the right conditions with a friend, this is a great way to experience these games without having someone on the couch with you.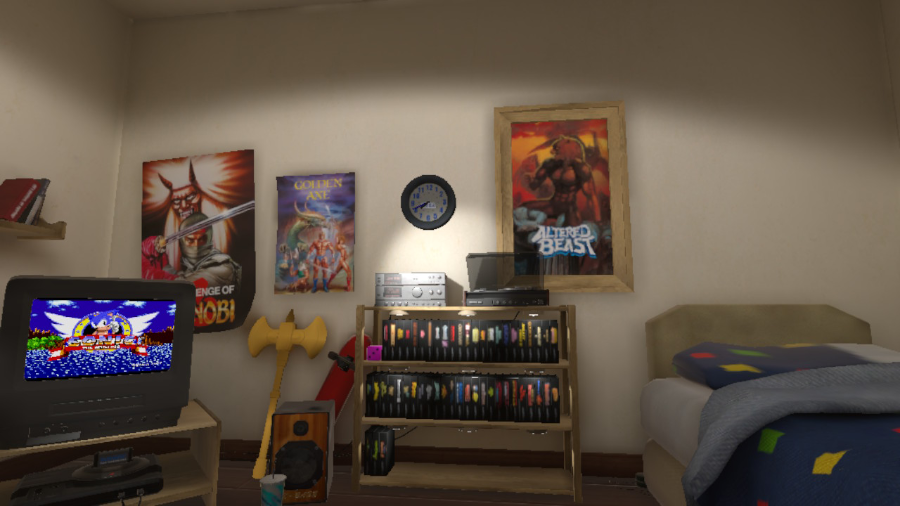 Of course the games are fantastic and with stuff like the whole Streets of Rage series, Sonic 1 and 2 (sorry, no 3 or Knuckles), Vectorman, Gunstar Heroes, Ristar, Comix Zone, Phantasy Star II-IV, and ToeJam and Earl (among many others - the full list available below), you'll have lots to enjoy. But even better is the presentation of it all. Those who grew up in the 90s would've killed to have a room setup as cool as what's digitally present in Genesis Classics. There's a TV with your Genesis hooked up, a game shelf with 51 fantastic games, posters on the walls, and more.
You start up a game by picking it off the shelf and you watch it get virtually slotted into the Genesis, then the TV warms up and your game is on display. You've got a variety of filters and borders you can throw up on the screen to make it more like the good ol' days, but all of the modern benefits are still present. Save states are easy to use, jumping out of a game and into another is also easy. You can turn on mirror mode and the rewind feature seen on the SNES classic is also present here.
Even cooler is the ability to play some NES Remix-like challenges just with the Genesis games on offer. It's a fun way to get some extra mileage out of these games and it provides an extra layer of depth to the experience.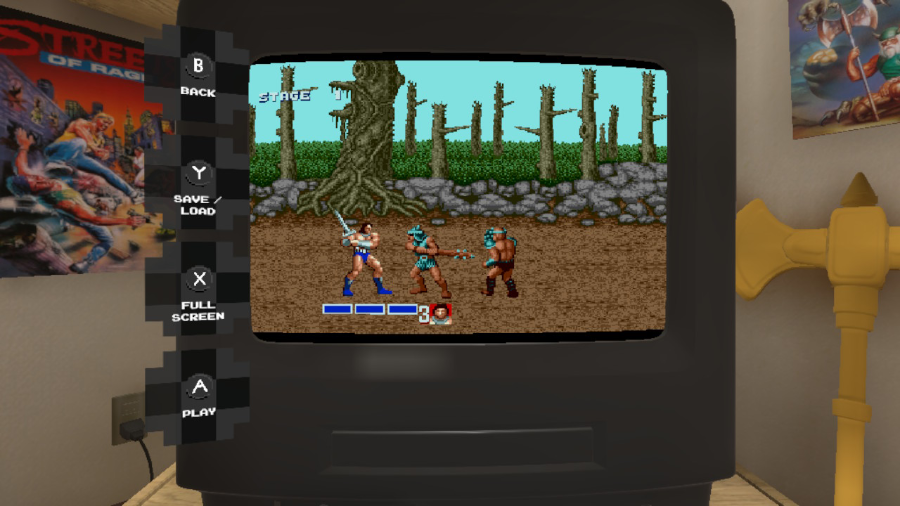 The portability of the Switch makes this collection that much better. For me personally, I've always avoided such collections because I have almost all of these games in physical form, along with a Genesis that's still hooked to my TV. Being that I can take all of these on-the-go with me, I find it a much more attractive offering that'll get much more play time. It's like the Sega Nomad I always wanted but could never afford!
If you grew up on these games, or are curious about some of the best of the 16-bit generation, this is a great value for your Switch that's been presented with some real TLC. It is missing a few key titles, which is unfortunate, but overall, it's a great buy for fans.
---
The Games
Alex Kidd in the Enchanted Castle
Alien Soldier
Alien Storm
Altered Beast
Beyond Oasis
Bio-Hazard Battle
Bonanza Bros.
Columns
Columns III: Revenge of Columns
Comix Zone
Crack Down
Decap Attack
Dr. Robotnik's Mean Bean Machine
Dynamite Headdy
ESWAT: City Under Siege
Fatal Labyrinth
Flicky
Gain Ground
Galaxy Force II
Golden Axe
Golden Axe II
Golden Axe III
Gunstar Heroes
Kid Chameleon
Landstalker
Light Crusader
Phantasy Star II
Phantasy Star III: Generations of Doom
Phantasy Star IV: The End of the Millennium
Ristar
Shadow Dancer: The Secret of Shinobi
Shining in the Darkness
Shining Force
Shining Force II
Shinobi III: Return of the Ninja Master
Sonic the Hedgehog
Sonic the Hedgehog 2
Sonic 3D Blast
Sonic Spinball
Space Harrier II
Streets of Rage
Streets of Rage 2
Streets of Rage 3
Super Thunder Blade
Sword of Vermilion
The Revenge of Shinobi
ToeJam & Earl
ToeJam & Earl in Panic on Funkotron
Vectorman
VectorMan 2
Virtua Fighter 2