Qix Review Rewind
RECOMMENDATION:

It's a nice alternative for puzzle fans looking to experience something that isn't Tetris, but just as challenging. But the steep difficulty curve won't appeal to everyone.

My earliest memory of Qix began sometime in the mid-90s when I saw it listed in a Funcoland price sheet (remember those?) and thought it was pronounced "quicks". As a kid, I thought it was a rule that all words spelled with a "Q" had to be pronounced with the qu inflection. But years of expanded vocabulary eventually proved me wrong. In short, the game's title is pronounced "kicks"- because I suppose the developer Taito wanted you to get your kicks playing Qix. See what they did there?
When it was originally released for arcades in 1981, Qix was a unique puzzle/strategy game that piqued the interest of curious players willing to insert their quarters. A moderate success, the game was ported to many personal computers and home consoles, including a version programmed by Novotrade for the NES in 1991- ten years after its initial release.
Outside of basic instructions to explain the game, the arcade original never had a narrative to contextualize the gameplay elements- not that it was necessary. But exposition found its way into the NES port. According to the instruction manual, Qix is a computer virus infecting your system. Its origin is unknown, and all previous attempts to eradicate it have failed. Your main objective is to immunize as much of the computer system's memory as possible without getting infected by Qix or the sub-viruses it breeds (more on that later).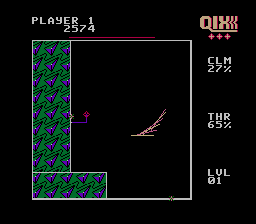 Each level begins in an empty square with the twirling Qix virus dominating the entire area. The basic objective is to use the cursor to draw lines (called "Stix") from end to end until you've gained the minimal threshold percentage to control the area, thus trapping Qix to the smallest space possible. At first, you only need to reclaim 65% of the area for a victory. But as you progress to higher levels, the minimal threshold increases to 75% and so on. If Qix touches your drawing marker or an incomplete line, you'll lose a life.
You can choose to draw fast or slow with either the A or B buttons respectively. Lines that are quickly drawn minimize risk. On the other hand, drawing slower is worth double the points. If it sounds like an easy task, rest assured that any implied effortlessness is deceptive at best since Qix can be unpredictable and change its trajectory at a moment's notice. The game also forces you to stay in motion when drawing a line. If you stop before completing one, a fuse will light from the point-of-origin and burn down to the marker and you'll lose a life. Additionally, you can't backtrack in the opposite direction while drawing. So avoid making spiral shapes or you'll literally draw yourself into a corner.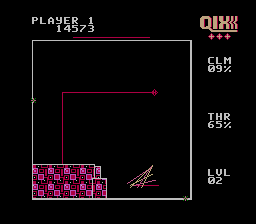 While Qix cannot harm you when you're moving along the border of the area, you'll still need to avoid the Sparx- two small sparkling enemies that try to trap you by traveling along the border in opposite directions. Once you start making lines, the Sparx will follow along the latest path you've created. This wrinkle ensures that you can't simply hide within the borders forever. On the contrary, you will be frequently forced out into danger. Further complicating matters is the red time bar constantly counting down. Once time runs out, additional enemies will spawn, forcing you to think fast and finish the level, lest time should run out a second time and the Sparx attack even more aggressively. And just in case they weren't tough enough to avoid, the game throws in a third enemy called "Spritz"- a deadly hazard that bounces around the screen.
As the rules would imply, your only real weapons are strategic thinking and sharp dexterity. And therein lies the beauty of this game- there are many different ways to reach the same goal. You can take higher risks and reclaim bigger segments of the board in several moves. Or you might see fit to strategically build small obstacles around the Qix and herd it into an area where it's much easier to seal off. Once the ideas start flowing and you begin to figure out how to make the geometry work for you, it becomes much more engaging. Unfortunately, the one major downside is that the game becomes almost prohibitively difficult just after you start getting the hang of things.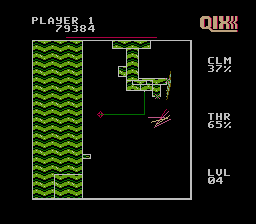 Around level five is when it introduces the free-roaming spritz enemy and they tend to multiply quickly. By that point, you'll be hard-pressed to make it beyond the seventh level, where I currently top out before getting the "game over" screen. Granted, such a degree of challenge was normal for an arcade game back then. But the NES port of Qix could have benefitted from a more lenient learning curve to allow novice players more time to enjoy the uniqueness of the gameplay mechanics before throwing the kitchen sink at them.
The game's audio and visual presentation, while not the best the NES has to offer, is still respectable. The colors of filled in spaces are dull hues when compared to the higher resolution of the arcade version, but the NES port at least gives you a greater variety of colors and designs than just plain red and blue (depending on your drawing speed). And while the music and sound effects are minimal, they are much more pleasant than the primitive buzzing sounds in the arcade version.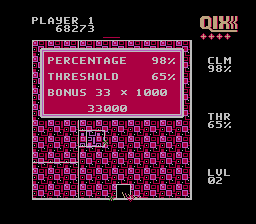 Conceptually, Qix is an interesting game that takes a very simple gameplay mechanic and evolves it into an engaging mental exercise. That being said, the sudden difficulty spike from stage five onward might not be appealing to the average player. Also, there isn't much else in terms of new gameplay elements beyond what's introduced in the early stages, and that may make for a boring game for some. However, if you're a fan of puzzle games and are looking for something that isn't Tetris or one of its many offshoots, then Qix could be the game you've been looking for.