Rad Racer Review Rewind
RECOMMENDATION:

For anyone looking for a fun time with a surprisingly intuitive 8-bit racer.

Updated 2-23-2019
Most NES veterans should be familiar with one of the best racing games on the NES way back in 1987. But, quick show of hands- how many knew that it was made by Squaresoft? Yep, the developer responsible for Final Fantasy released Rad Racer (Highway Star in Japan) just months before its famous RPG. Rad Racer always stands out as one of my fondest childhood memories. I can still recall my dad sitting there in the living room with us as we took turns racing and wiping out after hitting a tree. He was just as thrilled with all the high speed excitement as we were. Fortunately, many years after my first go with this game, it still hasn't lost much of its appeal.
The main objective of the game is to win a series of 8 races spread across the world. You won't have to worry about coming in first place, but you will be racing against a sometimes unforgiving clock. If you have a flawless race, you won't have much to worry about. But if you crash just once, you'll quickly find yourself furiously trying to make it to the next time extension flag. Some locations are completely fictional, while others are based on real-world places. For instance, the first location is simply called "Sunset Coastline"; the next race's location is on the "San Francisco Highway". Regardless of which courses you're on, they're all fun to race.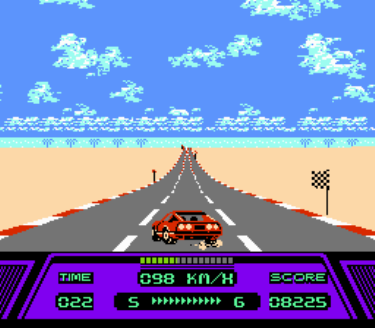 You have a choice of driving one of 2 cars: the sexy Twin Turbo, or the F1 Machine. Neither car differs in speed or handling, but I do recommend driving the Twin Turbo because you'll race against different kinds of cars on each course. If you choose the F1 Machine, you'll only be racing against other F1 Machines of different hues of the same color on each course. Assuming that you've chosen the Twin Turbo, you'll be competing against cars like the Volkswagen Bug, Lamborghini, Corvette, Testarossa, and a few other licensed automobiles. As you progress through the courses, the CPU cars drive more aggressively. They really try to get in your way! So take caution when you hit that turbo and try to speed through a traffic-littered straightaway.
The heart and soul of this game are the gameplay and smooth controls. The game does a pretty decent job of giving you a convincing sense of speed, and your car feels balanced. I never found myself fighting with its handling mechanics. Also, I've always appreciated the fact that the game doesn't limit your use of the turbo boost. I find it quite surprising that you're more or less free to use it as liberally as possible. The only real setback is that you can crash your car if you rear-end another vehicle at top speed (in later stages anyway). Oddly enough, the game shows you a little mercy should the timer reach 0. Instead of stopping dead in your tracks, the car will actually coast on the speed you have at that moment, allowing you to possibly make it to the next checkpoint. Though a minimal feature, it helped the game to separate itself from other fairly similar games like Outrun.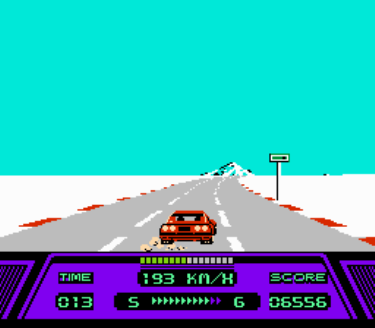 The controls are simple and easy to pick up. The learning curve isn't so hard once you get used to it. After years of playing racing games with more realistic physics, I did find it to be a bit challenging to get my bearings on the sharper corners. Some may get a little frustrated, as it's easy to screech off course and crash into a tree or sign if you don't anticipate the steepness of the turn ahead of time. But that can be remedied by taking care to dial it back a notch on the hairpin turns, especially if you've been using the turbo on a straightaway. But that's really a minor problem as the overall feel of the game isn't tarnished in any way. Besides, once you become good at the game, you'll learn how make up for lost time with the turbo, when used skillfully.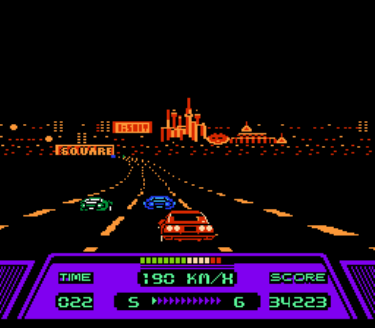 Don't let the box art fool you--the graphics are very good, considering the time of this game's release. Square did an excellent job of creating a game that made you feel like you were (almost) right there on the scene. Although there are a few locations that look a bit on the skimpy side, the majority of the courses feature rich, well detailed backgrounds.
The highlight of the visual presentation are the parallax scrolling backgrounds. This technique is best shown off in the nighttime city courses, like San Francisco Highway (my personal favorite). There's nothing more beautiful than racing on a dark roadway, with skyscrapers, bridges, and small city lights lining the background! Additionally, certain courses even feature changes of the time of day or weather, which can be noticed by the changing of color in the sky. Thumbs up to Square for their attention to detail.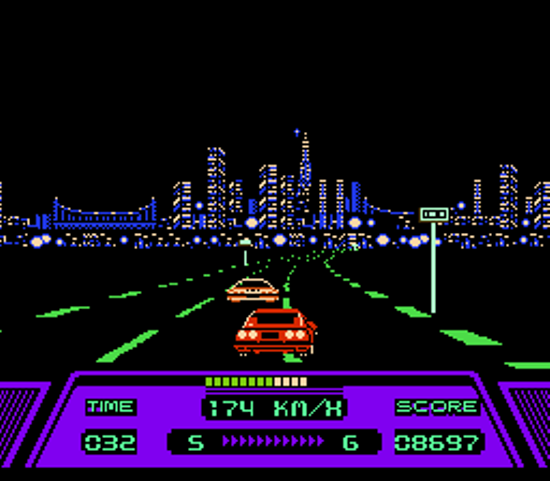 The game's music was composed by Nobuo Uematsu--the same composer of the music for the Final Fantasy series. There are only three music tracks, but they fit the game very well. Better yet, you can change songs anytime you want during the race; just press the "down" key to change the music. And hey, if you don't like the music, you can always opt to race without it. The songs are a bit repetitive, but very listenable nonetheless. I love all three tunes, but my favorite is the third one. I always play it on the night time courses.
There was also some nice attention to detail with the sound of your car's motor and the other cars on the road (most easily heard when no music is playing). Some may find the screeching sounds of the tires to be annoying when navigating steep turns, but I don't think it will bother too many people. I've heard worse sound effects in other racing games.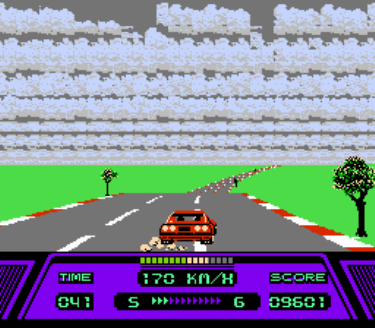 Overall, Rad Racer is a fine game for any player who may be a bit tired of the current racing games in recent years. Sometimes it's more fun to just pop in that gray cartridge and take a trip down memory lane. The fun and quality of this game is right up there with its contemporaries like Pole Position and Outrun. Rad Racer will prove to be a ride that you'll constantly go back for. Remember to fasten your seatbelts.