Super Mario Land Review Rewind
RECOMMENDATION:

A pocket-sized Mario adventure mostly can at least mildly enjoy.

The Game Boy- created by the late Gunpei Yokoi- was Nintendo's first handheld system to mix the portability of the Game & Watch with the seemingly infinite possibilities of interchangeable cartridges. Although Tetris was the pack-in game with every unit, Nintendo still wanted to have at least one title in the 1989 launch lineup that their consumer base would instantly recognize.
With his established popularity in Donkey Kong, Super Mario Bros., and its sequel, Mario was the perfect character to get his first portable adventure on the Game Boy. Shifting from Shigeru Miyamoto's hands into the capable clutches of Gunpei himself, Super Mario Land was born. It was time for the world to see Mario through a different designer's interpretation on the small screen.
The game takes place in Sarasaland. Residing there are four kingdoms- Birabuto, Muda, Easton, and Chai- presided over by the benevolent Princess Daisy. Unfortunately, doom is on the horizon when Tatanga- an alien from outer space- descends from the sky seeking to conquer the four kingdoms. After successfully doing so, he now wants to marry Princess Daisy and make her his queen. Mario soon learns of these events and begins his journey to the Chai Kingdom, where Daisy is held captive.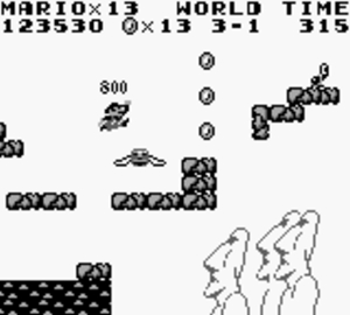 I've always been on the fence regarding my feelings on Super Mario Land. On the one hand, it was nice to play a Mario adventure in a portable form. But many of the familiar sights and sounds from the previous games were missing. Besides the standard method of running, jumping, collecting coins, and hitting question boxes, just about everything else in the game is entirely different from what we came to expect at the time.
Gone are the spotted hills and blue-bricked underground themes. Such visual cues are traded for something closer to real-world scenery- pyramids lining the landscapes and hieroglyphs decorating the inner walls. Cheep-Cheeps and lava bubbles are replaced with skeleton fish and seahorses that spring from the water. The Fire Flower is now a "Super Flower." Even Mario Land's more recognizable enemies, such as Goombas, Koopa Troopas, and Bullet Bills had their names changed to "Chibibo", "Nokobon", and "Gira." It makes for a game that is simultaneously familiar and bizarre in an odd way.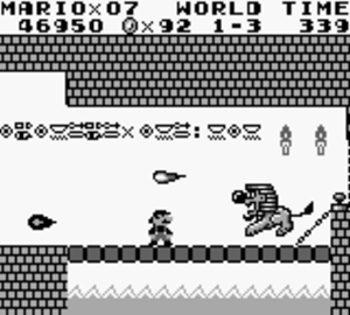 Some of the differences aren't so bad. The Super Flower grants Mario the ability to "superball" shots to fend off enemies and collect coins in its path. A few areas break up the platforming elements by having Mario pilot a vehicle in side-scrolling shooter sections. You have two ways of finishing the other sub-levels by exiting one of two doorways at the top and bottom of the screen.
Stepping through the topmost door is a bit tricky at times but worth the effort since it leads to a bonus round where you can win up to three extra lives or a Super Flower for your troubles. That almost guarantees you'll never walk away empty-handed. The only time it backfires is if you end up with the Super Flower when you already have that ability. Otherwise, it's a winning situation all around.
Other deviations from the style of the previous Mario games didn't gel quite as well with me. Let's start with the Super Flower; while it's great for collecting coins, it was problematic when using it as an offensive measure- arguably the most important use for it. Instead of bouncing along in a straight path, each shot ricochets off any surface until it either disappears after a few seconds or bounces off-screen.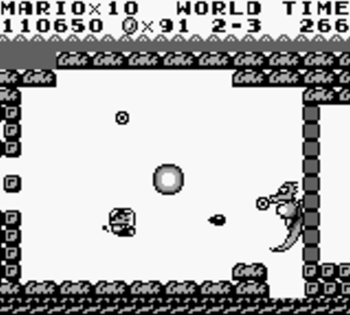 Unfortunately, you can only shoot one ball instead of two as you could in Super Mario Bros. These factors make it troublesome to miss a shot when you've got multiple enemies on-screen. If you miss-fire in a section with an overhead ceiling, you have to wait for that one shot to dissipate before you can fire another. As a result, blazing through multiple enemies is rarely possible and makes the superball less valuable than it could have been.
The game's visual style was mainly modeled after the original Super Mario Bros. The most significant differences are in the objects that decorate the background and the reduction of Mario's size. There are segments with platforms that feel too small for even little Mario to fit on properly. Usually, this came in the form of trying to jump to a narrow platform. You can easily miss your target and fall into a chasm. It's a problem that is unusual for a 2D Mario game. But otherwise, the background objects and details look pretty good for a launch Game Boy title. The boss characters are similarly well detailed and easily dwarf Mario more than he already is.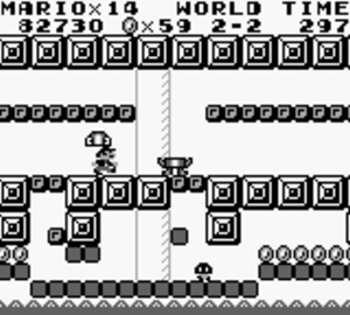 The music is typical of what you'd find in early Mario games. The tunes are upbeat and platformer-friendly. It's also interesting to note the slight real-world musical flare given to two types of worlds/sub-levels in particular. World 1-3 takes place in a pyramid and therefore features music often used in cartoons and movies to convey the idea of being in an ancient Egyptian tomb of some sort. The majority of world 4 uses an Asian motif as its aesthetic muse, and the music reflects as much. It's hands down my favorite aspect of the game.
Weighing in at a not-so-hefty four levels (three subsections per level), Super Mario Land is a brief trek. One can't argue that the game certainly accomplishes the goal of providing a portable romp that most players could certainly complete in under an hour. If that's what you're looking for, then you won't mind adding this one to your handheld game collection. But for those expecting more of the familiar trappings of the NES series, consider yourself warned. You're not in Kansas anymore, Dorothy.