Crashmo Review
RECOMMENDATION:

For puzzle/platformer fans of all ages and those who enjoyed Pushmo.

Pushmo was a wonderful surprise back when it was released in 2011; the Intelligent Systems developed puzzle/platforming game took a simple premise and made it a fantastic in-depth game with a nice custom-builder. Much to my surprise and delight, Nintendo and Intelligent Systems made a sequel! Crashmo, like its predecessor, has Mallo pushing and pulling blocks. However, the effects of gravity now play a bigger part in the game, because now the blocks crash to the ground.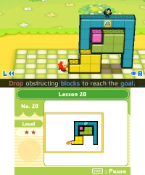 The gameplay in Crashmo, at first, starts out a bit slow. The tutorial at the start goes over the basics and takes a bit long, but when the game opens up and introduces new elements, you will see Crashmo wants to be bigger and better then its predecessor. As aforementioned, blocks fall to the ground thanks to the added effect of gravity unless said blocks have a solid foundation beneath them. This adds more clever and difficult puzzles.
While the controls are the same and are responsive as before, the bigger puzzles have now been given a wider playing space, with a camera that can be moved. Moving Mallo is now only done with the Slide Pad, while switching the camera position is now done with the d-pad. Zooming out can also allow you the move the camera and get a better view of the puzzle. The rewind feature has also returned, which allows you to rewind your movements by about thirty seconds.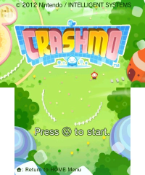 Also returning is the ability to make your own puzzles, and the options are quite robust, with new things getting added as you progress through the game. However, one flaw rears it head yet again to steal a half-point from the overall score: there are still no options for Street or Spotpassing; only QR codes.
Visually, Crashmo still carries the candy-coated aesthetic from the first game, which once again clashes with the drab looking puzzles themselves, but is still easy on the eyes. The game runs smoothly without any slowdown (which, to note, the first game suffered from before a patch was made available), and the 3D effect doesn't add or take away from the game itself. Audio-wise, the game still carries the mix between MIDI-tunes mixed with 8-bit chiptunes, but is nothing spectacular.
At the end of the day, Crashmo carries the torch of its predecessor with enjoyable puzzles and fine-tuned gameplay. Again, no Street or Spotpassing seems like a missed opportunity, and the visuals and audio aren't perfect, but the gameplay is a real star which expands upon Pushmo's original concept. If you loved the original, get this game, you will not be disappointed.