Ys: Memories of Celceta Review
RECOMMENDATION:

While not truly epic, this light action JRPG will satisfy most fans of the genre.

There's a special place in hell for JRPG fans. Their sin? Playing the same game with the same story over and over without complaining once. I suppose there are worse crimes than this, but there is a sort of masochistic glee in which JRPG fans partake in their vice. Perhaps we love grinding and crafting so much that we don't really care about the story too much – despite our claims that we play these games for the tales they tell. Perhaps it's the newness of the dungeons or the shiny equipment that makes the tedium of saving the world over and over remain novel. But, despite these tropes, this genre seems to continue on, and sometimes even with some of the most loathed archetypes and clichés, JRPGs can rise to heights other genres can't.
The first thing you should know is that Memories of Celceta is an amnesia story. But like I said, despite this common mechanism, this latest entry in the Ys saga is quite an original and captivating game. The story opens up with the series' star, Adol, wandering a town ragged, without knowing who he is or where he came from. Obviously, as the the story plays out, you will unlock Adol's past and how he lost it – but this is handled so well, and so intricately that you'll forget that it's something you've seen before. This is especially convenient for players new to the series, as there's no back story slowing down the pace of the adventure.
Memories of Celceta is an action-RPG, and unlike its scowled-upon turn-based brethren, features a dynamic action system and a wide range of abilities including the power to swim and become miniature. The gameplay is quite robust, and as the adventure progresses you will unlock new powers that will open up different sections of the somewhat nonlinear world you can explore.
The combat is fun too, but is a little button-mashy. You can block, dodge, use special attacks, etc. – but most often I just slammed on the attack button and healed when necessary. I suppose if you turned up the difficulty, it would be more demanding, but I was engaged regardless and never got bored of the action-packed combat. There's an ocean of enemies between you and the Big Bad of the game, and a lot of them are quite different from the others, with some requiring more clever techniques to destroy.
While you mostly control one character, you can easily switch to other party members who have different fighting styles and powers, depending on the situation. And there's a myriad of party members to choose from by the time the game is over, where you'll have difficulty picking your favorites. The characters are all interesting and likeable, and multidimensional despite being steeped in archetypes. They all have clear motivations, and will be your friends by the time the game is over.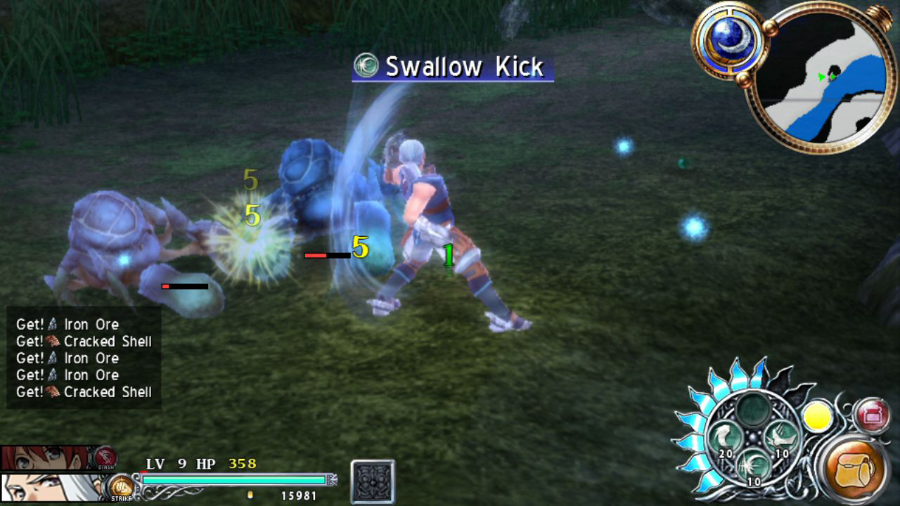 When you're not smiting monsters and exploring dungeons and solving the puzzles therein, you can hang out in town and do side quests, as well as get to know the local population, and do a little crafting. Crafting is pretty simple and allows you to create new weapons, armors, and accessories that you can't buy in any store. As you traverse the world, you'll collect the materials necessary through mining and farming, or simply eliminating enemies. By exchanging one sort of material, you can gain access to another, and you can even refine previously used weapons into fancier equipment. This makes for a robust little activity that can occupy your time in a pleasant way in between saving the world.
The story provides an adequate amount of twists and turns, and actually touches upon some deep ideas about the way the world works that players might enjoy or completely disregard as being ridiculous. I don't want to say too much about it, but the basic idea is that while you search for your memory, you also explore a mysterious forest of gargantuan size for the reigning military power, which is expanding into the area once untouched – or so it seems. Through the course of the story, you'll of course come into contact with both nefarious and divine powers, in a tale that is more mythical than realistic. I personally found the story interesting and intellectually stimulating – I love when JRPGs stray from a sensible plot and get into themes which verge on the cosmic.
While not truly as epic as some other, more famous JRPGs out there, the game is really fun, has an interesting plot, and has the prerequisite equipment upgrading, item hording, light crafting, and deep exploration of any reliable role-playing game. While a remake of an older game, it is mostly timeless, though the graphics on the Vita are not as impressive as they are for other games on the system, probably because it straddles the line between PSP and Vita aesthetics.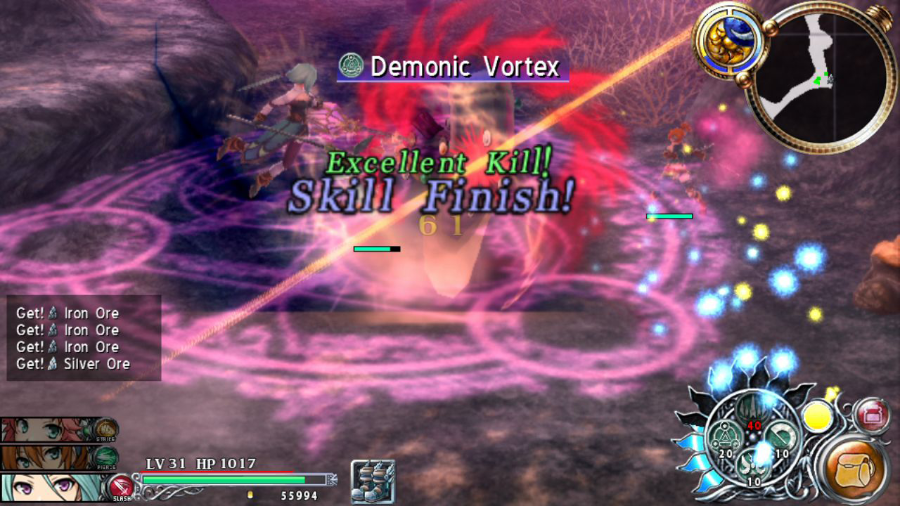 If you've read about the game, and enjoy the genre, I definitely recommend it. It might not be a system seller, but its unique quest filled me from head to toe with warmth while I ventured through its world.