Moon Chronicles - Episode 1: One Small Step Review
RECOMMENDATION:

As much as I want to recommend a purchase of Moon Chronicles right now, I can't. There's certainly promise here, but until the other episodes drop it's impossible to say if the entrance price is worth it.

I want to heap praise upon Moon Chronicles - Episode 1 for being the fantastic FPS nobody was asking for on the 3DS, but it's tough to do so when there's so little content. There's no question that what's presented is entertaining – it's graphically sharp, it controls well, and it channels both Metroid Prime and Perfect Dark. However, clocking in at just a bit over an hour, just as you're getting hooked, Episode 1 comes to an abrupt close.
The episodic breakdown of Moon (originally released on the DS) seems a bit odd considering how short the original production was to begin with. Clocking in at only five hours, the brevity of the first episode in the 3D remaster begins to make sense. It does make me wonder whether four episodes was too granular of a distribution for the title.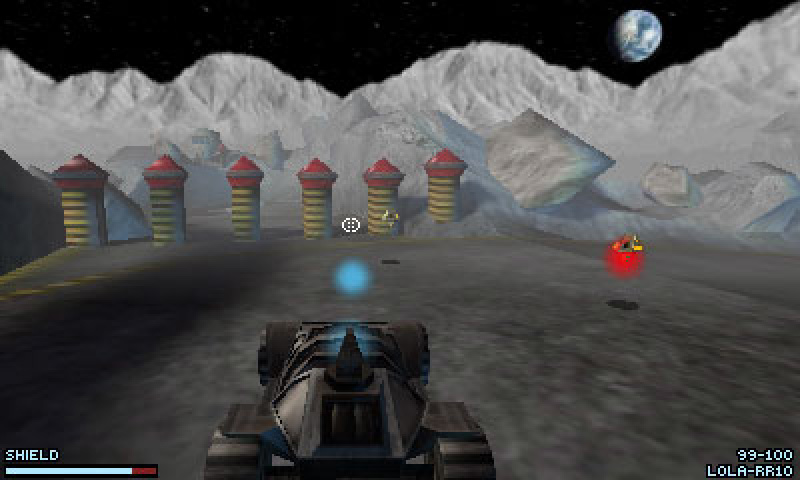 Despite the format, what's here is certainly strong and a suitable intro for the rest of the episodes in the series. Things kick off when your crew arrives on the moon and a hatch is discovered that leads below the surface. The unexpected entryway leads to a hidden facility that's home to some strange blue canisters. After a sudden explosion kills members of your crew, you (Major Kane) head down into the facility to find and extract them. On your way through, you accidentally inhale the contents of one of the blue canisters, which knocks you out. Upon awakening you're surprised to find that you're in peak athletic shape. This shifts the thrust of the story from simply finding and rescuing your men to performing recon work to determine the nature of the mysterious aerosol.
With a gun in hand you'll traverse the mysterious halls of the facility, encountering various sentries bent on your demise along the way. While shooting is certainly a central part of the experience, Moon Chronicles is more akin to the Metroid Prime games, tasking players with investigating their surroundings, backtracking through traversed hallways, and seeking out new pathways forward. Of course, you find new weaponry along the way and even a little remote-controlled droid (think SpyCam from Perfect Dark, with the ability to stun) that allows you to look under rubble and traverse hidden passageways.
Little collectible alien artifacts are stashed away in remote corners of the facility and finding them unlocks a special VR mission, which is completely unique to Moon Chronicles. It was great fun seeking these artifacts out and equally fun to work up strategies to make it through the more challenging VR mission. I am definitely looking forward to future VR missions in the other episodes.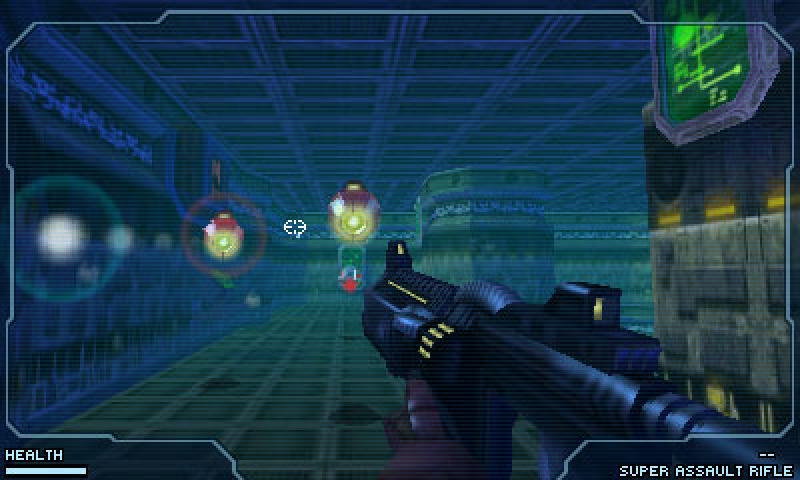 Despite the 3DS being a little unwieldy to hold with one hand while holding a stylus in the other to control the camera, I still found the controls to be quite precise and gratifying. It's especially fun to take on the bosses, which require circle strafing and general agile movement around an arena to take them down. Even piloting the rover felt good, as it controlled quite similarly to Halo's Warthog.
While enemy variety was thin and this episode only ran for an hour, I'm definitely interested to dig deeper into the next underground facility in Moon Chronicles and learn more about the origins of the canisters contained therein. However, at $8.99, you might want to hold off on purchasing this first episode of Moon Chronicles until more content becomes available - it's not cheap and you won't be playing for very long.
Be sure to check back for subsequent reviews of the other episodes as they become available.