Dragon Warrior Review Rewind
RECOMMENDATION:

While by no means a bad game, consider going with the mobile version for a smoother experience.

If there's one thing I absolutely adore about Dragon Warrior (aka Dragon Quest), it's how much its subtle charms have influenced each sequel to come after it. There's just something special about playing the latest game in the series (currently Dragon Quest XI) and still hearing the familiar sound cues of attacking an enemy, taking a hit, or the brief but satisfying victory chime and level-up fanfare. Additionally, the character designs by Akira Toriyama (Dragon Ball creator and illustrator) give a visual continuity throughout each game. Without question, the Dragon Quest series has laid down some deep roots that all started here. But although it's a beloved first entry for nostalgic fans of the series, newcomers might not warm up to certain gameplay elements that would not be refined until much later.
You are the brave descendant of Erdrick- the legendary hero of Alefgard. Trouble brews when the big bad Dragonlord steals the Ball of Light from your kingdom, disrupting the peace it once enjoyed. He also locks King Lorik's daughter in a dungeon under heavy guard by- you guessed it- a dragon. As Erdrick's descendant, Lorik instructs you to bring his daughter back to the throne, defeat the Dragonlord, and take back the Ball of Light, thereby restoring peace and order to the land. All in a day's work for our hero.
In a similar vein as The Legend of Zelda, Dragon Warrior encouraged exploration and discovery ahead of being told directly where to go and how to get there. Most of the locations on the overworld map are available from the start. The only thing that really dictates how far you can go is the types of enemies you'll run into while traversing the land. Of course, you'll eventually need to have a special item to reach a crucial section of the map. But by that time, you'll definitely know where to go next.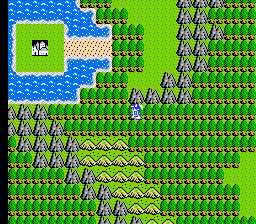 Enemy encounters are always one-on-one in the first-person viewpoint. The turn-based battle system is straightforward, with only a few commands to choose from (Fight, Spell, Item, and Run). There are no animations depicting the actions of enemies or your character. Instead, everything is narrated by text on the bottom portion of the battle screen. All dialog in the game is translated into Elizabethan English to give an "authentic" feel to the medieval setting. While personally, I don't mind it much, others may find it to be a bit off-putting initially.
On occasion, you'll do critical damage to an enemy. There are also times when your attacks will miss the target. While not uncommon in most turn-based RPGs, it can be especially troublesome if you're fighting an enemy that's evenly matched or moderately stronger than you. If you're ever fighting a star wyvern or a stone man with a slightly under-leved hero, the last thing you need is a missed hit, especially a critical one. It's easy to get killed if you don't carefully watch your HP, even after you've reached level 20 and beyond. Dragon Warrior has a thing for keeping players on their toes.
The spells are just as simple as using regular physical attacks. There's only a small handful to learn with simple names like heal, hurt, and repel. Personally, I found the early heal/hurt abilities to be virtually useless after you encounter the more difficult enemies like werewolves, knights, and green dragons. The healing rate or damage your abilities can do usually doesn't compensate well enough for the damage dealt out to you on the next turn. Healing and damage spells don't become very useful until you learn "heal more" and Hurtmore. Unfortunately, the required skill levels needed to gain the more powerful spells were so wide that I often found myself struggling through more than half of the game before I finally became even remotely formidable.
But that isn't to say that you won't learn other types of abilities in the meantime. Two of my favorites are "outside" and "return." Outside allows you to exit any cave or dungeon as long as you're not in the battle at the moment. I found it very useful when I've completed certain tasks and want to get back to the world map without having to fight monsters all over again. The "Return" ability is even better when you want to...well...return to your home castle to see the king, which you need to do to save your game.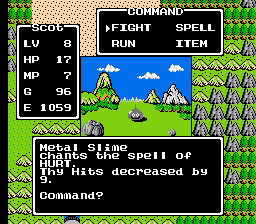 Graphically, Dragon Warrior is simple but appreciable to the keen eye. The residential locations aren't all that interesting as far as finding things to do, items to discover, or people to chat with. But that also means you won't be getting lost inside of huge towns or bogged down with numerous side quests from the townsfolk if you prefer to stick to the main quest currently underway. While there are no animated sequences in battles, the action is conveyed via sounds and brief flashes when using a spell.
Successful normal attacks make the standard *squeak* chime. You always know when your character is about to deliver a critical blow because you'll hear the weapon whirl up before hitting the enemy. It's particularly heartbreaking to hear that whirl-up sound, only to immediately miss the enemy. I swear this seemed to happen to me on far more occasions than it did to the monsters. While there's not much complexity in the composition of the music, I did notice that in multi-leveled dungeons, the notes of the tune become slower and prolonged each time you descend further into the area. It's a nice touch that gives an eerie cadence to your surroundings.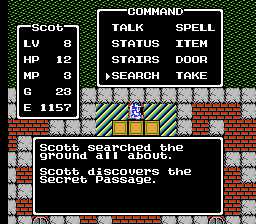 If you're expecting to quickly level-up into the double digits, prepare to have your hopes dashed to pieces. Battles in Dragon Warrior are so tightfisted with the allotment of experience points and money that it makes Ebenezer Scrooge look like a philanthropist. With each new level you reach, the gap of required experience becomes significantly wider. While, yes, you'll eventually be able to purchase armor and weapons that augment your stats, it'll be quite a while before you can amass enough money to afford the good stuff. All of this was no doubt designed as padding for an otherwise short adventure.
As you progress onward fighting some of the tougher monsters in the world, they tend to be 2 or 3 levels stronger than you are, which can easily overwhelm you if you're unprepared for battle. And if you die, you'll wake up in the king's throne room with only half of your cash, which can be really frustrating if you just got finished fighting countless battles to save up money for equipment. On the bright side, you retain your current level and any additional experience points you had before kicking the bucket- a design element that would become a hallmark of the series.
Besides the hero's slow experience progression, the other glaring issue in Dragon Warrior is the unintuitive method of interacting with the environment. Talking to NPCs, climbing stairs, or entering doors each have individual commands that you have to select through the main menu for your character to perform that specific action. It would have been nice if such common actions were mapped to one of the controller's buttons or required only input from the directional pad. While you could argue that Dragon Warrior was released in the early days of JRPGs, other games like Final Fantasy and Zelda II (released in Japan before Dragon Warrior) had proven that such streamlined was not only possible but also worked very well.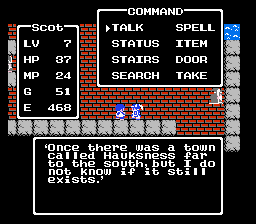 The menu also has a "search" command necessary to find a couple of key objects that you'll need later in the game. The problem is that, beyond those particular items, you don't really need the search function. And besides that, those key items are located in places where the average person wouldn't think to look (and not in that "good game design" kind of way). Sure, the townsfolk might give you a clue or two, but it's often too cryptic to really know what they're talking about. Due to this rather rudimentary style, it tends to impede your progress, which is very annoying.
Dragon Warrior had unique gameplay elements for its time; they just haven't aged well in some key areas. In all fairness, it isn't a product of bad game design. It's more a victim of being outmoded by the improvements that refined the genre over the years. In the three decades that have passed since Dragon Warrior was originally released, one can't realistically expect the robust experience you'd get in times recent. While the NES version is hard to recommend, there are other options.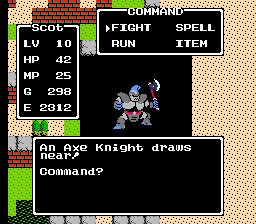 If you've been curious about this game and want to give it a try, I recommend going with the mobile version on iOS and Android (search for "Dragon Quest"). It boasts a few refinements to smooth out some of the rougher edges of the original. Most notably, it awards more experience points and money per battle, minimizing time spent grinding. You're also able to save anywhere on the world map instead of just at the castle. And the functionality is tweaked to allow your character to interact with doors and stairs without needing to navigate the menu to perform those simple actions. At $2.99, it's the best way to experience the first game in the series.
To put it simply, Dragon Warrior is like the very first automobile- it's an important invention, but most would have a better time with something constructed in the 21st century.