Fortune Street Review
RECOMMENDATION:

A great game to pick up in anticipation of family get-togethers or as a present for a Wii owner starving for a new game, especially those who bought the system for Wii Sports all those years ago. Those who like board games cannot go wrong with Fortune Street.

Marooned in Japan for two decades, Nintendo and Square Enix finally have seen it fit to bring the Itadaki Street series to North America in the form of Fortune Street for the Wii. Despite the series piquing my interest after the strong reception of the DS version in Japan, it's largely been a mystery to me. Now that I've had a formal introduction to the series, I can say that it's been well worth the wait. Cozying up more closely to Monopoly than Mario Party, Fortune Street is the perfect game to play with a group of friends and/or family members, even if they're not fans of video games.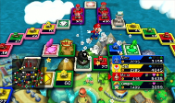 The game comes in two flavors: one is a simplified version that excises all stock trading to allow players to focus on the core components of the game's design, which plays out very similarly to Monopoly. The more advanced adds an entirely new layer, forcing players to consider stock investment in given regions of the board to increase net worth. Unlike the seemingly unending games of Monopoly, Fortune Street has a very clear end point: once a player gains a certain net worth and passes the starting line, the game will end.
Gaining net worth is what Fortune Street is all about. There are a number of different approaches to success, but they will always be a balancing act of a few core actions. At each turn, players will roll a single die and make their way around the board. Each space holds something different, but spaces usually hold shops. Land on one, buy the title deed (if you want). You know the drill.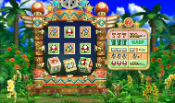 For at least the first few rounds, it's a nonstop land grab while players make their way around the board. Like Monopoly, after these spaces are purchased, other players will pay a penalty to the owner when landing on them. Also like Monopoly, players can invest money into their owned spaces; however, they won't need to complete any sort of series to do so, nor do they have to invest in fixed amounts. Fortune Street lets players dump as much as they want into their properties until they max out their investment. Because shops are organized into districts, players will want to purchase as many shops in the same district as possible as doing so will raise the value of their property and allow them to earn a much higher penalty rate when other players land on it.
As such, purchasing and investing is a major component to gaining net worth. When you introduce stocks, things get even more intense. As players make their way around the board, they can purchase stocks in districts at a certain rate. As the district grows, these stocks will increase in value. Players will want to balance buying lots of stock early with saving money to purchase new shops and upgrade existing properties. Owning the stocks pays dividends often, though. Each time a player lands on a shop and has to pay a fee, stock owners get a kickback. Furthermore, if players invest in the right district, they can win big with stocks. One player can inadvertently drive another one to victory, simply by investing in their own property.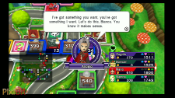 If all that wasn't enough, players must also manage trips around the board as each one is in a custom shape with many branching paths. In order to force players to traverse enough spaces to "Pass Go," they must collect all 4 suits (like in cards) each of which occupy a different spot on the map. Once players collect them and pass by the bank, which acts as the starting point, they'll net a promotion. This will result in a cash payout that's even greater if you own a bunch of property. This puts a ton of ready cash in players hands which will allow them to invest in the ways described above.
With an abundance of cash, a new option will open up. If a player lands on a shop owned by another player, after paying the fee for landing there, they will be given the option to purchase the store out from under their opponent for a total of five times the amount of the property. Their opponent will only receive a 3x payout from the transaction (with the other 2x being lost to administration fees), so players are encouraged to use this technique to aggressively take ownership of district properties that will greatly increase the value of their own. It can also be used to break up a heavily owned district to reduce fees. For those desiring a lighter touch, with a bit of diplomacy, deals for property can be brokered or auctioned as well.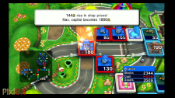 Intertwined into all of this strategy, there is a definite degree of luck. Die rolls will result in variable movements and will force changed strategy due to branching paths. Venture cards, which are acquired when landing on suit or question mark spaces, will result in all sorts of different situations depending on what card you draw. Some will force payout to other players, some will expand the value of all your shops, some will net you a bit of cash, and it's all the luck of the draw. This randomness keeps things interesting as players will have to formulate their strategy on the fly. 
Single player is included, but it can be quite plodding to watch all the minutiae of the computer's movements, especially when the most important parts, their menu choices, happen so quickly that you can rarely see exactly what they just did. There's also the option to challenge real life opponents online, but the experience is sterile.
Those who are serious about playing the game absolutely need to gather a group of friends or family and make their way around the boards. While the Nintendo and Dragon Quest inspired theme will excite gamers, the bright visuals provide a soft backdrop that anyone can appreciate while they're busy making cutthroat business deals and running their neighbors out of town.