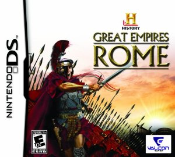 Don't know nothin' 'bout history…
This review is part of the 2014 Sh*tty Game Review Fest - read about the event here.

When the directors of PixlBit approached the staff with Operation: S----ty Game Review, I jumped at the opportunity. I've been off the writing horse for a bit, and there's something a bit refreshing about getting a chance to eviscerate critique a game that you know isn't very good. If anything, it helps put things in perspective. So, when we got our games and did our unboxing videos, the general consensus amongst the PixlBit readers and staff was that I got off easy with HISTORY ™: Great Empires: Rome. Well, as someone who has absolutely no love for classic PC-style games (no, seriously), an old-school, turn-based strategy title ala Civilization is about as appealing as playing Barbie's First Free Clinic Visit.