about keith lee's nxt debut.
My first indie wrestling show was Inspire Pro Wrestling's Ecstasy of Gold II. I was instantly taken with it, and have since become a big fan of the Texas indie scene. There were a ton of wrestling stand-outs that night, including Athena (you probably know her as Ember Moon) and this HUGE dude with an absolutely punishing power bomb by the name of Keith Lee. He was announced as hailing from the moon. "The literal moon." There were a lot of people that made a great impression that night, and he was definitely one of the big ones.
I continued to go to every Inspire Pro show after that, and began to have my favorites. From amazing "faces" like Steve 'O Reno and Matthew Palmer to dastardly "heels" such as Dirty Andy Dalton, Davey Vega, and Angelus Layne, there were plenty of personalities to get attached to. I started an Inspire Pro podcast with my friend John Gholson (RIP Slam Masters; you had too cool of a name to die so early), and we both got very invested in the show.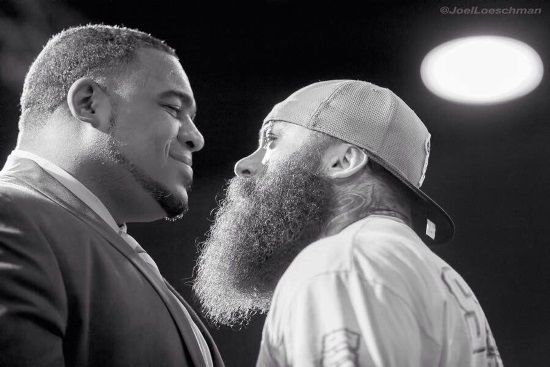 Keith Lee continued to impress, show after show. I would check out other promotions like Branded Outlaw Wrestling and Wrestlecircus just because he was on the card. I confess it was awesome to learn that he was a huge geek: if the Mewtwo tights weren't enough of a clue, he would go on to be announced as coming from planet Vegeta, Tatooine, and the Johto region. He loved Slam Masters, and I made it a point to be sure and see him after every show.
I was there for at least two of the times he broke the ring with his Spirit Bomb. No, really…dude would break rings with that move.
As I saw Keith, I felt like he was destined for more. Much more. On one hand, I wanted him to stick around Texas forever, but when I heard him cut a promo for the first time I knew it was only a matter of time before he ended up on a much bigger stage. Keith Lee has it all: power, speed, agility, charisma, and that certain undefinable "it" factor that sets the main eventers apart from the rookies. Keith Lee was going to limit break.
And limit break he did. First by getting out of the Texas bubble and making his East coast debut. That would lead to more bookings across the country and eventually to the UK. Things continued to get bigger for him thanks to Ring of Honor, Pro Wrestling Evolve, and of course the Wrestlemania weekend that put him on the map to such a degree that, all of a sudden, everyone knew his name.
Flash forward to last night, when Keith Lee made his television debut on NXT. I invited my lovely girlfriend Jenny, my friend John, and his girlfriend Wendy over, just so we could be there to see it. It was a surreal experience. And it was much different than watching Ember Moon debut. While I had seen her wrestle in Austin a handful of times, I hadn't interacted with her like I did with Keith Lee. While I would never presume to call him a friend, he's someone that I have talked to multiple times, and corresponded with. My biggest regret with Slam Masters is that we never sat down with him for an interview. Doubly so for Nerds Without Pants, because I bet he'd love a chance to just geek out about video games for a couple hours.
This was…big. Seeing him go from the indies to one of the highest profile stages in the land was just…it was really freaking cool. When he made his way to the ring I was kind of in awe. His match was solid, but if you've never seen the man wrestle, just stay tuned. You only saw a fraction of his abilities last night. It was far from his final form.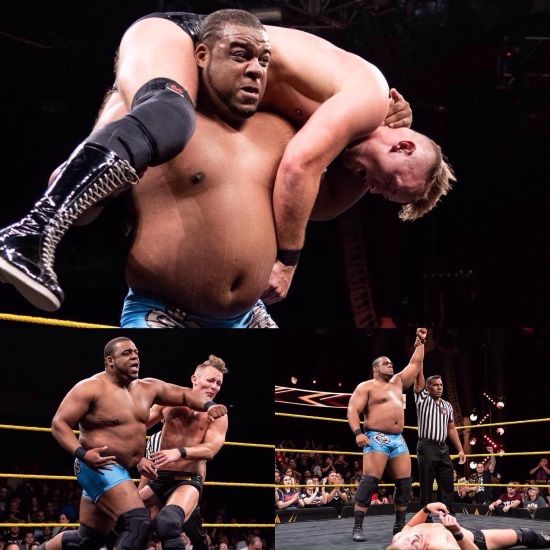 I can't wait to see where he goes from here. The fact that he is still Keith Lee, and the fact that he got to keep his catch phrases says a LOT about the confidence WWE has in him as a performer. It's so rare for them to bring in new talent and not completely repackage them, but that isn't the case here. Keith Lee is in the WWE. Bask in his glory, folks, because he is Limitless.
Way to go, big guy. Probably the only downside is you won't have much time to jump into the next World of Warcraft expansion.