Slide Pad Love: Why It's a Big Deal
Wait, they are calling it the Circle Pad now? Well that's just lame.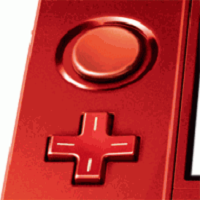 I could list all the 3DS features, but that would seem just silly; I am not a PR machine. March 27th is soon upon us all, and we will all have the 3DS in our grasp. Will I be ready to handle a brand new Nintendo handheld system? While it will take a bit for me to experience the 3D aspect (since Nintendo of Canada hasn't bothered to release any 3DS tour information yet), it will be yet another handheld cycle for me to go through, and I'm looking forward to it.
While everyone is making a big deal (and rightfully so) of the other features included in the 3DS, there is one thing about the 3DS that was badly needed on the DS. I will let the picture below say it.

Say it with me now. Slide. Pad.
Analog control. While the DS hosted some fantastic 2D games, controlling 3D games was not so hot. The biggest control nightmare that really struck a chord with me was Super Mario 64 DS. Was controlling Mario, Yoshi, Wario and Luigi fun on the DS? No, it wasn't. Extra stars and new courses were nice, but having to control a game with a D-Pad when it was originally a Nintendo 64 game built around using the N64's control stick is not a good experience.

Mario 64 without a joystick is not fun. At all.
And Nintendo probably felt the same way as well. While the Nintendo DS was a bit more powerful than the N64, three dimensional games like Ocarina of Time would be a chore to control if put on the Nintendo DS. D-Pad controls do not work for games like Mario 64 and OOT, but after the Nintendo 3DS was unveiled to the masses at E3 2010, my attention immediately turned to the Slide Pad and what it can be used for. Non-2D games on the DS that have the D-Pad as an option? I can already think of a few: Okamiden, the two Final Fantasy remakes, Resident Evil: Deadly Silence, and Mario Kart DS.
Backwards compatibility with DS games will be enormously improved. If you've played any of the VC games on the Wii, then analog control comes into play if you want to use the Classic or GameCube controller. I have found it useful for some games, others not so much. The same should hold true for the Slide Pad, but unlike its console cousins, the Slide Pad is flat and has a more circular base than, say, the Classic Controller Pro's analog sticks. Analog control on the 360 is far better then the Wii's because its analog stick base is not octagonal. The Slide Pad also has a circular base. Console-like control on a Nintendo handheld that isn't 2D based is like a dream come true.
It's finally coming true in two weeks time. Super Mario 64 DS, you are going to have a home again.