Game of the Year 2011 - Genre Awards
Find out what games of 2011 best represented the nine most notable genres in gaming.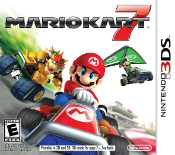 Though this wasn't the year of the racer, a number of notable games in the genre did make it to the market. Placing ahead of the competition, Nintendo's seventh iteration of Mario Kart showed that it still has what it takes to blast past the competition.
This time around the track, Nintendo has slightly shaken up the formula by integrating the brand new gliding and underwater mechanics to bring the race to the land, sky, and sea for the first time ever. Players must now master all of the facets of the karts in order to prove successful on the track. Combine this with a need to assemble all parts of the kart to find the optimal design and a mastery of the weaponry and you have one of the deepest entries in the series to date.
Mario Kart Wii set the stage for the game's online features, allowing players to easily get online and race against opponents around the world. Online tracking of time trial runs, easily transferrable ghosts, and the brand new community feature make for some of the most robust online features for Nintendo's brand new portable. There's little question that the tried and true racing mechanics of the series, combined with the brand new community features make for the best driving experience of the year.



Driver: San Francisco may not have the pedigree of Gran Turismo, Forza or even Mario Kart, but it delivers in the unadulterated fun department unlike any other racing game this year. Coming out of left field, Driver: San Francisco represented a rather dramatic "shift" for the franchise and pushed it in a very positive direction. With a story that will leave you shaking your head, but smiling, it's nice to know that some developers are looking for new and fresh ways to offer up games in a genre that couldn't possibly be more formulaic at this point. It may not have won the category but Driver: San Francisco surely deserves to be recognized as one of the most original and fun games of the year.

Honorable Mentions