Game of the Year 2011 - Genre Awards
Find out what games of 2011 best represented the nine most notable genres in gaming.

The winner of Best Sandbox game of this year had many valiant and diverse contenders, yet none managed to grab our attention and dangle it over the side of a building like the caped crusader. This original creation meshed the ideas of Gotham City and Arkham Asylum better than fans had ever imagined, because so many heroes and villains were effortlessly entwined throughout this sandbox. Almost all of your favorite characters make an appearance in some way. It is entirely up to the player to rid the city of crime, since a few of the villains will never even be met without searching throughout the whole map. Every great neighborhood in Arkham City contains its own fantastic beat to the story.
While Arkham Asylum essentially had the player running back and forth in vents and on gargoyles, Arkham City mixes up the previous game's progression to provide players with something of a greater quality. The story moves from one district to another within the sandbox, with inventive objectives to complement each district. Some of them introduce new villains who will be on the loose and create optional stories to accomplish. The superb voice acting and character models are great incentives for completing all of these objectives, and the theatrical dialogue between Batman and Joker is to die for.
It's Batman's tightest game yet, and one of the superhero's most shocking stories.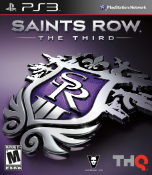 Oh Saint's Row, how I love thee. Sensing a vacancy in the gaming landscape when Grand Theft Auto took a more serious turn with the IV, Volition quickly turned a GTA clone into an outrageously fun sandbox experience with a swagger all its own. The Third pares down some of the variety and chaos from the second offering in favor of a more streamlined experience. This doesn't mean that this edition can't hold its own – it's a more focused chaos that never fails to amuse and contains enough customizable options to keep you busy for weeks on end.

Honorable Mentions