Street Fighter: The AWOL Files
There are World Warriors that have yet to step into that ring!
Zeku
First Appearance: Street Fighter Alpha 2 (Arcade, 1996)
Last Seen: Street Fighter Alpha 2 Gold (PlayStation/Saturn, 1997)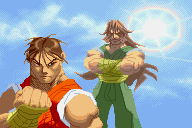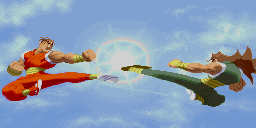 Zeku is Guy's master and uses the Bushinryu Ninjutsu fighting style. He was first introduced in Guy's ending cinematic for Street Fighter Alpha 2. Things get a little sketchy when this backstory is integrated with the storyline of Final Fight, which introduces the character of Genryusai as Guy's master. A clarification was made for the character of fellow Final Fight alumni Maki (Genryusai's daughter) for her appearance in Capcom vs. SNK 2. This retcons the storyline to make Genryusai the master that taught Zeku who in turn taught Guy.
Confusing backstory notwithstanding, Zeku is an odd addition to the Street Fighter universe, as he received a very detailed character design, but only appears in an ending cinematic. Considering that he uses the same fighting style as his apprentice, it stands to reason that many of his moves would be similar to Guy's. But one has only to look at the character of Gouken in Street Fighter IV to know that Zeku could have a few extra tricks up his sleeves if he was to make a fighting appearance in a Street Fighter title.