Street Fighter: The AWOL Files
There are World Warriors that have yet to step into that ring!
Retsu
First Appearance: Street Fighter (Arcade, 1987)
Last Seen: Capcom Cardfighter's Clash (Neo Geo Pocket Color, 1999)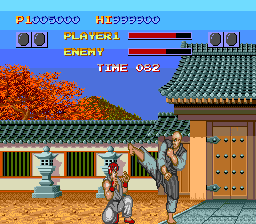 You have to be pretty hardcore to remember Retsu. He was the first opponent for players in the original Street Fighter if Japan was the first country selected. As such, Retsu has very little in the way of backstory. He is said to be a friend of Ken and Ryu's master Gouken and appeared in one of the Udon comics in a flashback scene. Considering that he has ties to three of the most important characters in the Street Fighter universe it's odd that Retsu hasn't been seen in a Street Fighter game since the original. He doesn't even show up in the stage backgrounds or in any of the character's endings. Even though many characters from that first game have come back into the fold (Ken, Ryu, Sagat, Adon, Gen, Birdie, Eagle), Retsu remains forgotten.
Retsu is a master of Shorinji Kempo, but due to the limited moves and animation found in Street Fighter he comes off as just another generic opponent. This once again leaves a ton of room for Capcom to redesign this character with a completely original move-set. Street Fighter, after all, began as a fighting game that highlighted different fighting styles from across the globe and a Kempo master would be a welcome addition. There's also something simple yet elegant about his unassuming gi and the combination of his bald head and strong, bushy eyebrows. Retsu hasn't set foot in a Street Fighter arena in 25 years. It's high time that he made a comeback.