Shio Review
RECOMMENDATION:

For all fans of brutally challenging platformers, like Super Meat Boy.

There's an itch that super challenging platformers scratch for me that other games just can't. While it's always nice to dig into a classic platformer like Mario or something a bit more unique like Rayman, getting my fix of games like Super Meat Boy and N++ is a necessity. Shio fits very nicely into that niche and offers a decent chunk of gameplay, a unique hook that differentiates it from the crowd, and healthy offering of secrets to extend the experience.
Evidently, there's a story that undercuts the Shio experience and between its four chapters, it saw fit to interrupt my flow to remind me. It's told mostly through journal entries that you'll unlock along the way, as well as through dialog with background characters between levels. Generally, it's unobtrusive outside of these specific instances and for that I'm quite thankful. I could do the legwork to figure out the details of it, but the reality is that you shouldn't be playing Shio for its story.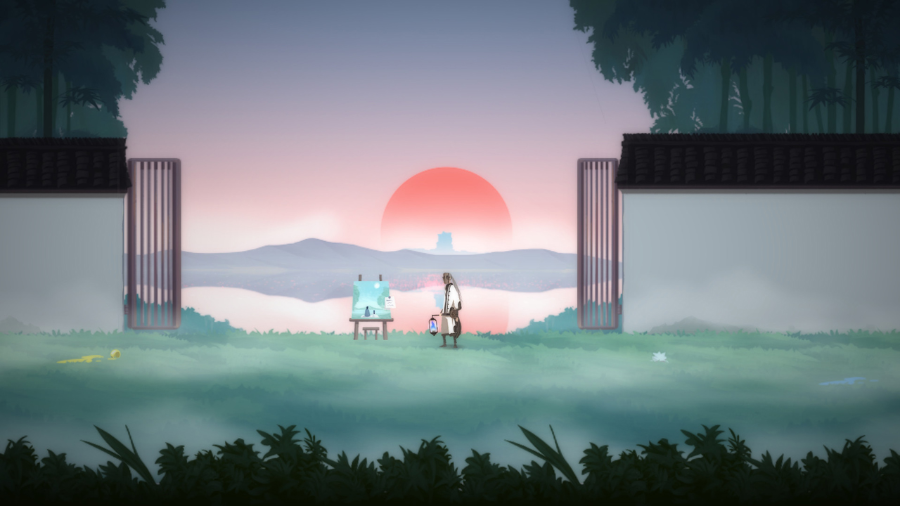 The gameplay is the real draw here and it is glorious. Your character is armed with very little to make it through the daunting challenges that lie ahead. The ability to run, jump, and swing a lantern are all you have to work with, but it's enough to get the job done. By swinging your handheld lantern at other paper lanterns scattered about, you'll be boosted into the air. Each floating lantern will offer a different boost height, but can be continuously hit to keep you bouncing in the air.
Each level organizes lanterns and platforms strategically alongside myriad hazards like fireballs, spinning saw blades (which immediately evokes Meat Boy), and burning walls. Even the floor in some places will kill you if you stay on it too long. But levels are short, and generally offer a number of checkpoints to keep you moving forward. Some levels you'll tackle in less than ten seconds, others will take over a minute, but that's really the longest you'll deal with.
That being said, perfectly executing each and every jump, avoiding every single on-screen hazard and surviving for a minute straight while making your way to the goal is no small feat. As Shio presses on the hazards become more plentiful and the checkpoints fewer and further between. What helps significantly is that each level in a chapter flows from one into another without a single loading screen, allowing you to stay in the zone.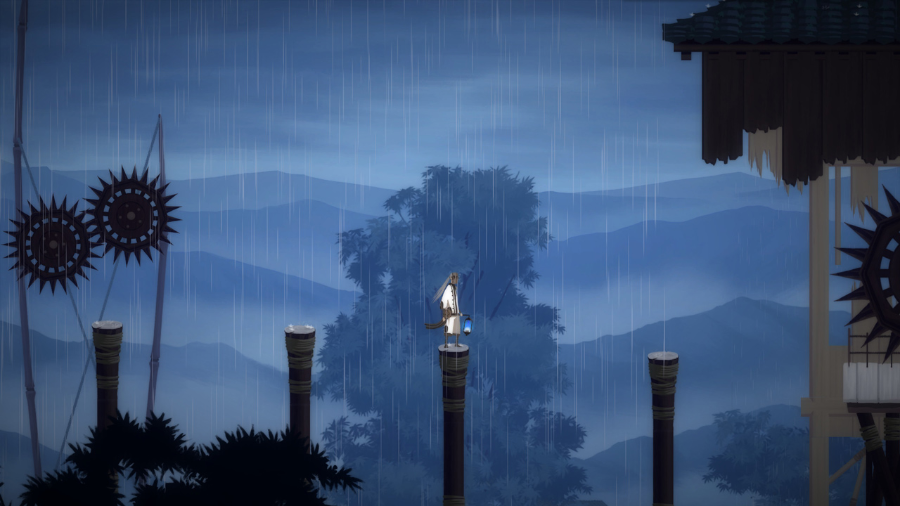 Furthermore, the difficulty curve is perfect and you'll slowly become more and more proficient as the game presses on. Death is the real teacher here, but immediate restarts at the last checkpoint or the beginning of the level makes it easy to keep trying until you nail it. As I played, especially towards the end, I found myself counting exactly how many times I'd bounce on each given lantern and remind myself aloud of the visual cues to make my move. Figuring out the intended approach and then nailing it all just feels great.
Even up to the very last level of the game, new details are being introduced, stretching the bounds of the formula and keeping the experience fresh from beginning to end. You'll see lanterns that turn off at an interval or rain that puts out a moving lantern; waterways that send you running forward fast, and shortcuts that open after reaching a certain part in the level.
Shio is a finely crafted experience that I really just wish was a bit longer. I'll admit to blasting through the normal mode in just a few hours in a single night. The next difficulty up, Deep Sleep, takes the levels from Normal and adds more hazards to make them even more challenging. It also gives you access to some bonus segments that are locked in the Normal setting. While this is a fantastic inclusion that satiates players like me, it might prove to be a little too tough to be a meaningful extension of the experience for most players. Even still, it only offers a scant few more hours of gameplay to run through.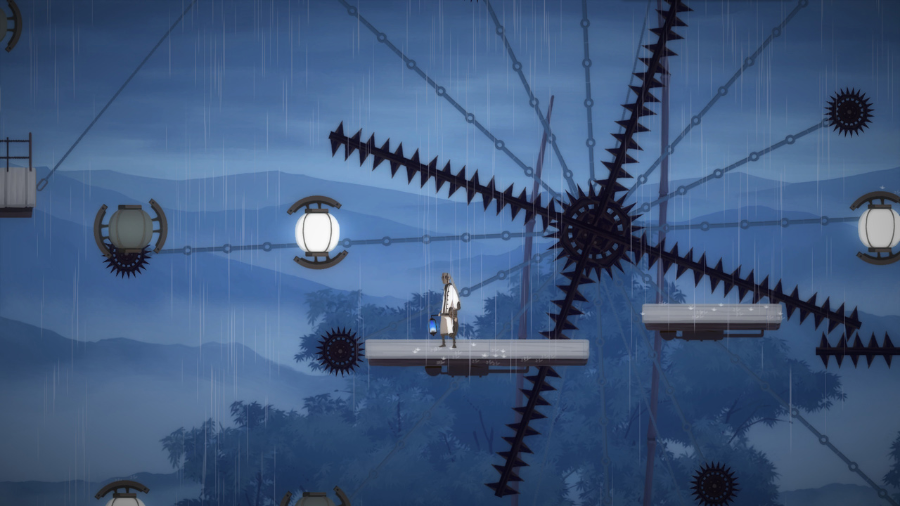 There are hidden lanterns throughout that when hit will unlock journal entries, so players can certainly focus on that to squeeze a bit more out. There's also some suggested times to beat for each level, but I found myself surpassing most of them on my first try by just catching the natural flow of the level.
Outside of Shio being a bit short, the only real complaint I have comes down to performance. I encountered a bit of slowdown and frame skipping, especially on levels with rain, as well as some weird loading bugs where I couldn't see anything but a static background. The slowdown and frame skipping are the more egregious of issues, as well as input lag on your directional input after pausing the game. These actually have an impact on your play and can kill you as a result. Hopefully Coconut Island patches this up soon so it's as tight as the rest of the experience.
If you enjoy brutally tough platformers, especially ones that are clearly influenced by Meat Boy, Shio was practically made for you. Its unique platforming with lanterns gives it a new flavor and the tough but fair gameplay will have you coming back for more.