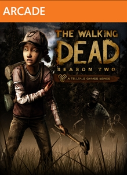 Defining the weak and the strong.
*This review contains minor spoilers*

It took about twenty five minutes into my play through of "In Harm's Way" to realize that I hadn't encountered any zombies yet. For that period of time, I was too caught up in the perilous situation that Clementine and the rest of the group found themselves in. This isn't a mark against it though; for me, it was a testament to its engrossing narrative. As each progressive event occurred, I became more and more engaged before being rewarded with a gruesome and gory finale. Episode 3 was another great chapter in Telltale's Walking Dead series.