Blog #25 - The Return
Damn. My plan was to do 2 blogs a month and it's been months since I wrote 1 blog. I've been pretty busy lately. If I'm not working, I'm busy with other stuff (family, friends, games, movies, sleeping, etc). I tried hitting up the site a few times and didn't get to visit much. I'm having a few pc issues. I'll just have to get a new one next year if I can come up with the money. The reason I've been working so much is that I'm saving up money for my wife's maternity leave from her job. Yes, we are having another baby. Child number 6!

We're hoping for another girl, since we already have 4 boys. But, whatever happens is fine. Anyway, on with the games...
Games I Finished:
The Witcher 3 (PS4)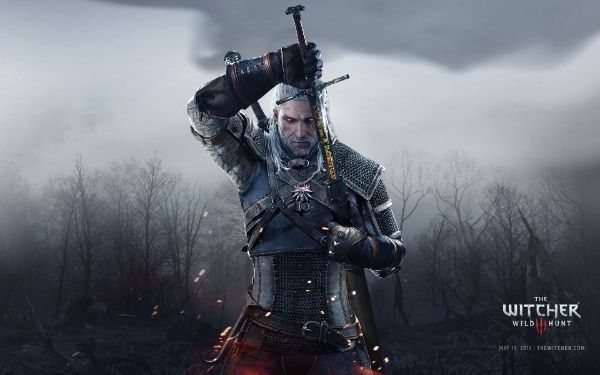 Damn good game. There's not much I didn't like about it. Story was great. Characters were great. Combat was great. There were a few side mission objectives that were a tad obtuse and I had to check youtube to progress through them. I was also a little disppointed with the romances too. In general, I wish they were a bit more involved. I would like to see more affection between the characters that are romantically involved and that romance's affect on the other characters. I have yet to play a game that have romanace options that have satisfied me. Most just feel tacked on. I plan to play through it again before the year ends. I did start playing it, but quit because I wanted to start with the new "game plus" option. By the time that option released, I moved on to another game.
Devil Survivor 2 (3DS)
After months of playing, I finally finished the game and the extra content. I really enjoy playing this series and they're not hard games to play once you get into them. I put in over 168hrs and almost decided to play through it again. I really hope I 3rd game is coming in the future.
South Park: The Stick of Truth (360)
This game was surprisingly fun, easy, and short for a rpg. I knocked it out in a couple days. I would of finished it sooner, but my kids were always around and they wanted to watch me play. I didn't let them sit next to me while I was playing and paused the game if they entered the room, but I'm sure they pick up a couple inappropriate scenes from the game. There were more than a few times I caught my kids sneaking into the room while I played. Hopefully, they're not scarred and my wife doesn't find out.

I recently found out a sequel is coming. I can't wait to play it.
Games I'm Playing:
Dragon Age: Inquisition (PS4)
I own the 360 version and finished it a while back. I recently picked up this version. This playthrough, I'm playing as a female non-human.
Dragon Quest V (DS)
I played the DS versions of DQIV and DQVI and enjoyed them. DQV is the last of the DS DQ remakes for me to play. If this game is anything like the other two, it's going to be a very long quest.
Super Street Fighter IV (3DS)
The digital version was on sale. It was less than $10, so I couldn't pass it up. It's an impressive game. It's a bit difficult to pull off some special moves and combos and there is no movement in the stage backgrounds, but I can't expect a 3DS game to be exactly like the console versions.
Persona 4 Golden (PS Vita)
I finally got my PS TV functioning and playing Persona 4. This is not my first playthrough of P4, but I'm hoping for a slightly different experience with this Golden version.
Games I Bought:
Bayonetta 2 (Wii U) - This is the only game I REALLY want to play on the Wii U. I'm happy I bought it. Now, I just need to get a Wii U to play it on. Maybe next year. The Wii U should be cheaper then.
OlliOlli (PS4) - This is a fun little game. It took me a little time to get use to it after playing Tony Hawk and then the Skate games for so many years.
Hotline Miami (PS4)
Grim Fandango (PS4) - This is one of those games critics say is so great. The re-release was on sale on PSN. If I can get to it, maybe I'll see if this game is as good as they say.
UFC (PS4) - It's a lot of fun playing with friends. I totally suck at it though.
The BureaU (360)
Batman: Arkham Origins (360) - Only $10 at Toys R Us. I hadn't played it yet.
Games I'm Planning to Purchase:
Fallout 4 (PS4)
This game can't come fast enough. I got into the Fallout games pretty late. It's a damn shame I let these awesome games go unnoticed for so long. It's also a damn shame I didn't preorder the Pipboy edtion. Oh well.... at least I get to enjoy the game when it comes out.
Naruto Shippuden Ultimate Ninja Storm 4 (PS4)
Persona 5 (PS4) - After seeing some videos on this game, I'm not sure if I'll like it or not. I know I'm buying it though.
That's it for this blog. It's not everything, but it's enough of what I've been up to in my gaming. What are you guys playing?