Blog #19
Games I Beat:
Dragon Quest VI (DS)
HELL YEAH!! I finally finished this game. It took almost 140hrs! I was enjoying the battles, but was ready to move on to another game. I'm glad this one is over. I thought about starting another DQ game, but decided to save it for another time.
Fallout: New Vegas (360)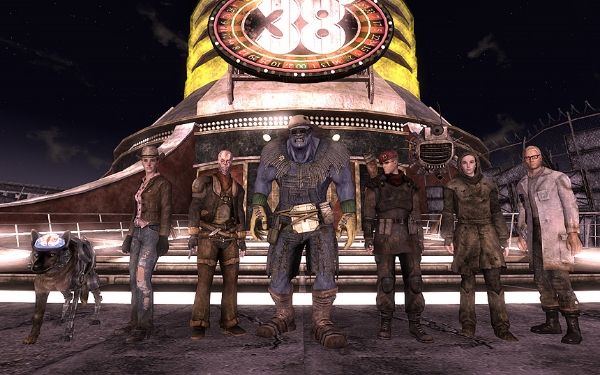 I beat it a couple days ago. Damn good game. It was a little rough with the glitches at the beginning, but I ran into fewer problems toward the end. It is a lot of fun. I still play it a little to do a bit of exploring. There are a few areas I didn't go into or didn't even find.
Games I'm Playing:
Shin Megami Tensei: Devil Survivor: Overclocked (3DS)
This is one of my favorite DS games updated with extras on the 3DS. I have bit of a weakness for SMT games. This one is a srpg with the demon battles expected from the SMT series. The english dub isn't the greatest. I usually play with the volume turned almost completely off and I skip through most of the dialog, because I finished this game on the DS several times alreay. The game takes place in 7 days. Overclocked adds an 8th day and I can't wait to see what happens then.
Persona 3 FES (PS3)
One of the my favorite games ported to the PS3. I beat this game several times on the PS2. I started playing P3P a while back, but my PSP is acting funny, so I stopped and decided to restart on the PS3. I'll more than likely finish this game before starting another rpg.
Games I Bought:
Kung Fu Rider (PS3) - I picked this up because it was real cheap. I don't even own a the PS Move accessories to play it. I'll work on that next year.
Madden '09 (PS3) - I got this for free.
Mad Dog McCree: Gunslinger Pack (Wii) - It's a laserdisc light gun game from the early '90s ported to the Wii. I remember seeing this game advertised in EGM and GamePro.
GC games - The Incredibles, Spongbob: The Movie, Jimmy Neutron: Attack of Twonkies, Shrek 2, Cars, The Ant Bully - Got all of these really cheap. My kids can play them.
Sonic & All Stars Racing: Transformed (360) - I finally saw this game under $30 and got it.
Punch-Out (3DS VC) - Nintendo is having a small sale on games that have characters in the new Smash Bros. Different games are on sale every week for a month. I choose this one. Damn shame there's no Mike Tyson.
Under Defeat HD: Deluxe Edition (PSN) - I completely forgot about this game. I glad I saw it on sale.
Soul Calibur V (XBLA) - It was on sale. I hadn't been a big SC fan in many years.
Gears of War: Judgment (360) - My oldest son & I have a great time playing the Gears games together. We'll probably start playing this soon.
That's what I have. What are you guys playing?