The Nintendo Switch Chicago Preview Event
Friend of the site, Greg Meyer, had a chance to go hands on with the Switch at one of the exclusive events. In anticipation of tomorrow's release, he's put together a bunch of impressions to get you excited for what's coming next for Nintendo.
Arms

Arms is a brand new title from Nintendo, and I was excited to see it featured at this event. This is a 3D fighting game that has shades of Punch-out!! and Power Stone in its DNA. Combatants with stretchy arms fight in enclosed arenas, sending punches across the screen to damage their opponent's life bar until one falls. Arms has two control options, with motion controls, or using a controller like normal. For this demo, my friend and I faced off using the joy-cons motion controls, using one joy-con in each hand.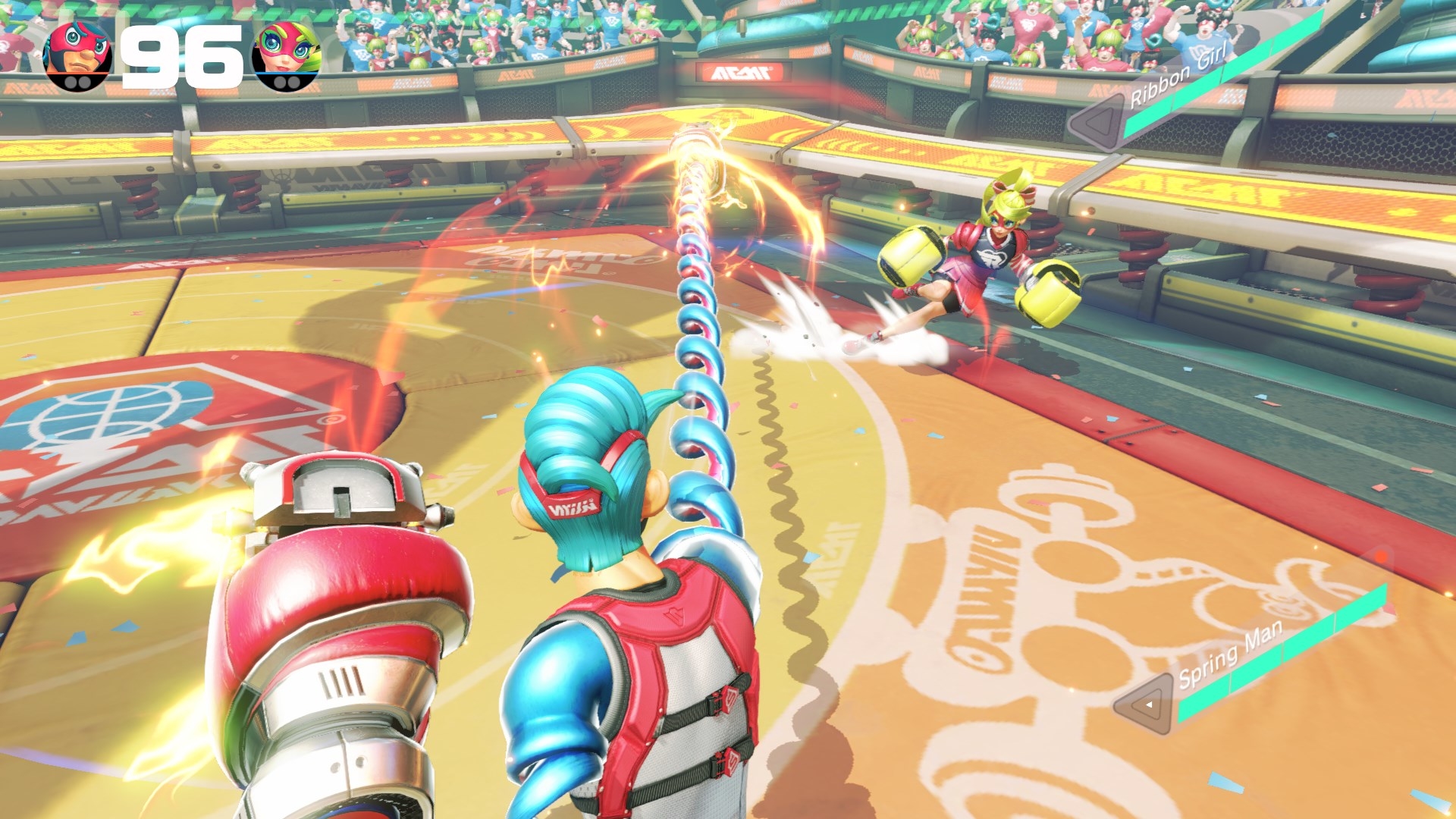 We gripped the controllers in our fists, with our thumbs resting on the L/R and ZL/ZR triggers at the top of the controllers. To move, players tilt the controllers in the direction they want to go. To punch, players make the motions with their hands, and their fighter will punch with the hand making the motion. Punching with both hands executes a grab attack that throws their opponent to the ground. Players can block this, as well as regular punches, by tilting their controllers towards each other. Once a player fills a gauge up, they can tap the trigger button to unleash a special attack, sending a powerful barrage of fists at their opponent with devastating results.
Each of the available characters for the demo has their strengths and weaknesses. Some characters, like the ninja, are quick and nimble, but their punches hit for less damage. Other characters, like the mummy or the girl in a mech suit, have powerful punches, but sacrifice speed and mobility.
My friend and I played a few rounds, trying out the different characters and getting a feel for the game. Movement takes some time getting used to with the motion controls. I found myself forgetting to dodge my opponent's attacks, as there's a lot to juggle with moving left and right while throwing punches. This might get easier once a player spends time with the game, but I spent most of the demo throwing punches while inching along the arena.
One aspect I liked was using punches to block an opponent's attack. My friend would throw a punch, and if I timed it right, my punch would connect with his and stop the attack. I foresee players coming up with their own battle strategies with how to counter their opponent's attacks. There's a depth to these controls I haven't seen in any other fighting game with motion controls.
The problem playing Arms with motion controls is fatigue. With all the punching, tilting, and movement required in Arms, I can't imagine playing with the motion controls for extended periods of time.
In addition, there's the lingering question about the longevity for Arms. While I enjoyed my time with the two-player battle mode, the game feels shallow if all Arms offers is one on one fights. Still, there's no denying that Arms has potential, and we still don't know everything the game has to offer. I'm cautious about this title, but I'm interested to see what else Nintendo has up their sleeve with Arms.