The Nintendo Switch Chicago Preview Event
Friend of the site, Greg Meyer, had a chance to go hands on with the Switch at one of the exclusive events. In anticipation of tomorrow's release, he's put together a bunch of impressions to get you excited for what's coming next for Nintendo.
Super Bomberman R

Konami's Super Bomberman R features the return of Hudson's beloved bomber. Our demo focused on the multiplayer portion of the game, so I don't have any new information about the single player campaign. There were three maps that I saw while walking around the event, but our demo only featured the standard, bare bones multiplayer map.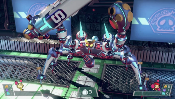 Players had three minutes to bomb blocks, pick up power-ups, and destroy their opponents until one Bomberman (or Bomberlady) was left standing. Players defeated during the battle were sent into little vehicles that travelled alongside the arena boundary, and could throw in bombs to try and knock out a remaining player. If the player successfully took out an opponent, they switched places with their foe and entered back into the game. The power-ups I encountered in my demo included series mainstays such as: Fire, Bomb-Up (one additional bomb), Boxing Glove, Kick, Power Glove, and the Virus status ailment.
For the demo, players could use the Switch Pro Controller or a joy-con. This allows players who pick up this game at launch a variety of controller options for multiplayer with friends and family.
Back in college, my friends and I played countless hours of Bomberman death matches, so I felt right at home diving into Super Bomberman R's multiplayer. Nothing has changed in that regard, and that's a good thing. I ran around the map collecting power-ups while trying to reach my opponents to try and blow them up with a well-placed bomb. Of course, I managed to trap myself with a misplaced bomb and watch helplessly as I died to my own mistake. Thankfully, I could go around throwing bombs and try to get back into the game, so there's still stuff to do if you die early.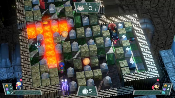 While I had fun with the demo and plan on picking it up at launch, Marcus and I both noticed one problem with Super Bomberman R. The D-pad control felt imprecise when moving around in the grid. When pushing in one direction, my bomberlady would sometimes move around in different directions for a moment before going the desired direction. For example, when I pushed right, sometimes my character would move up and down as if she was confused before moving right. Since it's a demo, Konami still has time to tighten the controls. If they don't, however, I imagine there'll be some accidental deaths from walking into a bomb's blast radius when the player wasn't intending to go that direction. Let's hope Konami addresses this issue before launch.