PixlBit's 2011 Supplemental Awards
Just when you thought awards season was over...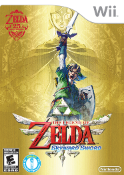 Gamers may have heard orchestrated renditions of famous Legend of Zelda songs in the past, but it wasn't until 2011's Skyward Sword that Link has been backed up by a full accompaniment. The string and brass sections have rarely felt so heroic, which creates warmth in the listener. Every modern composer dreams of the opportunity to write a theme song with the valleys and hills of Skyward Sword's main theme, a song with cathartic flutes drifting between the powerful combination of trumpets and violins.
In addition to the orchestral medleys that will imprint our memories as some of the highlights in the series, shorter sound bites playing in the background of an important encounter with an NPC compliment the mood of those characters perfectly. Just like the Kikwi's, the composers have laced these parts of Faron Woods with some lethargic and fat beats. Adorable. Memorable. The quaint, eerie melody in the silent realm has a sense of haunting the player with its minimalistic overtones. Later on, the Lord Ghirahim's music also complements himself with some gothic flair, heavy on organs, battle drums, and a staccato tempo. While these two examples stand out as evidence, great music is in abundance in Skyward Sword.
Maybe the most innovative and important reason why Skyward Sword has the best music of 2011 would be the designer's ability to weave music into an important game mechanic – the harp. Players strum the harp for themselves with the Wii remote. Since each string is plucked as players move their remote from side to side, players can jam as if playing a harp in real life.
It's clear that Koji Kondo and his musical team have outdone themselves here, working to ensure that each song Link learns sounds splendidly unique and helps to put Skyward Sword head and shoulders above the rest of the competition.
Honorable Mentions