PixlBit's 2011 Supplemental Awards
Just when you thought awards season was over...

Winner – Dead Island (Reveal Trailer)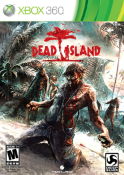 From the moment we hear those opening piano strokes to the second we get a glimpse of the watery, dead eye of a little girl who has met her demise at the hands of the zombie apocalypse, Dead Island's reveal trailer pretty much set the gaming world on fire. Countless stories on various gaming sites as well as pundits from both sides of the aisle attack the game because it shows something that we, as an audience, have never witnessed in a game before: the brutal reality of death, heartbreak and loss.
As players, we charge down alien corridors, destroying creatures from all corners of the galaxy; we sprint through favelas, gunning down Brazilian rebels with impunity; we can wipe an entire race of creatures from existence with a mere dialogue wheel decision, but how often do we witness the death of an innocent child at the hands of zombies?
While some critics say this trailer hurt the game more than it helped, one cannot deny its effectiveness. It is provocative, smartly-written, and brilliantly executed. Techland and Deep Silver get across that while their game is certainly all about kicking zombie ass, this is a very legit take on the zombie apocalypse. You won't be searching for Zombrex, you won't be fighting Tyrant with a rocket launcher thrown to you by a shadowy teammate and you won't have Boomers, Hunters, and Witches coming for you. These are the undead, plain and simple.
Honorable Mentions