PixlBit's 2011 Supplemental Awards
Just when you thought awards season was over...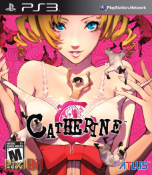 Of all the games we've played this past year, none of frustrated or challenged us like Catherine did. Atlus' bizarre puzzle/narrative adventure through infidelity and temptation is as strange as it sounds and somehow it all worked splendidly. What is even more suprising still is how mature and subdued the narrative is. Storytelling in video games is almost never as mature as Catherine ends up being. It's a testament to the developers that what could have ended up being an exercise in generic perversion was instead seriously thought-provoking.
Approaching the subject matter through ascending a deathtrap puzzle-tower of blocks, Catherine not only teaches a valuable lesson in entering adulthood but also approaches the concept of arrested development in a surprisingly tense and touching way. Knowing that Vincent's future rests solely in the hands of the player and how that player approaches various moral questions shows surprising guts and brilliance on behalf of Atlus that have paid off in both commercial and critical success.
Honorable Mentions