PixlBit's 2011 Supplemental Awards
Just when you thought awards season was over...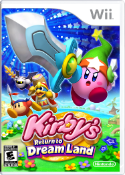 For even the hardest of the hardcore, there's something to be said for picking up an easier game, kicking back, and just relaxing. Enter Kirby's Return to Dreamland; a game that won't tax your "l33t skillz," but is an enjoyable romp nonetheless.
The Kirby games have never been the most intimidating games. One look at that lovable little pink puffball and you know what to expect. That shouldn't suggest that there's no value in Return to Dreamland, however. On the contrary, this is a delightful game that charms with its colorful graphics and art style, but holds your attention with its level design and varied abilities. Kirby once again has the ability to copy enemy traits, but this time the moves at his disposal are truly impressive. Throw in some four-player co-op where additional players can choose between Kirby doppelgangers or other popular characters (Meta Knight for the win!) and you have a fun, low-key game for the entire family.
Honorable Mentions